Cléo Palacio-Quintin : Between Humans and Machines

by Brigitte Des Rosiers / February 1, 2015

---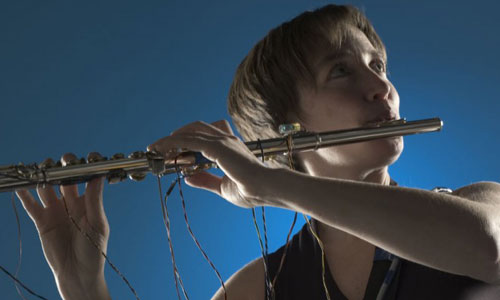 Although the music of flutist and composer Cléo Palacio-Quintin is based on scientific calculations and complex technology, she is nevertheless inviting us to a corporeal and sensual musical experience at the next Montreal/New Musics Festival. This, her first appearance at the festival, will be no small affair, as three of her compositions will be heard, and the festival's theme this year, "environment and technology", could not better echo the work of this exceptional artist.
The first woman to graduate with a Ph.D. in electroacoustics from Université de Montréal, Palacio-Quintin is surprisingly eclectic. A bona fide performer, performance artist, and improviser, she is also a confirmed "geek", one of the few women in the male-dominated field of electroacoustic music.
During her masters program in classical flute at Université de Montréal, Palacio-Quintin studied with flutist Robert Dick, who had a profound influence on her career. "Without him, I might not be making music any more," she says. He revolutionized the art of the flute by developing new playing techniques that increase the sound possibilities. This helped the young composer to clarify her intentions: "My desire to discover new sounds naturally led me to electroacoustic music".
So she went to study at the Institute of Sonology of the Royal Conservatory of The Hague, where she designed her first "hyper-flute". Shortly after her return from the Netherlands, she enrolled in a Ph.D. program at Université de Montréal with Jean Piché and Marcelo Wanderley of McGill University's CIRMMT(Centre for Interdisciplinary Research in Music Media and Technology). During this time, she created a repertoire of works for augmented bass flute, a prototype of which she had just developed. Following a residency at the Chapelle historique du Bon-Pasteur from 2009 to 2011, her work was rewarded in 2012 with an Opus prize for composer of the year, awarded by the Conseil québécois de la musique.
On stage, Palacio-Quintin seems like a surgeon in an operating room, as her flute is connected by wires to some sort of breathing apparatus - the computer - which returns the captured and processed sound. The hyper-flute (or augmented flute), live sound processing, and interactive music are the technical foundation of her creative impulse, in addition to improvisation, which she learned from a young age by playing in jazz ensembles.
In an article she wrote for the magazine Circuit1, the composer describes her approach as part of a budding tradition in which "the computer is made to actively participate in the live creation of the work." This is called "interactive music". However, it is important for her as a performer to be able to control the timing of the electroacoustic feedback. "Making use of the instrumental gesture, for which I was already an expert, was an obvious choice for achieving this," she writes. This is done by installing sensors at various points on the flute, which translate the performer's movements into digital data sent to the computer. For every action, there is a corresponding sound effect, which the computer returns to the performer who can then react to it. The gesture, used as an element of communication with the machine, triggers the electroacoustic accompaniment.
Although the composer can clearly describe the technical process, she is reluctant to intellectualize her relation to the music or to produce an aestheticizing discourse about her work. "My music is felt and organic; it comes from my breath and musical gestures." This brief yet inspiring explanation will have to do. According to Marie-Chantal Leclair of the Quasar Ensemble, poetry permeates the work of Palacio-Quintin. "She is a free and independent spirit; she follows her own path and does not bother with fashions and trends. Poetry, interiority, intimacy and depth: she uses technology, but it's always in service of the musical message." Palacio-Quintin incorporates several poems into her compositions, as well as video (which is also processed live) to create an enveloping multimedia environment.
In addition to her own works, Palacio-Quintin commissions and performs works by other composers. She also writes for various chamber ensembles, with or without electroacoustics. In addition to composing, Palacio-Quintin is actively working to raise awareness of the budding new music scene: as director of the Codes d'Accès concerts society from 2004 to 2007, she produced many concerts featuring the next generation; she is a member of Le Vivier group and also works for the improvisational music ensemble SuperMusique.
On March 2 and 6, three of her works will be performed at the 2015 Montreal/New Musics Festival. Two works will be premiered: Le sens de l'ombre, a work/installation for solo violin with digital audio processing, shadow projection and interactive videos with violinist Nadia Francavilla, a former member of the Bozzini quartet; and Fluctuations électroniques, performed by the Israeli contemporary music ensemble Meitar. Palacio Quintin will also perform her own composition Synesthesia 4: Chlorophylle for hyper-flute and interactive video, inspired by a poem by Jessica Vigneault.
Translation: Eric Legault
(1)Cléo Palacio-Quintin (2012): "Composition interactive: du geste instrumental au contrôle de l'électronique dans Synesthesia 4 : Chlorophylle", Circuit, vol. 22, no 1, p. 25-40
---
Version française...