Marie-Nicole Lemieux: Thinking About the Music

by Joseph So / December 1, 2014

---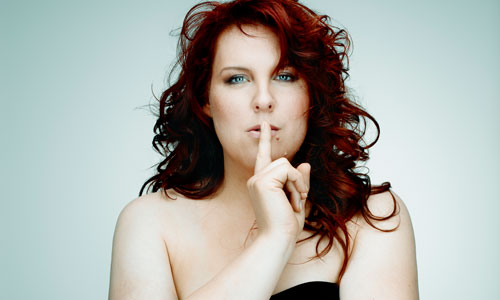 Since winning First Prize in both the Queen Elisabeth International Competition in Belgium and the Jeunesses Musicales du Canadaís Joseph Rouleau Competition in 2000, Marie-Nicole Lemieux has ascended to the top of the music world as a lyric contralto, that rarest of voice categories. Audiences and critics praise her rich, luscious tone and charismatic stage persona. In January, she will be Dalila for the first time in Samson et Dalila, at Opťra de Montrťal.
Marie-Nicole Lemieux has been the artist of choice for many of todayís great conductors including the likes of Daniele Gatti and Antonio Pappano. Sheís booked as far ahead as the 2017-2018 season at the most prestigious opera houses and concert halls. This past summer, Lemieux earned accolades as Azucena in the Salzburg Festivalís Il Trovatore, opposite Placido Domingo and Anna Netrebko.
This autumn she made a long-awaited return to the Canadian Opera Company as Dame Quickly in Falstaff, one of her signature roles. It has been a long wait, as she had made her COC debut back in 2002 as Cornelia in Giulio Cesare, near the beginning of her career. Given her busy rehearsal schedule, it wasnít until after opening night that we were able to sit down for a chat over a leisurely lunch at a local French cafť in downtown Toronto.
I first met Marie-Nicole in 2001, on the occasion of a Stratford recital in honour of Maureen Forrester, a voice to which Lemieuxís is often compared. At that recital, it was already clear that the young singer was destined for greatness. Now, having achieved stardom, Marie-Nicole remains a down-to-earth, warm, approachable person, with a ready smile and an infectious laugh.
LSM: Itís great to see you back at the Canadian Opera Company after twelve long years. And now we have you in one of your signature roles. How many times have you sung Dame Quickly?†
MNL: Itís good to be back! Iíve sung Quickly in seven productions, in London, Munich, La Scala, Bastille, Montreal, and now Toronto Ė a total of 65 performances.
You can probably sing it in your sleep by now! Is it your favourite role?
MNL: Itís one of my favourite roles Ė I have to say a lot depends on the staging. The Robert Carsen production is perfect for me. I have many glamorous costumes - Iím a sensual woman and proud of it. I am moving, running everywhereÖI love that! I had a cold on opening night and a cough now, but I know (Quickly) so well that I can do it whether Iím in shape or not.
Tell us about your most recent success as Azucena in the Salzburg Trovatore last summerÖ.
MNL: It was my first Azucena and a huge challenge. I looked at the score and realized the vocal line of Azucena is bel canto. I talked with my teacher (Marie Daveluy) and Maestro Gatti. Iím not a yeller; donít expect me to sing like this (Lemieux mimics Azucenaís music in an exaggerated stentorian manner with heavy, weighted tones). Daniele said: ďNo I donít want that, I donít want clichť singing. I want a sensitive character whoís alive.Ē† So I said, Iíll do it; heíll respect who I am and not ask me to do something thatís not me. When I opened the score, I realized that Verdi is very specific in his musical directions. I worked with Daniele a lot. We respect the work and Verdiís musical intentions. Azucena is not a bad girl ó sheís in deep conflict between love for her son and her sense of duty. After I did it on stage, people came to me and said theyíd never heard Azucena sung like this. Salzburg asked me to come back but I canít. Iíll do it in Orange and then in two years at La Scala.
Youíve worked with Gatti before?
MNL: Oh yes, a lot! We know each other well. I sang Mahler with him in Paris and the Verdi Requiem at the Musikverein three times. We were together in London for Falstaff in this production. Salzburg was a wonderful experience.
Whatís it like working with Netrebko and Domingo?
MNL: Itís like working with any other soprano. Anna and Placido are the nicest colleagues. Placido arrives on time, very professional, doesnít complain. The public felt we were a team and we respected each other.
Could you talk a bit about your voice, since contralto is such a rare voice type today? To my ears, you sound like a young Maureen Forrester, a contralto with a high extension. Has your voice changed over the fourteen years since you started your career?
MNL: The low part of my voice was always natural for me, but I was afraid of the highs. I started early. I won Queen Elisabeth when I was only 24 and I had been with my teacher only two years. I was not complete. You know which composer helped me open the door? Rossini! He is like syrup or vitamin for the voice. You have to sing legato in Rossini. I remember when I sang my first Isabella in 2012, everything opened up for me. Iím a lyric contralto, so Quickly is natural for me, but it doesnít mean I donít have the high notes. The richest part of my voice is ideal for Quickly, Tancredi, and Isabella. Now the vocal registers are more equal and the voice is freer.†
You are making your role debut as Dalila at the Opťra de Montrťal. I recall you telling me years ago that itís your dream role. What attracts you to Dalila? Is it about portraying a femme fatale?
MNL: No, itís about the music! The three arias Ė Mon cúur, Printemps qui commence, Amour! viens aider ma faiblesse Ė are so beautiful! Itís good that Dalila is the only woman in the opera (laughs)! Itís good to be a little bit nastyÖitís fun to explore this part of me. Of course in real life I would never do such a thing. I really look forward to singing Mon cúur Ė with a tenor! My dream would have been to sing it with Jon Vickers, as he did with Shirley Verrett!
Let me ask you a silly question ó if you had a choice, would you be a coloratura soprano, a lyric, spinto, mezzo, or contralto?
MNL: Iíd love to be Falstaff! (big laughs) I love this character! Or a baritone and sing Conte di Luna, or a heroic tenor, or to sing Brunnhilde and Isolde. Iím really not frustrated with my voice (type). My dream is to sing Dalila and Didon. Berlioz is my first love and I can sing it well. Maybe later Cassandre Ė I am sure I will sing it one day. Itís more dramatic while Didon is more bel canto. I donít want to go into these dark dramatic things now as I think I still have the tenderness in my voice, the sensuality and the legato. I want to keep that as long as possible.
Youíre the epitome of the modern woman singer, able to have a family and a career. With such a busy schedule that takes you away from home, how do you cope with the separation, the balance of motherhood and career?
MNL: My daughter traveled with me before she started school. Now sheís seven and goes to school. I used to do two or three productions in a row, I donít do that any more Ö I come back home after a month. She goes to a private school that emphasizes travel, languages, music; the school understands that Iím a singer, and that through travel [a child] can learn a lot. When we were in Paris for three weeks, she did her schoolwork in the morning. Motherhood is important. Itís a choice Ö and it depends on the man! The mentality has changed. We can bring kids to rehearsals.
Tell us about your future projects...
MNL: I have a new CD to be released in December Ė Rachmaninoff, Wolf, Faure, Chausson, a really beautiful program. Iíll do a European recital tour in February next year Ė Iíve been waiting a long time to do a recital tour. Iíll do my first Carmen in concert in Paris in 2016. Of course, I want to do it on stage. There are other wonderful low mezzo roles, like Herodiade (which I have recorded) and Mignon. I would love to sing Mignon staged. Iím going to sing Anne Boleyn, in an unknown opera by Saint-SaŽns, Henri VIII in 2016 or 2017. French repertoire has a lot of roles for my voice. Iíll make a Rossini CD next year for NaÔve.
Iím curious about your philosophy of music making. When you sing, do you focus entirely on the role and the drama, or do you still think about your technique?
MNL: You have to think about everything. Too much technique and you become a robot. The most important thing is to think about the music Ė it leads you to the character. You always have to think about the first law of singing Ė never push! In recital, you are in control and free to decide what you want. This is my goal. Of course, Iím a singer, but Iím also an artist Ė I have something to say. Nothing to say is boring. You meet the conductor and director, and you have to go into their worlds. The freer you are technically, the more colours you have, and the happier you and they will be. When I am asked what is your vision of this character Ė I have a vision, but you have to be willing to give yourself to the directorís vision. When we have the same idea, itís great. In recital, thatís where I take the lead, this is the place where I decide. In opera, Iím not the center of the world. Opera is bigger than me.
Samson et Dalila at the Opťra de Montrťal: January 24, 27, 29, and 31 2015. www.operademontreal.com
---
Version française...