Françoise Davoine: For the love of choral singing

by Caroline Rodgers / December 1, 2014

---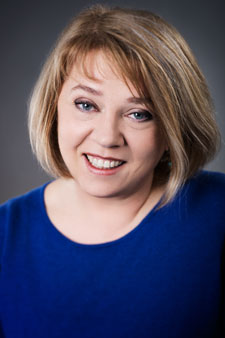 Françoise Davoine fell in love with choral music when she was a child. As the village's choir conductor, her mother used to bring her to rehearsals. Davoine sang from the age of five, and has kept a special relationship with choral singing ever since. She now hosts De tout chœur avec vous, a new show on the CBC's French-language radio, ICI Musique, devoted to a passion for an art form that brings together many followers all over the world.
"When I came to Canada with my parents, I was sixteen and I knew nobody," says Davoine. "That was in Ottawa. The first thing I did was to enroll in a choir at University of Ottawa. It was because of that one year of choral singing that I decided to study music in university."
After graduating, family and professional obligations caused her to stop choral singing. But she has always remained committed to that milieu and that repertoire.
"Choral singing is really ingrained in me," she says. "For me it's a way to exist. I like groups, which is probably why I've never really liked piano; you play alone. During my studies, I was part of several vocal ensembles. Choral singing is the simplest way to make music together and to share something. It's also closely related to breathing, the source of life."
The radio host believes choral singing is also an art form that benefits everyone. "At the end of my shows, I always tell listeners: remember that singing feels good. There are also a host of studies that have shown its benefits."
The show
Radio-Canada has a long tradition of programs devoted to music for choirs. But Davoine had dreamt of having one of her own for a long time. Over the past three years, she made special broadcasts on choral music during the holiday season which were quite successful, which is not surprising since Québec has more than 500 choirs, according to Quebec Choral Alliance estimates, which boasts 248 member choirs.
"When I saw how successful it was, I thought it was the right time to revive this tradition," says the host. "But behind the show that I proposed, there was also the idea of creating a community of choral music lovers, which is an important component of the project."
Since the show went on the air last September, 400 members have joined the show's Facebook group. People share their discoveries and even ads for their own concerts.
Radio-Canada has a huge choral record collection which includes rarities and treasures. Producer Cynthia Dubois is in charge of programming. She includes listener requests, the most common of which are for Schubert, Fauré and Bach. Although the repertoire covered during the show is essentially classic, there is also room for other genres and discoveries in world music and jazz. In addition to hosting, Françoise Davoine also handles relations with this community of listeners.
"We receive many testimonials, she said. I read excerpts from letters and broadcast interviews with some listeners. The idea of the show is that people also share their passion. I hope one day we will become the largest community of choral music lovers in the world. We receive messages from across Canada, from young and old. It's very encouraging."
De tout chœur avec vous is broadcast on Sunday mornings at 9:00.
---
Version française...