Marie-Josée Lord: Amazing Grace

by Richard Turp / December 1, 2014

---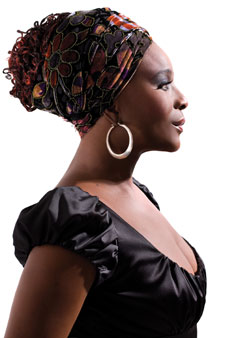 Even on the telephone, it's easy to imagine Marie-Josée Lord smiling. We hear it in her voice, and when she erupts into full laughter we instantly recognise her sympathetic, true and honest nature. It is hardly surprising then that she begins by telling me that she didn't want to make a Christmas album. "No, ironically we were discussing another project – which will take a little time to put together – when the Christmas album project was presented to me. At first I was against it because I didn't think it was an original idea. Lots of artists have produced a Christmas record. I especially didn't want to record another version of Oh Christmas Tree or Jingle Bells. Then as I talked with the team at ATMA Classique, I realised that I could bring my own personality to the project, my own identity."
"Above all," she explained, "I wanted a Christmas album that would be a source of contemplation and joy, an album that would reflect what I consider the true spirit of the Christmas period. I have to admit that the materialism and the over-consumption associated with Christmas today drives me crazy. I realise that I'm perhaps going against the grain but I wanted to offer a record that would help to inspire a certain inward reflection."
Lord also opted for simplicity and quality in her choice of her artistic collaborators and musical arrangements. She recruited the organist and the violinist Antoine Bareil as well as the vocal ensemble Épiphanie, who participate in certain spirituals such as, Mary Had a Baby and Ain't Got Time to Die. The recording also includes several 'classical' pieces (such as the Bach/Gounod Ave Maria, Pietà Signore and Adolphe Adam's traditional Minuit Chrétiens). "I know and have performed this repertoire for a long time but I also wanted to integrate new pieces such as The Holy City by Stephan Adams," she said. "I recall that I had been so impressed when I'd heard the piece performed by Jessye Norman. In the end there are only three of four works specific to Christmas on the album and so, humbly, I hope that this recording can offer a spiritual dimension, a moment of contemplation and inspiration throughout the year."
When I ask her if she is happy with the result, she says yes, then instantly qualifies her reply: "The thing I find most difficult is to let go. We produce a recording very quickly; this one was recorded over four days. A recording remains a vocal challenge but not only a vocal one. It is an intense process that is both vocally and mentally demanding. What's more, I had to take a day's rest during the original recording schedule and so the pressure was even greater. And we always want to be better, to re-record, to improve the expressive or vocal interpretation and refine it even more, but there are limits, and at a certain stage one needs to say, enough is enough." Then after another burst of laughter, she adds, "That's precisely when I have trouble letting go."
When I reached Lord, she was in the midst of an Amazing Grace tour throughout the province. "We leave Baie Comeau today and travel to Sept-Iles. I have to admit that I've tried to reduce the number of tours I do now," she says. "Between 2008 and 2012 I seemed to be constantly on the road. Today, I find it more difficult to leave home. For example, at night after a concert I often find myself dreaming of sleeping in my own bed with my own pillow and under my own sheets. Paradoxically, I realise I exist in a more intense fashion when I'm on stage, where I forget everything for two hours. That's where I can concentrate on my performance, on my relationship with the public, which energises and feeds me. I also often think of Edith Piaf. When she was ill and exhausted, she was told to diminish her activities. She refused and when asked what she would do if she had to stop performing, she simply replied: 'I'd die.' Laughing slightly Marie-Josée adds, "It's not that I want to compare myself to Piaf, it's simply that I understand this need to be on stage, to communicate and share with the public. It is what gives me my energy and nourishes me."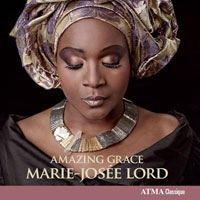 Once the Amazing Grace tour ends, what awaits Marie-Josée Lord? "The other thing that nourishes me is new projects. I need new projects, new challenges in order to advance," she answers. "Without new projects, I would fall into a depressive state or become very lazy!" Lord's new projects mark a certain return to her operatic roots. "After Bouillon, this new project will be called Femme," she goes on. "I wanted to show aspects of a woman's character and life through operatic scenes and some more popular pieces. I wanted to develop a musical portrait of women, to explore the rites of passage in a woman's life through the musical personalities created by Mozart, Gounod and Massenet. This is another vocal challenge for me. I am often associated with the music of Gershwin and Puccini, but here I must use a 'spinto' element of my voice." After a short pause she continues, "And we'll soon see how I rise to the challenge, because we embark on the Femme tour in January 2015!" And with that, as you've probably guessed, Marie-Josée Lord bursts into laughter and our interview comes to an end.  
Upcoming concerts: Dec. 5: Longueuil, QC; Dec. 7: Oxford, QC; Dec. 12: Sainte-Julie, QC. www.mariejoseelord.com
---
Version française...