Nadia Turbide: A Remarkable Journey

by Christine ML Lee / November 1, 2014

---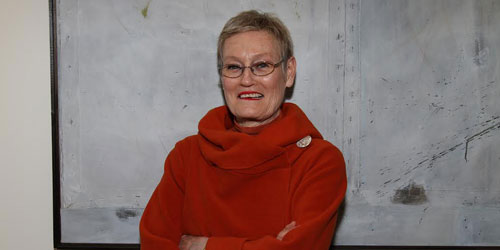 After a distinguished 40-year teaching career at Vanier College, including 16 years as Music Department coordinator, Montrealer Nadia Turbide is retiring in January. In May, a concert dedicated to her drew hundreds of Vanier alumni and musicians from the Montreal area, all witnesses to her impact on the Canadian music scene.
"Nadia is a shaper of people," says Erica Phare, former choir director at Vanier College. "Her expectations of excellence from others are so natural that excellence is exactly what they want to give in return for her trust in them."
Turbide's successor, Glen Ethier, will have big shoes to fill. Even so, she has confidence in his ability: "Glen is an exceptional teacher, wonderful personality, an excellent emcee at many of our concerts, a team player and a natural leader."
Her journey
A musicologist, teacher, writer, translator, broadcaster and administrator, Turbide has written over 80 articles for the Encyclopedia of Music in Canada and has contributed to the Dictionary of Canadian Biography, and the New Grove Dictionary of American Music.
In 1965, Nadia Turbide was the first Marianopolis College graduate to earn a B.A. with a Major in Music. She subsequently obtained a Bachelor of Music (1969) and a Master's of Musical Arts (1976) at McGill University, and later a doctorate in Musicology at the University of Montreal, in 1986.
Turbide was introduced to cultural administration in 1971, when she became responsible for an area stretching 200 miles (from Matapedia to Gaspé) on the Baie-des-Chaleurs. There, she set up a mobile library and handicraft shops, and organized courses. Though it was a summer position, she extended her stay to two years. "It was an adventurous time!" Turbide says. (She confides that she almost became a lobster fisherman!)
Turbide returned to Montreal in 1973. The next year, at Vanier College, she began teaching several subjects part-time, including Canadian and American Music, getting full-time status in 1975. Over the years, she has taught theory, ear training and history. After a stint as Chair of admissions, she became the Music Coordinator in 1998.
Her vision
The respect and admiration that she has for her colleagues and students have inspired her drive and devotion. Since becoming Music Coordinator, she has introduced many events, from choir concerts, productions, festivals, workshops, and scholarships to various other activities. (See her list of accomplishments below.)
"You want to do the best you can for the students," she says. "I was very lucky I never had to worry about the quality of the music [thanks to] my colleagues. I was free to try to do as many activities as I possibly could."
As a result, alumni and students feel a great sense of belonging to Vanier. Percussion alumnus Greg Macintosh has even decided to pass on his $8000 marimba to another Vanier student, attesting to the strength and generosity of the community Turbide has built over the years. A benefit concert on November 12 has been set up to highlight this gesture.
Her devotion to music
When prompted about why music is different from other subjects, Turbide replies, "In music, you must listen to each other and you have to work as a team to perform and create music. There has to be a sense of mutual music making and support." Believing that "music makes one more open", she explains that one must "give one's self entirely to the process" and that the act of "giving an equal share to the performance" helps promote teamwork and discipline.
Turbide continues, "There is nothing like the joy of performing with other people. Because one is vulnerable when performing, there has to be this 'complicité', this support and this exchange and understanding between the teachers and the students. They are unique experiences that you carry for the rest of your life. And of course, you make lifelong friends."
Many see Turbide as incredibly dedicated to the cause of music, and her thoughts highlight this devotion. She explains, "I would rather be organizing and hosting MusicFest Quebec than taking a week off. It gives [the students] a sense of purpose, of direction and a chance to learn an instrument, even if their studies lead them somewhere else."
As chair of admissions, Turbide has seen her share of parents reluctant to support their children's decision to study music. She would tell them, "It is better that the student try music because you don't want them to regret (not doing so) for the rest of their lives. They may discover that it's not meant for them. It's hard, but there is much joy in a music career."
The next adventure
Always one to undertake a new project, Turbide looks forward to redirecting her energy and enthusiasm to resume her work on the biography of Canadian mezzo-soprano Eva Gauthier, the subject of her doctoral thesis. She had previously conducted over 50 interviews with such composers as Ned Rorem and Virgil Thompson, dancer/choreographer Agnes de Mille, and music patron Alice Tully, and received numerous letters from American icons, including Aaron Copland and Marian Anderson. Nearly 30 years after acquiring the rights to write a book, Turbide will continue her research during her retirement.
List of accomplishments at Vanier College:
• Creating the Big Band Benefit Concert (16th year), the Big Band Evening (high school, Cegep and university Big Bands, 7th year), the Noël Spinelli Classical Voice Scholarship Recital (11th year). The 11th annual Noël Spinelli Voice Scholarship Recital will be held on November 5th.
• Hosting MusicFest Québec (15th year), MusicFest Canada (2004), Quebec Band Association (10th year)
• Producing the Gian Carlo Menotti's Amahl and the Night Visitors at the Hudson Village Theatre (2002), the Montreal premiere of Ruth Fazal's Oratorio Terezin at Salle Wilfrid Pelletier (2008) and the world premiere of Robert F. Jones's La Terra Promessa in 2011 to celebrate Vanier's 40th anniversary
• Creating and inspiring many scholarships to encourage student excellence, adding up to over $4000 being awarded yearly to incoming and graduating students.
---
Version française...