Daniil Trifonov

by L.H. Tiffany Hsieh / November 1, 2014

---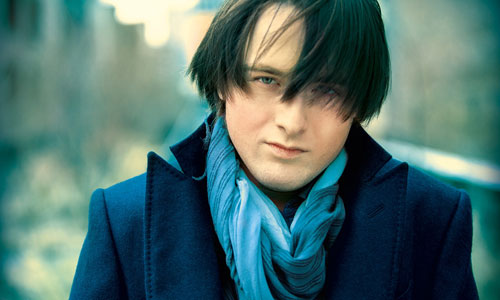 There's no mistaking Daniil Trifonov for a romantic, even when speaking on the phone from Russia. In recent years, the 23-year-old pianist has beguiled the classical music world with a display of elegant flair reminiscent of Franz Liszt's. Bashful at times, he cranked up his soft-spoken demeanour a notch when he decidedly stated at one point, with a boyish chuckle, "I think it's important for any artist to make people fall in love."
However, when asked about his rise to fame, which has been described by critics and those close to him as like a fairy tale, Trifonov hesitated before finding the right words to dismiss the romantic notion of an overnight sensation.
"It was really little by little," Trifonov said of his musical journey that crossed prestigious concert halls around the world and resulted in an exclusive recording contract with Deutsche Grammophon (DG). His first recording on the Yellow Label was his live Carnegie Hall recital debut on Feb. 5, 2013, a day before the DG contract was sealed, featuring Liszt's Sonata in B minor, Scriabin's Sonata No. 2 in G-sharp minor, Op. 19 (the Sonata-Fantasy), and Chopin's 24 Preludes, Op. 28.
A native of Nizhny Novgorod, one of Russia's largest cities, Trifonov is the only child of musical parents. His father is a composer, his mother a music theory teacher. The two started their son on the piano after they recognized his musical talents at the age of five.
"I have perfect pitch. If I heard a melody, I would always try to replicate it on the piano," Trifonov said. "So my parents said, OK, you'll play the piano."
A few years later, the Trifonov family packed up their belongings and moved to Moscow, where Trifonov studied with renowned piano instructor Tatiana Zeligman at the Gnessin School of Music.
"I studied with Tatiana from the age of nine to 18. She is one of the best piano teachers and Gnessin is one of the best music schools in Russia," Trifonov said. "When I was younger, my parents would, of course, give me advice on my music studies, but I really learned the most from Tatiana, who helped me to develop my musical knowledge."
Thanks to Zeligman's collection of old recordings and LPs, Trifonov said he was able to study historic recordings of great pianists, including the likes of Sergei Rachmaninoff, Josef Hofmann, Vladimir Horowitz and Ignaz Friedman.
"I was interested in these and other golden-age musicians from Russia, Europe and the United States," said Trifonov, who gave his first performance with an orchestra when he was eight years old. By the time he was 16, he began playing at competitions, which he said helped him learn to play better. While there was always pressure to do well at competitions, it did not come from his teacher or parents. "Not so much," he recalled. "They just wanted me to do my best."
Trifonov's "best" soon proved to be remarkable. At 17, he won fifth prize at the fourth 
International Scriabin Competition in Moscow and first prize at the third San Marino Piano Competition. In 2010, he was one of seven finalists of the Eurovision Young Musicians and a medalist of the XVI International Fryderyk Chopin Piano Competition in Warsaw. 
Then came 2011. At the age of 20, Trifonov won the 13th Arthur Rubinstein International Piano Master Competition in Tel-Aviv as well as the XIV International Tchaikovsky Competition. His performance at the latter competition was so dazzling, it prompted pianist Martha Argerich, one of Trifonov's idols, to tell the Financial Times: "Last night I listened to him again on YouTube – he has everything and more. What he does with his hands is technically incredible. It's also his touch – he has tenderness and also the demonic element. I never heard anything like that."
Trifonov has since made numerous international debuts both as recitalist in leading venues and as concerto soloist with major orchestras. His Toronto debut at Koerner Hall in 2013 was met with an enthusiastic sold-out crowd, and his debut with the Toronto Symphony Orchestra in September went so well he treated the audience to an encore after performing Rachmaninoff's Rhapsody on a Theme of Paganini.
Despite playing more than 100 concerts a year, Trifonov recently completed – on full scholarship – his artist certificate studies at the Cleveland Institute of Music (CIM). His teacher there is the distinguished pianist and educator Sergei Babayan, with whom Trifonov still studies whenever he can and performs concerts of works for two pianos. In addition, he is studying composition with Keith Fitch at the CIM, which commissioned Trifonov to write a concerto for its Year of the Composer/Virtuoso program that aims to create a new generation of composer virtuosos. He gave the world premiere of his Piano Concerto in E-flat minor at the CIM in April.
"It's a pleasure to play for any generation, but it's important for any artist to engage young people," Trifonov said. "One of the most exciting experiences I've had was in Korea. I noticed there were many young people sitting in the audience, at least 30% or more. And because I meet a new piano in every city I play, I'm always searching for something else in the music – a new way, a new colour, a new character, a new interpretation."
Trifonov returns to Canada in the new year with violinist Gidon Kremer in Toronto (Jan. 20) and Montreal (Jan. 21).
www.daniiltrifonov.com ; www.rcmusic.ca ; www.showoneproductions.ca
---
Version française...