Opera McGill's Tribute to the Great War

by Brigitte Objois / November 1, 2014

---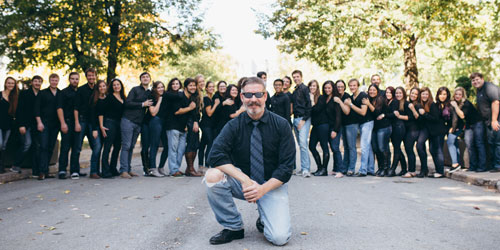 For its 2014-2015 season, Opera McGill is commemorating the 100th anniversary of the beginning of the Great War with a number of prestigious guests. On the program are three operas, a co-production with the McGill Chamber Orchestra, and a number of other concerts united by the common theme of the First World War.
The season opened in September with a concert entitled Death by Aria presented as part of Montréal's Journées de la Culture. During this concert, young and talented singers sang pieces chosen according the whims of a wheel of fortune.
In November, concert goers will be treated to a double bill of Venus and Adonis and Rameau's Pygmalion (Nov 13, 14, 15 and 16). The former, set in the trenches of Europe during the Great War, is an English mask by John Blow that will be directed by Patrick Hansen (director of Opera McGill) and performed by the McGill Baroque Orchestra lead by Hank Knox. Pygmalion, Rameau's one-act opera, will be directed by Aria Umezawa, a graduate of the Schulich School of Music and current director of Opera 5.
The new year will bring a January production of Mozart's The Marriage of Figaro (Jan 29, 30, 31, and Feb 1) with staging by guest director Nicola Bowie and Gordon Gerrard as the invited conductor.
In March, as part of the Lisl Wirth Black Box Festival, another double bill will be presented. This presentation of Puccini's Gianni Schicchi and Soeur Angelica (March 19 and 21) with staging by David Gately, will represent the 3rd coproduction between Opera McGill and Boris Brott's McGill Chamber Orchestra. Soeur Angelica was written in 1917 and presented for the first time in New York in December 1918, only one month after the end of the war that resulted in 20 million dead, 70,000 of whom were Canadians.
To end the season, Opera McGill offers a concert of male singers performing a repertoire of works written entirely during or about the war.
In the words of Patrick Hansen, "All of these guest artists will enhance the already world-class training that Opera McGill students receive here at Schulich School of Music. I know each of these artists personally and cannot wait for our students to work with them one-on-one during musical and staging rehearsals. The productions this year promise to be our best ever!"
All of Opera McGill's 2014-2015 opera performances will be preceded by free lectures.
Translation: Jennifer Clark
---
Version française...