Iwan Edwards' Farewell

by Kristine Berey / November 1, 2014

---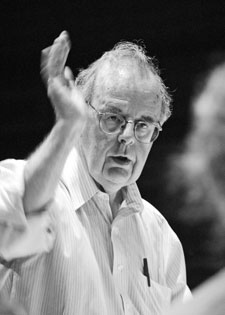 Since he arrived in Montreal from his native Wales almost a half a century ago, eminent choral conductor and teacher Iwan Edwards has enriched the Montreal music scene immensely.
Edwards has accumulated many accolades and awards during his career, including the Order of Canada. But his greatest legacy is the numerous outstanding choirs that he created – and, in time, said farewell to. These include the St. Lawrence Choir (founded in 1972), FACE Treble Choir (founded at then-Montreal Symphony conductor Charles Dutoit's request in 1981), the Canadian Chamber Choir (founded in 1999), and the MSO Chorus (which Edwards directed from 1986-2007, and in which his St. Lawrence choir formed the amateur core).
This year marks what Edwards calls "the hardest wrench," as he prepares to retire from Concerto Della Donna (CDD), which he founded in 2000. This unique ensemble is dedicated to showcasing the beauty of women's voices and highlighting music written by female composers, and consists of 18 young women. Many of them sang with Edwards in the FACE Treble Choir in their teens.
"Of all the groups I've worked with, this is the group with which I've had the closest association," Edwards says. He considers it a privilege to work with Concerto Della Donna and also with I Medici di McGill, an orchestra of doctors and medical students that Edwards has conducted for the past 14 years. "These are two organizations with an incredible work ethic. They brought this commitment to rehearsals that was extraordinary," he tells us.
The women in CDD perform four major programs a year. "Every one of them is, in their mind, accountable; everybody brings 100% or more," he explains. In teaching interpretation, Edwards stresses the importance of the text, saying that sometimes conductors forget that the words came first. "I try to get them to think in pictures. If you're dealing with something that is very sad, then it is not enough to say 'this music is sad;' they know that already. I try to put them into the situation. I ask, 'Can you imagine what your reaction would be?' going beyond the words and notes into the core of music itself. At that point it just comes off the page."
Is his decision to leave a choir ever related to the singers having reached their peak? Edwards is quick to say no., "You never actually reach that peak. Once you reach a peak you are reaching for the next one. It is a continuous process. If you don't feel that, the choirs sense it." Rather, he leaves when he can no longer give his best because he no longer has the energy required to take them further.
He recalls conductor Charles Dutoit as a musical ally during the years he worked as choirmaster of the MSO chorus: "I loved working with him. He gave me space all the time and never put any restrictions on me whatsoever. He never came to a choir rehearsal, just said, 'Make sure they are ready.'"
The MSO won a Grammy and two Juno Awards for their choral recordings during Edwards' 21-year tenure there. He says he was disappointed that the MSO, under Kent Nagano, did not retain the St. Lawrence choir as its amateur core after he left. "In two years it was moved out. I couldn't understand why. This was a choir I built over 35 years."
Working with children has always been a special joy for Edwards. After he left the MSO, a group of parents from FACE asked him to conduct a children's choir again. "It was another opportunity to work with children, so I said yes. I loved it." The fact that kids are curious and open to different kinds of music pleases Edwards. "I would bring music by Murray Schafer and they would say 'that's cool' and get very excited," he says. "I believe that people will try to do what you want if it is respectful and reasonable. Then you can move mountains, and this is especially true of children. The only ceilings children have are those adults impose on them."
On Sunday, November 30, Concerto Della Donna performs its final concert entitled "Once and for All", a celebration and tribute to their beloved conductor that will feature alumni and guest musicians. Edwards is particularly excited about young composer Christine Donkin's Magnificat. "The soundscape she creates in that piece is just unbelievable," he notes,, mentioning CDD member and composer Marie-Claire Saindon as well. "Her music is basically tonal but has a sound that's completely different."
Although this is CDD's final concert, coinciding with Edwards' retirement, he says "The CDD will cease to exist but the group will rise like a phoenix under a new name, and they will make a new kind of ensemble. There is a very strong affinity between them and they realize that CDD has an image of which they are very proud."
Amena Ahmed, a member of CDD who describes her singing experience as "spiritual, therapeutic and humbling," has spearheaded a documentary film, featuring Edwards and "the hunt for the art of happiness through the final months of a music conductor's career." The successful crowd-funding project, supported by what may be called the Iwan Edwards community, has raised $26,791. Edwards is genuinely surprised at the attention directed towards him on social media, with people expressing how he made a difference in their lives. "I have never seen myself as a person who does those things," he says. "All I wanted to do is to share my music and try to make others believe that all things are possible."
---
Version française...