Education News

by Jacqueline Vanasse / November 1, 2014

---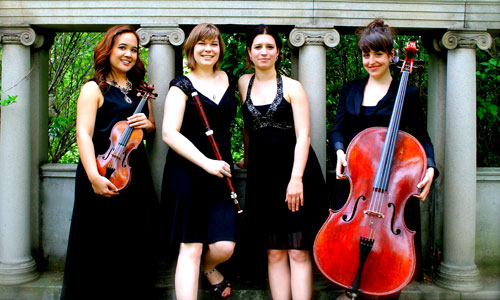 The Infusion Baroque Ensemble from McGill's Schulich School of Music
Conservatoire de musique de Montréal
The Conservatoire's Rising Stars
Montreal's Conservatoire de musique et d'art dramatique held a fundraiser on October 15 called Chasseurs d'étoile 2014 ("Stargazers 2014"). The event raised $180,000 for the Fondation du Conservatoire. Over 200 guests were invited, and anthe evening of remarkable theatrical and musical presentations was once again a success this year.
Denis Brott Wins the Montréal Centre-Ville Award
Cellist Denis Brott, a teacher at Montreal's Conservatoire de musique, has received the Montréal Centre-Ville award in recognition ofof his contribution to the vitality and prestige of Montreal, especially its downtown. Denis Brott is recognized as one of Canada's best musicians. A professor of the cello and of chamber music at the Conservatoire for the past 25 years, he is the founder and artistic director of the Montreal Chamber Music Festival.
Université Laval
Gérard-Boivin Classical Piano Prize
This year, the Faculty of Music at Université Laval has awarded the Prix de Piano Classique Gérard-Boivin to Mikaël Francœoeur. The prize comes with a $5,000 grant, and has been awarded annually for the past four years to a student newly admitted to a postgraduate program in classical piano. This support for young talent is possible thanks to a $50,000 donation from the estate of Mrs. Rolande Gauvin.
UQÀM Department of Music
UQÀM's Preparatory Music School to be IIntegrated into the Department of Music
Starting this fall, the École Préeparatoire de Musique (EPM) at the Université du Québec à Montréal, which was previously under the school board, will be integrated into the department of music. The EPM, which welcomes 250 students annually, offers individual and group classes for children and adults, preparation classes for CÉGEP and university auditions, workshops and pedagogical support for teachers, panels of judges for exams, and intimate concerts.
A UQÀM Graduate Travels the World with his Guitar
Thierry Bégin-Lamontagne, a 28-year-old graduate of artistic practises, is traveling the world with his guitar. A sufferer of Tourette's syndrome, he is also a guitar virtuoso. At the beginning of the year, he won the José Tomas International Competition in Petrer, Spain. He charms thehis public wherever he goes. For him, music is a much stronger force than his illness.
Schulich School of Music, McGill University
The Infusion Baroque Ensemble Wins First Prize at the Chicago Early Music  Competition
Composed of musicians from McGill's Schulich School of Music, the Infusion Baroque ensemble took the top prize as well as the audience choice prize at the Early Music America Baroque Competition in Chicago. Infusion Baroque includes Sallynee Amawat, a doctoral candidate, and master's students Alexa Raine-Wright, Camille Paquette-Roy, and Rona Nadler.
Four Students Fundraisinge for New Instruments
The Clarinet Brotet, consisting of four clarinettists from the Schulich School of Music, are raising funds to buy new instruments that are in high demand at Schulich: E-flat clarinets. This initiative will support and ongoing project that aims to maintain and replace the university's instruments in order to help students optimise their learning experiences. Auxiliary instruments (like the E-flat clarinet) are essential for the orchestra, both in chamber and contemporary music.
Toronto Royal Conservatory of Music
$2.8M Donation to the Conservatory
At the beginning of the academic year, Toronto's Royal Conservatory of Music announced a generous donation of $2.8 million from Karen and Michael Vukets. The Conservatory has created the Karen and Michael Vukets Public School Teacher Development Program. The Vukets couple believe in the importance of investing in and supporting the less fortunate to help them reach their potential. They are especially interested in programs that have a strong impact and that that create opportunities for personal and professional growth and development.
The Harris Institute
Toronto's Harris Institute Among the 11 Best Schools in the Music Industry
The Harris Institute in Toronto is the only school outside of the USA to rank among the best music industry schools, according to Billboard magazine. The college offers programs in audio production, arts management, and professional development as well as an international program. The Harris Institute ranked as a first-class school in Canada in 2013 and 2014, with an A+ rating from the Media Arts Education Report Card. In 2014, former students of the school obtained more than 15 nominations for Juno, Grammy, CCMA, LEO, Écrans canadiens, and CARAS awards.
The National Youth Orchestra of Canada
Each year, young musicians come from across Canada to rehearse and perform from June until the middle of August as part of the National Youth Orchestra of Canada, which celebrates its 55th year next summer. "The NYOC offers one of the most comprehensive programs, truly the very best orchestra training in Canada. Internationally recognized, the program provides a very supportive and nurturing environment," says NYOC executive director Barbara Smith.
Besides the orchestra, the NYOC program has evolved to include chamber music: the first two weeks are devoted exclusively to all kinds of chamber music formations, in addition to new music and string orchestra readings. A young emerging composer is commissioned to write a work each year. Afterwards, the NYOC rehearses two full orchestral programs before going on tour around Canada, and recording a two-CD box set.
The NYOC has an integrated musicians health and injury prevention program. It has a team of medical professionals on staff, including several doctors, occupational therapists and an audiologist specialized in hearing for musicians. Furthermore, NYOC offers business skills development clinics and workshops, mock audition workshops, and panel discussions with its faculty focusing on the practical side of a professional music career.
NYOC is unique in that it is a completely free program covering tuition, room and board, all lessons, masterclasses and coaching, and everything else. Each student receives a minimum of a 1000$ scholarship, plus access to numerous awards: ten Awards of Excellence of 5000$ (including four new awards earmarked for string players), two new brass awards valued at $2,000 each, plus the new $25,000 Arts Michael Measures Prize (from the Canada Council) for an exceptional young musician to play a concerto with the orchestra.
"About 40% of all professional orchestra musicians in Canada attended the NYOC program," says Smith. In 1996, delegates to the World Youth Orchestra Conference in Tokyo, representing 39 countries, awarded the NYOC the title "Best Youth Orchestra in the World." In the future, the program is projecting an international tour and a coast-to-coast tour in 2017 to celebrate Canada's 150th anniversary. It is also planning new online master classes and workshops that students can access throughout the year. www.nyoc.org
---
Version française...