Ensemble Caprice: Musical Explorers

by Caroline Rodgers / November 1, 2014

---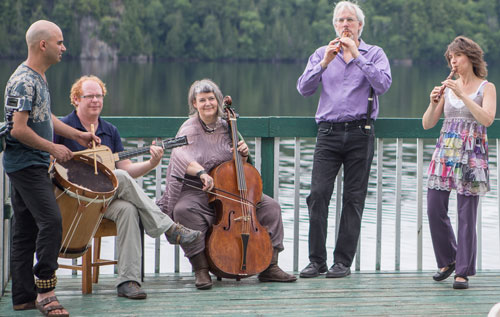 Ensemble Caprice turns 25 this year. La Scena Musicale met the ensemble's founder, Matthias Maute, and its co-artistic director, Sophie Larivière, to take stock of this musical quarter century and discuss their artistic vision, a vision that, while not always breeding unanimity, has won them a loyal audience over time.
An ensemble of variable geometry, Caprice is composed of five core members, assisted by other musicians in order to scale the ensemble's size according to the project being undertaken. These members are Matthias Maute, flutist, composer, and conductor; his wife Sophie Larivière, also a flutist; David Jacques, guitarist; Suzie Napper, viola da gambist and cellist; and Ziya Tabassian, percussionist.
"We're a bit on the margin, artistically," says Maute. "This elicits negative reactions, especially on the part of critics, who put us down. Classical music is so traditional, formal, and religious, that if you venture outside the norms a bit, there are knee-jerk reactions."
"The Baroque scene is less conservative, but it depends on what you're doing," adds Larivière. "With Bach and other well-known works, people are more cautious. But if we play composers that fewer people know, as we did on our album Salsa baroque, it gives us some liberty. Anyway, even when we try to draw on all readings of the era, there's always a music lover or a critic who has imagined an ideal version which, for them, we cannot surpass."
For Matthias Maute, the life of a musician and artist is more than the simple role of faithful interpreter. It is a research project, one of constant discovery and exploration,
"What interests me most is finding a way to explore reality through music. The moment we get on stage, something happens. It's not just notes. You must reach a state where you are outside of yourself," he explains.
Mass in B-minor
This research yields results that can sometimes be shocking. This was the case with their performance of Bach's Mass in B-minor at the Darling Foundry, with some 40 singers and musicians, in 2009. A controversial concert, it both impressed audiences and infuriated critics. Le Devoir notably described it as "smoke and mirrors that suffocate the music and strip it of spiritual significance," while The Gazette compared the concert to "speed metal".
"For this concert, we won the 2011 Prix Opus for Concert of the Year in the Medieval, Renaissance, and Baroque Music category," says Maute. "And at the same time, there were terrible reviews. Especially of note, Ton Koopman, an early music legend who was in Montreal at the time as the honorary president of the Bach Festival, was at the concert, and he detested our interpretation. Friends who met him in Europe last year told me that he talked about that concert as being appalling. At the time, I got a call from my European agent who had heard a recording. He asked me, 'What is this?' All this traumatized me. We had taken liberties that some considered unacceptable. I didn't know that you could shock connoisseurs so much. That wasn't our goal. But if you see something in music and you carry it out, you find an energy and an incredible power that are overwhelming. That's what interests us with Caprice."
Whether you love or hate their work, musicians are determined to fulfill their quest.
"There's a critic in the USA who, in talking about us, used the term 'rehear the world.' That's become our motto and our ultimate goal," says Maute. "It's very difficult to achieve and it motivates us artistically."
"There's something very baroque about this approach," says Larivière. "In that era, these questions weren't asked in the same way because they weren't performing the same things over and over. Composers borrowed ideas from each other; Handel took excerpts from his own works to use them in others. The problem of today's performer is that the same works have been performed a thousand times. It creates expectations. But for us, as performers, it's important to program concerts that stimulate, even frighten us. Without that, we can't develop and grow.
Beethoven and Dave St-Pierre
To celebrate their 25th anniversary, Ensemble Caprice is preparing an entirely original concert: a performance of Beethoven's Symphony No. 2 during which dancers will perform choreography by Dave St-Pierre.
Matthias Maute says that he is impressed by the approach of the Montreal choreographer, who is known for his audacity and innovation.
"He's extremely well-structured and organized, so it's easy to work with him. He has a vision that's focused on the positive when he works with his dancers. Often, in classical music, there's a negative approach that focuses on the rules, with people saying, 'No, you can't do that,' as well as a style of working where the conductor alone makes decisions," he explains. "With Caprice, I try to reinforce what's good and point out the musicians' strengths."
Joining forces with modern dance, which has an artistic approach very different from that of classical music, requires research and reflection. But somewhere along the way, this creative approach fits with the philosophy of Ensemble Caprice and its conductor.
"Dance should express something close to us," he says. "With music, we work within the framework of tradition. But in my opinion, it isn't tradition that brings us closer to music and its content. I think it's important to forget tradition in order to find a way that allows the future to become the stuff of classical music. It's difficult, because we're changing the rules of the game. For example, I sometimes tell musicians that they can play wrong notes; it's not so bad. What's most important is to bring out other things in music, an energy that touches us. If, at the end of a concert, you feel like you are no longer the same person, for me, that is music. Dave St-Pierre does the same thing with dance, but in the most radical way possible."
He believes that this unconventional experience with an artist who is considered by many in the dance scene to be an "enfant terrible" will allow the ensemble to go even further in its innovative research.
"This will allow us to be even more daring and to experiment with ourselves because in the end, that's what art is," he clarifies, "It is to follow a perception and a vision that didn't exist before. The problem with classical music is that the works are now part of the canon. When they were created, Beethoven's symphonies were revolutionary, but now they are integrated into this canon. And personally, for us, the canon and tradition don't interest me. I prefer trying things out and risking their not working out in concert. The real barrier to overcome is to find a way around everything that stops music from transforming us in the moment that we make it."
This concert takes place on January 17, 2015, at 8 p.m. at Salle Pierre-Mercure.
Ensemble Caprice: A Timeline
1989: Matthias Maute founds Ensemble Caprice with two friends in Germany.
1990: Matthias Maute wins first prize in the soloist category of the recorder competition at the MAfestival Brugge in Belgium.
1997: Sophie Larivière joins Ensemble Caprice and becomes co-artistic director.
1999: Matthias Maute moves to Quebec, where he re-forms Ensemble Caprice. The group records its first album in Quebec on ATMA Classique.
2009: The album, Gloria! Vivaldi's Angels wins a Juno Award for best classical album in the "choral or vocal music" category.
2013: Presentation of Vivaldi's opera Motezuma at Théâtre St-James in Montreal.
Four Important Albums
In 25 years, Caprice has recorded 17 albums. Since 2007, the ensemble has been working with a very popular partner, Analekta. Among the most recent recordings, here are four that have influenced their history:
1) Vivaldi: The Baroque Gypsies (2007)
Nominated for a Prix Opus, at the ADISQ and at Echo Klassik
"Vivaldi lived near a port, where strangers from Eastern Europe would arrive. They came with their instruments. In general, people don't like the idea of mixing the intellectual music of great composers with that of people like the gypsies, who were unwanted in cities and towns." – Sophie Larivière
2) Gloria! Vivaldi's Angels (2008)
Winner of a Juno Award in 2009
3) Telemann, The Baroque Gypsies (2009)
Nominated for a Prix Opus and at the ADISQ
"Telemann was very interested in gypsy music, which he mentioned in his writings. He spoke of a barbaric beauty and said that after hearing this music, he was inspired for life. It really had an impact on him. For us, it was an eye-opener to discover gypsy influences in his music, and it helped us move forward musically." – Sophie Larivière
4) Bach, Brandenburg Concertos and Shostakovich Preludes op. 87 (2012)
Named one of the best albums of the year by The New Yorker
This year, the ensemble didn't make any new recordings in order to devote itself to making videos, which can be viewed on the site noncerto: www.vimeo.com/channels/noncerto
Upcoming Concerts
• Vêpres de Claudio Monteverdi
Nov 15 and 16, 7:30 p.m. at Église Saint-Pierre-Apôtre
• Beethoven's Symphony No. 2
Jan 17, 8 p.m. at Salle Pierre-Mercure
• Profondeur et consolation
Feb 22, 2 p.m. at Bourgie Hall
• Baroque Christmas
Dec. 11: Pointe-Claire
Dec. 12: Port Hope
Dec. 14: Barrie
Translation: Rebecca Anne Clark
---
Version française...