Philippe Bourque: A Versatile Conductor

by Kristine Berey / November 1, 2014

---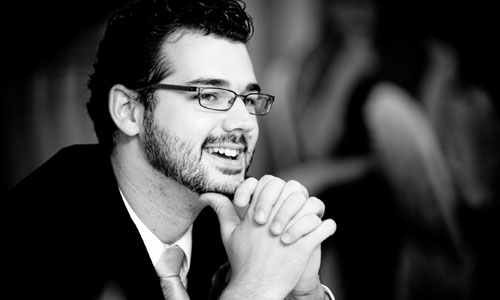 It is easy to see why choral conductor Philippe Bourque's students at Vanier College gush "outstanding," and "awesome" in ratemyteachers.com. In person, he shares boundless energy and passion. At 33, Bourque is pursuing what he loves the most, making music and conducting.
Last March, Bourque was named the third artistic director of the venerable St. Lawrence Choir, a position he holds with pride, due to Iwan Edwards's influence and its "great history" as the founding core of the Montreal Symphony chorus. Now that the choir is no longer part of the MSO, Bourque plans to refocus the 60-member chorus in its own concert series.
"We often think of music in terms of early music, chamber music, opera, symphonic and contemporary music, but the oratorio is a rich repertoire that is being neglected in the city," stresses Bourque, citing 19th century choral conductor and composer Guillaume Couture's oratorio society in Montreal as a legacy to emulate. "The St. Lawrence Choir can sing that repertoire for soloists, chorus and orchestra. It is a niche they specialize in and I want them to shine, to be the best oratorio chorus in the city!" he says.
One of five siblings born into a musical family in Ste-Anne-des-Plaines — his father was a minister and his mother a pianist and church accompanist who studied piano at McGill with Charles Reiner — Bourque began accompanying his church's choir at age 12. His parents were adamant that their children receive the best possible musical education, and sent them to Montreal's Pierre Laporte, a high school specializing in music. "That's where I met Louis Lavigueur, who triggered my desire to conduct," Bourque recalls.
McGill University's Julian Wachner was another mentor to Bourque, who obtained his master's in Choral Conducting under Wachner's guidance. When Bourque auditioned as an undergraduate for Wachner's choir, he mentioned his interest in conducting. At the first rehearsal, he was floored to see his name listed as assistant conductor. "He gave me a lot of things to look at, sources, books, and simply tons of opportunities. He was so busy he would call me up and say 'I'm late, you're up, within the next hour'," he recalls. "I would be freaking out." Bourque served as Wachner's assistant for McGill's Concert Choir and Chamber Singers for five years.
Bourque's musical curiosity reaches across a wide spectrum, in both history and genres. From his years in church, Bourque holds hymns in high regard and was the recipient of a scholarship to study hymnology. He explains that hymns not only provide a participatory opportunity for the worshippers, but also convince them to answer the voice of the gospel. "What the chorale was to Bach, hymns are to the Protestant church," he says. "Hymns have a tremendous history; people wrote them in great despair, in struggle, in sickness. If you really want to grasp the depth of this music you need to consider what it says."
An accomplished classical pianist who also loves to play and conduct jazz, he recalls being distracted from practicing by his own musicality: "As soon as I made a mistake it opened up a new path, I loved that mistake and kept improvising."
One source of pride for Bourque is the fact that some of his Vanier choristers have joined the St. Lawrence choir, with the older and younger singers complementing each other. "I would like to have an impact on the next generation of singers," he says. "I believe a lot in pedagogy and I do think the primary goal of a conductor is to teach."
SLC's 2014-15 season
• Bach Festival: Bourque and the St. Lawrence Choir join several of Montreal's leading choirs on November 15 in The Night of the Choirs at the church of St. Andrew and St. Paul to kick off this year's Bach Festival. Then on December 6, they perform Bach's Christmas Oratorio in its entirety, in two consecutive concerts, with a dinner break in between.
• American conductor Justin Freer leads the choir in the Montreal premiere of Gladiator Live, combining film and live music. Hans Zimmer and Lisa Gerrard's award winning score for choir and orchestra will be performed as the epic film is shown in HD on a 40' screen. February 21 and 22
• On April 11, 2015, SLC premiers the Requiem Mass 2015, composed by Armenian Petros Shoujounian, in honour of the 100th anniversary of the Armenian genocide. "The work is an hour and half, a cappella with a little bit of organ, with divisis, where the four-part choral texture goes from thin and delicate to very vibrant and rich," says Bourque.
• In a first time collaboration with the McGill Chamber Orchestra under Boris Brott the choir will perform Beethoven's 9th Symphony. June 9.
www.choeur.qc.ca ; www.ocm-mco.org ; www.bach-academie-montreal.com
---
Version française...