Stéphane Tétreault: Man with the Golden Cello

by Caroline Rodgers / October 1, 2014

---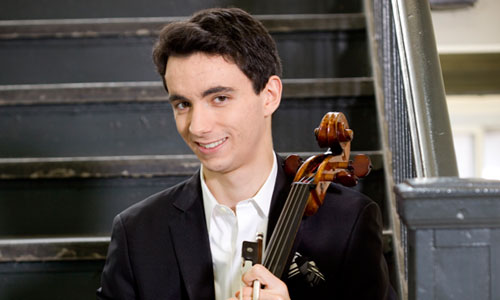 For some years now, Stéphane Tétreault has been capturing the hearts of Quebec's music lovers thanks to his immense talent. The precious Stradivarius entrusted to him in 2012 made him known in Canada and beyond. While pursuing his master's degree at the University of Montreal, he is preparing to become the first soloist-in-residence in the history of Montreal's Orchestre Métropolitain.
"It's my big project for the year," says the young musician, particularly excited by the prospect. "It's an honour for me, but it's more than that: the OM was one of the first orchestras to invite me to play. At sixteen, I played Khachaturian's Concerto as part of the Youth Spirit series. It was an extraordinary experience to play with an orchestra for one of the first times, but especially because of the warm welcome the musicians gave me."
In 2012, he performed again with the OM as part of a tour, this time in Dvořák's Cello Concerto under the baton of Julian Kuerti.
"When they asked me to be their soloist-in-residence, I was really touched. Yannick Nézet-Séguin said that he wanted to invite not just a musician the orchestra liked, but a musician who also liked the orchestra."
His role as soloist-in-residence also entails a pedagogical component. "They plan to organize masterclasses with primary and secondary students in Montreal. I love working with young people and sharing what I know with them."
Europe and a New Album
Stéphane Tétreault's international career hasn't yet quite taken off (let's not forget that he's only 21), but he has given a few concerts in Europe this year.
"What I want is to be an international soloist," he notes. "For the moment, it's a good start and projects are starting to get under way. My career made an important gain when I got my Stradivarius, as the instrument has generated an enormous amount of attention, especially in Canada. But I want to go even further. I keep working on it."
This past June, his recital at the Flâneries Musicales de Reims festival with pianist Marie-Ève Scarfone was filmed and broadcast on the medici.tv site, which gave him a lot of visibility. He was also invited to perform at three events at the tenth Wissembourg International Music Festival in Alsace in August.
"I gave a recital with a piano, a recital in a duo with an organist, and another with a string quartet. We did Schubert's String Quintet in C Major [D. 956, Op. posth. 163, also known as the "Cello Quintet"]. It was one of the last works he composed. For me, it was a dream come true to play this quintet; it's a work that's close to my heart," he says.
Next March, he will give a recital with a piano at the Louvre. Three days later, he will perform at the Museum of Grenoble. For both recitals, he will play Brahms's Cello Sonata No. 1, Rachmaninoff's Cello Sonata, and Hadyn's Divertimento for Cello in D Major. "These works appear on my second album with Analekta, which will come out in March – the same time as my European recitals," he adds.
Among his other occupations is the Orchestre Nouvelle Génération, founded by Yuli and Eleonora Turovskyin 2011. Not only does Tétreault play cello with the ensemble, but he conducts, alternating with two other conductors, and produces arrangements of works for concerts. Finally, he and some other members of Nouvelle Génération have formed the Turovsky Quartet.
Lessons from Yuli
In 2013, Stéphane Tétreault lost his friend, professor, and mentor, the late Yuli Turovsky, founder of I Musici de Montréal, from whom he learned so much. The apple never falls far from the tree! Tétreault remembers his teacher:
"Yuli imparted a great deal of important lessons to me. When I was young, around 12, I was already quite good technically, and he told me, 'One day, other cellists will be as technically good and capable of playing as fast as you. The way to set yourself apart is not to be perfect, but to create a unique personality as a musician.' He and I worked toward that goal for years, and I continue to do so. Sometimes, I play a piece while thinking how musical and touching it is, but for him, that still wasn't it. We always had to work more and harder.
"He always told me, 'Play each note as if it were the last one of your life.' That's one of the phrases that impacted me the most, and I make an effort to follow this advice. When you give a lot of concerts, it easily becomes routine. For him, it was important to step on stage and give the audience their money's worth, because they paid a lot to be there and hear you. Even if you're not in great shape, you have to give the best of yourself. It was a pretty memorable lesson.
"I also remember his approach to chamber music. For him, the interaction between musicians meant to go seek out something from one another. It isn't enough to play the parts together and for everything to be there, musically and rhythmically. For him, exchange was important. It was necessary that everything be bonded together and interwoven into one. I always try to look for that when I play with other musicians."
Five Works that Influenced Him
Cello Concerto No. 1 by Shostakovich (1959)
"This concerto demands unusual power and energy. You really feel Shostakovich's pain and grief and it's very touching, even in the hard and rhythmic parts. When you're on stage and you've just finished the third movement, you feel like you're going to die, but you have to finish the fourth movement; it's unbelievable! But the energy that the music gives you allows you to continue. It's a unique experience to play this concerto, which I studied in depth with Yuli. I played it with the Orford Academy Orchestra under the direction of Jean-François Rivest."
Don Quixote by Richard Strauss (1897)
"I played it last summer at the Festival de Lanaudière with the Festival Orchestra, conducted by Jean-Marie Zeitouni. I had talked to other cellists earlier to find out how they approached the work, and some of them told me that in their opinion, it was the most enriching work, on a personal level, for a musician to play. I didn't really understand what they meant. But once on stage, at the end, during the death of Don Quixote, I felt an incredible vibration, a huge wave of emotion."
Cello Concerto by Elgar (1919)
"This is a concerto that I've performed only once. It was with the Orchestre symphonique de Laval with Alain Trudel conducting, last spring. I had never dared to play it before then, even when I was told that I could. For me, the problem wasn't on a technical level; it was that I didn't feel ready on an emotional level. I never worked on it with Yuli, even though he liked this piece a lot. Finally, when Alain Trudel asked me to play it, I told myself that it was time. I'm going to do it again on tour with the Orchestre Métropolitain next April for the English Gardens concert, conducted by Yannick Nézet-Séguin. We're going to do it seven or eight times, and it might be one of his favourite concertos as well. This concerto has always touched me profoundly because of the image of the work that was created by Jacqueline du Pré. That's the version I've been listening to since I was nine. I remember that during my first experience on stage, I thought about her a lot.
Cello Concerto by Dvořák (1895)
"This is the concerto that I've played the most with orchestras. It's a masterpiece for the cello and all cellists have played it a great deal, so the hardest part is finding your own voice with this work while still respecting it. It's even more difficult than the most technically demanding passages. To me, it's a piece that tells a grandiose story, one that you feel privileged to tell. It's the most unique story of any concerto.
Symphony-Concerto by Prokofiev (1952)
"I still haven't dared to play it, but I'm excited to. I adore it. If I haven't played it yet, it's not for musical reasons, but for purely technical reasons. Now, I think I can allow myself to do it! It's among the most difficult concertante pieces for cello, in my opinion. It's also quite a long work that demands endurance and energy. All the important cellists have played it, but it was popularized especially by Rostropovitch. However, I prefer the performance by Russian cellist Daniil Schafran. He never had a big international career like Rostropovitch, but for this work, he's possibly my favourite cellist. Yuli loved this musician and had heard him several times in concert. Fittingly, he told me that this was the most extraordinary version that he'd ever heard. I found a recording, and as chance would have it, it was exactly the same version. It was breathtaking. We'll see if one day, I can recreate that in my own way."
Stéphane Tétrault: a timeline
1993: Tétrault is born in Montreal
At 7, he begins the cello at Montreal school FACE
At 9, he auditions for Yuli Turovsky and becomes his student
At 10, he participates in the Canadian Music Competition for the first time
At 14, he wins the "17 and under" category at the OSM Competition
At 15, he competes in his first international competition, the Concours de Genève
2009: he participates in the last edition of the Concours Rostropovitch, in Paris
2011: he participates in the Tchaikovsky Competition in Moscow. He finishes in the top 24
2012: he is given his 1707 Stradivarius cello, "Paganini, Countess of Stainlein", which belonged to Bernard Greenhouse, thanks to the work of philanthropist Jacqueline Desmarais who acquired the instrument
2013: first European concert in London as part of the tenth anniversary of the London Cello Society
2013: he becomes the first winner of the Fernand-Lindsay award and receives $50,000
2014: he becomes the first soloist-in-residence in the history of the Orchestre Métropolitain
Upcoming Concerts in 2014
• Stéphane Tétreault: Carte Blanche. With pianist Michel-Alexandre Broekaert, Oct 18, Salle Saint-François Xavier, Prévost. www.diffusionsamalgamme.com
• Turovsky Quartet Recital. Oct 19, St. Paul Anglican Church, Saint-Paul-d'Abbotsford.
• Violonchelo Espagnol. Orchestre Nouvelle Génération, conducted by Stéphane Tétreault. Nov 8, 8 pm, Salle Claude-Champagne. orchestrenouvellegeneration.com
• "Winter Evenings" with works by Tchaikovsky and Corelli. Orchestre Métropolitain conducted by Alexandre Bloch.
Dec 17, Notre-Dame-des-Sept-Douleurs Church, Verdun
Dec 18, Maison de la culture de Mercier-Hochelaga-Maisonneuve
Dec 19, Maison symphonique
Dec 20, Maison Mirella et Lino Saputo, Saint-Léonard
orchestremetropolitain.com
Translation: Rebecca Anne Clark
---
Version française...