Bénédicte Lauzière

by Renée Banville / October 1, 2014

---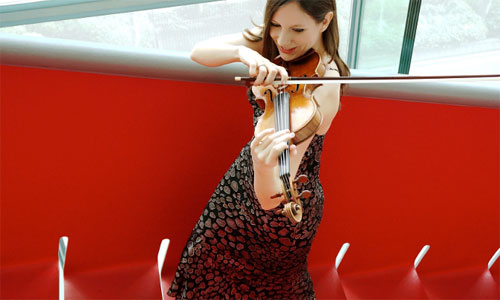 Since her appearance at the Canadian Music Competition at the age of 14, for which she took home first prize for three consecutive years, Bénédicte Lauzière, a passionate violinist since childhood, has continued her progression. In 2010 she won silver in the Stulberg International String Competition in Kalamazoo, Michigan, and in 2011, second prize at the Shean Strings Competition in Edmonton. She has just completed her Master's of Music at Juilliard under the direction of Massao Kawasaki. She dreamed of living in New York and getting involved in the exciting arts and cultural life found at Juilliard. "Even just going to sit at the fountain at Lincoln Center, there has always been something inspiring about that," she says.
Bénédicte's parents have always encouraged her musical passion. She entered the Conservatoire at the age of 9, where she studied with Helmut Lipsky for nine years.
"She is not just a musician," he says. "She is a complete artist." Bénédicte's drawings decorate his office. At the age of 12, she attended a concert by the Montreal Symphony Orchestra at Place des Arts. Sitting in the front row, a young Bénédicte experienced the music of Jonathan Crow, the impressive solo violinist, for the first time.
"He was so young and imposing," she recalls.  Blissfully happy, Bénédicte had no idea that the young talented violinist would, seven years later, become her teacher at McGill.
L'Académie de musique de Québec has rewarded her efforts by awarding her the 2014 Prix d'Europe. The Prix d'Europe is unique in that it covers all disciplines, making decisions increasingly difficult for the jury.  Four finalists from the winds, keyboard, strings and voices categories were featured in last year's June 15 gala. This feature allowed us an unbridled look into the talent of a clarinetist (François Laurin-Burgess), a pianist (Steven Massicotte) and a soprano (Jana Miller). As the results were unveiled, the young winner appeared on stage, radiant and serene. She attributes her quiet confidence to practicing yoga on a regular basis, which helps her manage stress. "Nerves are good before a concert," she said, "provided they are transformed into positive energy. "
Ambitiously, Bénédicte would like to work on all repertoires. As much as she deems it   essential to focus the next few years on her orchestral repertoire, she is equally fond of chamber music, particularly Beethoven's quartets, which push the limits of instrumentation. She considers his violin concerto to be the "king of concertos," even though his signature concerto is the Korngold. The imaginative young violinist has already proposed Montreal organizers joint concerts with her Juilliard colleagues. She is working on a musical salon, including technology, that she will broadcast on the Internet, as well as other projects that will explore several other art forms.
Translation: Gillian Corbin
---
Version française...