Sumi Hwang

by Marc-Olivier Laramée / October 1, 2014

---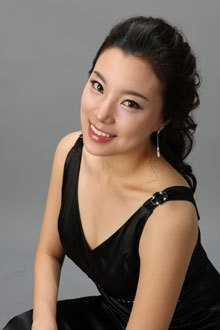 Established in 1951, the Queen Elisabeth Competition is dedicated to three musical disciplines: piano, voice, and violin, on a rotating basis. Since its establishment, the competition has been hosted by Belgium's royal family, in this case under the patronage of Queen Mathilde. In May 2014, South Korean soprano Sumi Hwang won first prize.
Trained in South Korea, Hwang made her debut in singing in a church choir. When her choir director recognized Hwang's absolute talent, he invited her to take classical voice lessons. She pursued a bachelor and masters in voice at the University of Seoul before heading off to Munich to fine-tune her training.
"I saw the Queen Elisabeth Competition final online three years ago," said Hwang. "The winner was also South Korean. Therefore, I told myself that I could also take part in the competition."
Three years later, Hwang won the competition by presenting a successful thirty-minute program with orchestra. The winner of a prestigious international competition, Hwang has received several proposals from the United States, Brazil, India, South Korea, and Russia.
Before taking part in the Queen Elisabeth Competition, Sumi Hwang had performed on Europe's musical scene. In 2012, she won first prize at the GRANDI VOCI opera singers' competition in Salzburg, Austria. The following year, she won first prize at the Anneliese Rothenberger Competition in Constance, Germany. And just before Belgium's renowned competition, she won the Emmerich Smola competition produced by German television.
Hwang's performance at the Queen Elisabeth Competition can be considered remarkable. Accompanied by the La Monnaie Symphony Orchestra under the baton of Roland Böer, the South Korean soprano presented a varied concert program. She began with Alban Berg's Die Nachtigall. Not only did people hear a singer, they also saw a performer who lived the music. Hwang went on to perform excerpts by Puccini and Donizetti—"Signore, ascolta!" from Turandot and "Quel guardo, il cavaliere" from Don Pasquale.  Her technical skill impressed the public and jury members, for she was able to easily reach high notes and sing low notes gracefully and smoothly. She ended the program with Charpentier's "Depuis le jour" from Louise and Strauss's "Im Abendrot" from Vier letzte Lieder. Audience members could see real talent with the Strauss piece. Although Hwang lacks embellishment and soaring notes, the inspiration of singing is prevalent with heart-filled emotion. Sumi Hwang shows surprising flexibility. Though she is still young, she has a mature, well-tuned, and light voice. No matter the language, her diction is flawless—a rarity among singers.
Hwang continues her career with Bonn Opera in coming months. She hopes to perform the roles of Violetta (Verdi), Mimi (Puccini), and Adina (Rossini).
www.sonoartists.com/artists/sumi-hwang
Translation: Dwain Richardson
---
Version française...