Jayson Gillham

by Christine ML Lee / October 1, 2014

---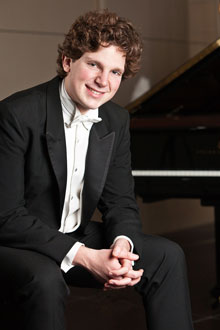 This summer, the piano edition of the Montreal International Music Competition (MIMC) ended with Jayson Gillham taking home first prize. The 27-year-old pianist, who hails from Australia but now lives in the United Kingdom, performed Beethoven's Piano Concerto No. 4, Op. 58, a choice that contrasts with the Tchaïkovsky, Prokofiev and Rachmaninoff concertos programmed in the finals. Gillham's clear technique, coupled with his delicate and beautiful tone, charmed the audience and made every run, trill and note seem effortless. Throughout the concerto, Gillham showcased incredible musicality. He found ways to lead into or from orchestral parts, beginning and ending his phrases with purpose effortlessly. In the Rondo, the audience could feel the cohesion between pianist and orchestra, as an atmosphere of playfulness emanated from the musicians. The long ovation was proof that his performance had been memorable.
After graduating from the Queensland Conservatorium of Music, where he studied with Leah Horwitz, the young pianist relocated to London in 2007 to pursue a Master's degree with Christopher Elton at the Royal Academy of Music.
Having won 10 awards, Gillham is no stranger to music competitions. In 2012, he was deemed Gold Medalist of the Royal Over-Seas League 60th Annual Music Competition. In the same year, he was named Commonwealth Musician of the year. He tells La Scena Musicale about the reasons for joining the MIMC:
"The Montreal International Music Competition has a very high reputation internationally, and the main reason I came is because I really liked the jury," said Gillham. "I'd also wanted to come to Canada. I'd never been in Canada, so it's fantastic just to be here. In some competitions, you stay in a hotel or a student hall, but staying with a host family is definitely the way to go because you get a real local feel, as if you lived in the city."
On the subject of preparing for the competition, he says, "I had to work out what I had to play first. After I knew I had been accepted, I still had time to change my repertoire, which I did. I had a Beethoven sonata in the semi-finals and I changed that to some Bach. I had been playing this Beethoven sonata for a bit too long, and I had done it at other competitions. I wanted to do something fresher, so I put in the Bach Toccata and the Scriabin Sonata. The Schuman piece stayed, the major work in that round. And I've always wanted to play Beethoven's Fourth. And then it was just a case of practice and trying to manage the hours. The first round is the most important because there are many people and that's where it's easiest to be eliminated."
About his performance with the MSO, he says, "It was fun! Especially listening to the orchestra because they played magnificently and of course the conductor who was friendly and upbeat. He loves the music, too, and knows it inside out. It was just a great pleasure to play with him and the OSM. Seeing how it goes, you've got to manage the energy levels. If you think too much about what's coming next and what you've just done, it can be very treacherous.. You really have to focus."
Gillham has charted out his upcoming concerts, including a solo recital at the Louvre. He will be playing with the English Chamber Orchestra in London at the Royal Festival Hall, with a Mozart concerto in the programme. There is also a possibility of his performing Rachmaninoff's Piano Concerto No. 4 in Italy.
Many great opportunities await this young man who wished to celebrate his win with a round of drinks with his host family and the finalists, participants, and organizers. Cheers to him!
---
Version française...