Musica Camerata: 45 years of Chamber Music

by Jan Jorgensen / October 1, 2014

---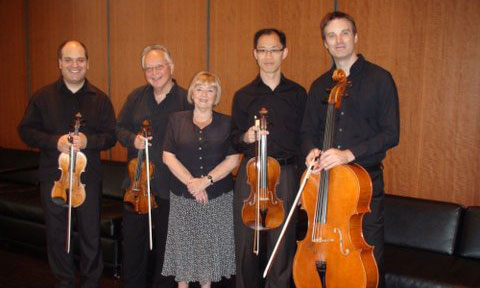 Late in 1970, a group of Montreal Symphony Orchestra musicians gathered to play chamber music in the home of Hans and Imy Nemenoff. These musicians include pianist Berta Rosenohl and violinist Luis Grinhauz, newly arrived in Montreal. At the time, few others were performing chamber music, and the informal ensemble and audience soon outgrew the Nemenoff home. Thus was born Musica Camerata (Latin for chamber music), and the group then offered free concerts at the Ermitage. Nemenoff later obtained a grant from the Canada Council, and the ensemble was formalized and musicians paid. After Nemenoff died, Imy took organizational responsibility for a time before handing it off to Grinhauz, who remains the artistic director. He is emphatic that there is no musical director, no conductor!
Today Musica Camerata Montreal is comprised of pianist Berta Rosenohl; violinists Luis Grinhauz, Van Armenian, and Alexander Reed; violist Bertrand Robin; cellists Sylvain Murray and Leo Grinhauz; and double-bassist Eric Chappell. Other musicians and singers are invited when needed.
"Chamber music also encompasses the genres of jazz and tango," Grinhauz pointed out. He believes that "chamber music is a great treasure" and finds it interesting to discover composers who are unknown or works that have long been overlooked. Over the years, Musica Camerata has developed a reputation for trying the unexpected.
"Of course," Rosenohl said, "the masterpieces are wonderful." She noted that they have played complete cycles of the Brahms, Beethoven, and Haydn piano trios, and most of the quartets as well. "But," Grinhauz said, "our spirit is to search out beautiful music," especially that which is obscure, in order to share it with others. Their confidence in the audience has been vindicated by people who have responded, "How can we have lived without knowing this music?"
Where do they find the obscure scores? Grinhauz credits the Internet: "There is so much available there. It is very easy to enlarge your library." Both Rosenhohl and he also acknowledged colleagues' suggestions as well as the recommendations from enthusiastic concert goers.
Whenever Rosenohl and Grinhauz travel, they visit music stores and libraries. Their favourite resource is the Library of Congress, in Washington DC, with its vast music collection and soundproof cubicles with pianos.
Once, musicologist Sabina Ratner brought Camille Saint-Saëns's unpublished 1853 Quartet in E major to their attention. "The writing was pretty clear – and we found it very charming" says Grinhauz. So they performed from copies of the manuscript, presenting the world premiere of the work. 
The ensemble has been approached by composers who have written music especially for them. Conversely, they have often commissioned chamber music works.  
Just this past September the ensemble played pieces by Louise Farrenc, a 19th century pianist, composer, and professor of piano at the Paris Conservatory. After her death, her work had passed into obscurity. Bringing music such as hers alive again delights Grinhauz.
Asked about the origins of chamber music, the couple noted that, while small groups of people have been making music since the beginning, the earliest chamber music compositions we have (aside from church music) come from the 16th century, when musicians were hired to compose and perform for dinners and other events in palaces. Large public concerts came later, when individual composer-performers played for audiences as they demonstrated their musical virtuosity.
Asked if they liked to perform solos, Grinhauz, who also plays with the Montreal Symphony Orchestra, laughed and said, "Being a soloist is too much work," but then he added, "It is also very lonely work." He likes the communion of playing with others and having the responsibility for a unique instrumental voice in a small ensemble. Rosenohl started out playing recitals, but as a private, shy person she didn't feel comfortable alone on a stage, preferring the rapport she shares with other musicians.
Upcoming concerts
November 8: cellist Alexandre Castonguay will join the duo as they perform LES AMÉRICANS: trios by Arthur Foote, Amy Beach, and Lowell Libermann.
March 14: LES FRANÇAIS, will include quartets by Camille Saint-Saëns and Ernest Chausson.
May 23: OH FÉLIX! A number of young musicians will join the ensemble for Mendelssohn's Octet for Strings, op. 20.
Chapelle historique du Bon-Pasteur.
www.musicacamerata.com
---
Version française...