Yolanda Bruno

by Marc-Olivier Laramée / October 1, 2014

---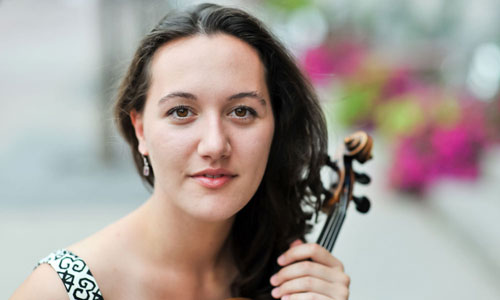 The grand prize of the 2013 edition of the OSM Standard Life Competition went to violinist Yolanda Bruno. The prize included over $20,000 in cash and grants, in addition to numerous offers for recordings and concerts. A concert with the OSM at the Maison symphonique, which took place in December 2013, as well as a professional recording at the Radio-Canada studios was part of the prize. Yolande Bruno was also awarded the second prize at the 2014 edition of the Canadian Music Competition's Stepping Stones. This competition, aimed at young and upcoming talent, is a chance for musicians to launch their professional careers.
Speaking to LSM by telephone from London, Yolanda answered our questions about her participation in competitions and her musical trajectory.
"I've followed the OSM Competition since I was little. One of my goals was to participate in it and thus pursue a fuller career thanks to this competition," she explains. When she applied to this major event, she didn't have any expectations. Simply being selected to compete thrilled her. She put several projects in London aside in order to dedicate herself to preparing.
"The most interesting thing about the competition is that the prize isn't just money; it also offers many opportunities to perform in front of an audience," she says. As Yolanda Bruno has participated in the CMC for a number of years, participating in the OSM Competition as well is only natural. The most difficult part of the competition is the performance and its length. "The one hour duration of the recitals is very demanding," she asserts.
"My mother is a violin teacher. I always wanted to be like her, and it eventually led to my continuing my education at the Conservatoire de musique de Québec." McGill was the next step in her study of the violin. "I chose this school for the professor, but also for the city of Montreal, which is very rich, culturally speaking," she says. She is continuing her adventures in London, where she has been studying for four years.
Among her aspirations and upcoming projects, she would like to play with Ottawa's National Arts Centre Orchestra, an ensemble that she has followed throughout her youth since she grew up in the capital. She would also like to create a Canadian string quartet. She is debuting a series featuring Beethoven in the UK with the Hieronymus string quartet, of which she is a member.
Translation: Rebecca Anne Clark
---
Version française...