Victor Fournelle-Blain

by Marc-Olivier Laramée / October 1, 2014

---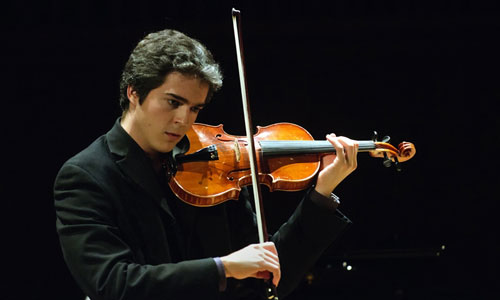 Violinist and violist Victor Fournelle-Blain is the 2013-2014 winner of McGill University's prestigious competition. Open only to students at the Schulich School of Music, this competition allows four participants, chosen by the Strings Department, to face off in a 30-minute public recital in front of a jury made up of professors and other judges from the world of professional music.
The grand prize includes a recital at the University's Tanna Schulich Hall, a one-hour concert during the next season at the Four Seasons Centre for the Performing Arts' Richard Bradshaw Hall in Toronto, a $25,000 bursary, and a gold pin depicting the golden violin that was gifted by the Schulich family and that is exhibited permanently at the Faculty of Music.
Joined by telephone in Brazil – where he is on a tour of South America with the Parcival Project ensemble – Victor Fournelle-Blain maintains vivid memories of the competition.
During his performance, not only did he play the violin, his main instrument, but also the viola. "I began playing the viola at 18; I really like the instrument," he tells us. "For many people, going from one instrument to the other is difficult. In my case, it has become easy, as I have been doing it for a long time."
He began his musical training at the Conservatoire de music de Montréal where he studied from the age of 13, when he was in high school, until the age of 23. He studied with Johanne Arel, who was, he tells us, "without a doubt, my most influential teacher." He then went on to study in the United States with Ani Kavafian at Yale University. He received the 2012 Prix d'Europe before returning to his native Quebec to begin his solo career at McGill.
He gave his most important concert at Tanna Schulich Hall, following the Golden Violin competition. "I felt comfortable, very present and involved," he says. "I was able to communicate with the public from beginning to end."
His upcoming projects include a concert with the Trio Hochelaga and pianist Charles-Richard Hamelin at the Conservatoire de musique de Montréal, on Friday, March 27, 2015. He will also play with the McGill Symphonic Orchestra on April 10 and 11, 2015.
www.osm.ca/en/bio/victor-fournelle-blain
Translation: David-Marc Newman
---
Version française...