AKOUSMA and Électrochoc, Two Series to Discover

by Charles-David Tremblay / October 1, 2014

---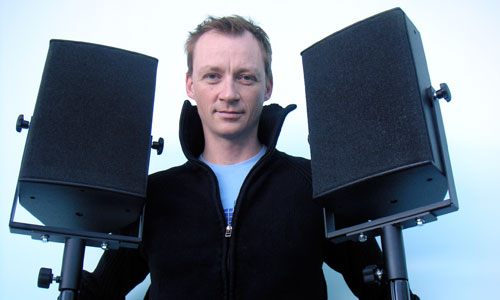 The AKOUSMA festival has been exploring different kinds of electroacoustic music since 2005. A successor of the Rien à voir series, AKOUSMA displays the various contemporary music movements and reflects the outburst of creative practices in the 21st century. Taking place at Usine C from November 5 to 8, the AKOUSMA festival showcases the works of young local composers and of international artists, representing various different esthetics.
In an interview, Artistic Director Louis Dufort stated that the AKOUSMA concert series is presented in two ways: "The first is presenting acousmatic music in ideal conditions, thanks to state of the art speakers; the acoustics at the Usine C are phenomenal and it has about sixty speakers." The second is bringing new trends in electroacoustic music directly to the public. In fact, Mr. Dufort reminds us that "there is a grey zone where all will feel comfortable."
The Électrochoc series is an extension of the AKOUSMA festival which begins on October 1 and features dialogues and concerts with the goal of introducing the public to different aspects of electroacoustic music. Local talent is once again front and centre, as composition and interpretation students of the Conservatoire de musique de Montréal will be featured in the series' six programs. Asked about the significance of the project, Louis Dufort tells us that he and his colleague, Martin Bédard, "wanted to give the students the opportunity to have professional concert experience."
Asked about the conferences that open the concerts, Louis Dufort states that they encourage dialogue through a question and answer session with the composer. "The conferences open up the topic so that people can really understand the artist's process. Discussions allow the "craft" aspect of the writing process and the artist's know-how to be better appreciated and demystified." The Électrochoc series is thus an important cog in the Montreal music scene as an extension of the activities of the AKOUSMA festival.
The AKOUSMA festival is dedicated to the spread of electroacoustic music in order to broaden the horizons of this avant-garde scene. Furthermore, the Électrochoc series follows the same path with six concerts dedicated to electroacoustic music; these will be peppered with talks and interviews with composers that will allow the public to learn more about acousmatic music. To conclude, Lousi Dufort reminds us that "the AKOUSMA festival and the Électrochoc series have steadily become must-see events over the past few years, and they shouldn't be missed."
Translation: David-Marc Newman
---
Version française...