Musical Theatre

by Naomi Gold / September 1, 2014

---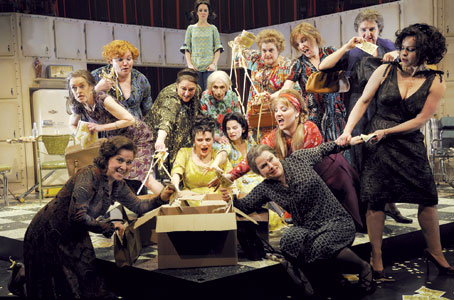 Les Belles-Soeurs: Le musicale in its original premiere at Théâtre d'Aujourd'hui in 2010.
A musical love-in to Julie Andrews makes its North American premiere this fall at Toronto's Ed Mirvish theatre. Sarah-Louise Young channels the legendary performer in this new musical, aptly entitled Julie Madly Deeply. Young explores her idol's musical and acting repertoire via an uncanny ability to replicate Andrews' tone, tessitura, intonation, diction, accents and vocal timbre. Interpreting iconic hits from The Sound of Music, Mary Poppins, My Fair Lady and Victor/Victoria, Young also dances, performs comedy routines, mimes, delivers personal anecdotes and engages spectators. The Andrews-obsessed Young created this show with musical director Michael Roulston, who also appears onstage as her (piano) accompanist. Biographical narration in the old black & white newsreel genre is also delivered by the singer/actress, along with impressions of Liza Minnelli and Audrey Hepburn. This tour de force tribute won Young the 2013 London Cabaret Award for Best Musical Variety Act. Directed by Russell Lucas. September 30 to October 19. www.mirvish.com; 800-461-3333.
Montreal's Segal Centre presents the English-language premiere of Belles Sœurs: The Musical. Based on Michel Tremblay's Les Belles-sœurs, the darkly comedic, bittersweet play about working-class strife in Quebec, circa 1965, it's the story of Germaine Lauzon, a Plateau Mont-Royal housewife who wins one million department store trading stamps. Musical mayhem ensues when she invites her closest relatives and friends to celebrate at a raucous stamp-pasting party. As her gal pals drink, sing, party and continue posting stamps in the store's catalogue, jealousies brew and tensions ultimately erupt. Les Belles-sœurs premiered at Théâtre du Rideau Vert in 1968, and the musical version debuted in 2010. The book & lyrics are by René Richard Cyr, who also directs, and the music is by Daniel Bélanger. The English book adaptation was done by Brian Hill, while Neil Bartram penned the English lyrics. Produced by Montrealer Allan Sandler, the show features an all-female cast from across Canada. October 19 to November 9. www.segalcentre.org. 514-739-7944.
Ottawa's National Arts Centre hosts ONCE, a Broadway musical based on the similarly named Oscar-winning film. It garnered eight Tony Awards during its 2012 run on Broadway. This poignantly touching tale about the power of music features an aspiring musician protagonist who's on the verge of abandoning his dream. The busker has a chance encounter with a Czech woman on the streets of Dublin, who rekindles his ambitions. A romance ensues, but their liaison proves to be more profound and intricate than they had hitherto suspected. Directed by John Tiffany and based on Enda Walsh's book, the play features music & lyrics by Glen Hansard and Markéta Irglová. In addition to an Academy Award for Best Original Song, "Falling Slowly", the production won a 2013 Grammy for Best Musical Theater Album. Actor/musician cast members play their own instruments onstage. October 21-26. www.nac-cna.ca. 866-850-ARTS.
---
Version française...