Jean-Willy Kunz: Personifying the Organ

by Caroline Rodgers / September 1, 2014

---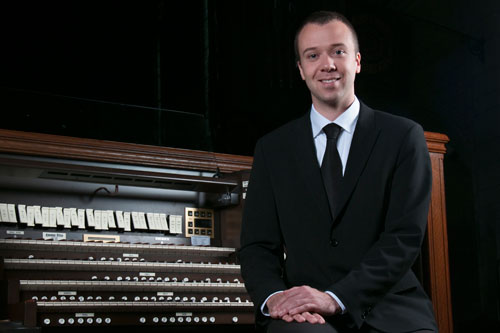 While Jean-Willy Kunz's path has had its share of both luck and wonderful opportunities, it has been paved above all with talent and a tremendous amount of hard work. Prior to his appointment as the first organist in residence for l'Orchestre symphonique de Montréal's Grand Orgue Pierre-Béique, the 34-year-old musician had amassed a solid resumé and educational background, both in France and here in Quebec, which he has called home for the last 10 years.
Kunz first set foot in Quebec when he was 20 years old, as a participant in an international conference . . . for saxophone! His saxophone and organ duo came to Montreal to perform. He came back to Quebec for a vacation and, two years after his first visit, he moved here to study at the Conservatoire de Montréal with Mireille Lagacé.
Ten years later, Kunz has become one of the most sought-after musicians in Montreal, adding new collaborations and performances each year. He has recently been named conductor in residence at SMAM (Studio de musique ancienne de Montréal) and also appears regularly with Ensemble Caprice.
A New Beginning
"I moved here to study and I haven't stopped since, from 2004 to 2011," says Jean-Willy Kunz. "I was really impressed with the level of education in Quebec. Many of my musician friends want to head to Europe to study or build a career. I am one of the rare ones to have done the opposite; why go elsewhere when there are excellent teachers right here who have studied in Europe?"
According to Kunz both Quebec and Montreal have excellent instruments.
"They may not be as old as the organs in Europe, but in the context of Quebec, they are just as historic. There are Casavants representing several aesthetics and from different periods; there are wonderful organs from other builders, such as the Beckerath at the Oratoire Saint-Joseph. Montreal has at least one Italian organ in Hochelaga-Maisonneuve, and at least two classical French organs."
For Kunz, the most important factor is that these organs are easily accessible.
"I really enjoy myself in Montreal, and have had opportunities that I would never have had in France. Just one month after my arrival, in 2004, I had already played on the best instruments in the city; I was only 24 years old. The people here are very welcoming, and the organists are no exception; church doors were opened wide for me. It is much harder to prove yourself at the age of 24 in France and to get access to the best organs. After the warm welcome I received, I wondered why I would ever leave!"
During his studies, Kunz was fortunate to practice to his heart's content on what he considers to be two of Montreal's best instruments: the 1915 Casavant at the Saint-Jean-Baptiste Church and the Beckerath at the Immaculée-Conception Church.
Organist in Residence
In March 2013, following a selection process headed by an international committee of musicians, Kunz was named organist in residence for the OSM's Grand Orgue Pierre-Béique. Jury members included Kent Nagano, Pierre Grandmaison, Olivier Latry and Casavant's Jacquelin Rochette.
"The organist in residence position does not exist elsewhere in Canada, or in France, to the best of my knowledge," says Kunz. "There are very few organs in concert halls in Canada." The new Casavant at the Palais Montcalm is one; Toronto, Calgary and Edmonton also have concert hall organs. The United States has a number of such instruments, and some of the halls have named organists in residence."
Kunz's responsibilities extend beyond appearing in concerts and recitals on the instrument. "I am responsible for the long-term development and showcasing of the organ. It is a very public position in that I am the human face of the organ, promoting it in the media, for example. Showy occasions like the inauguration aside, there must be ongoing program development for the organ. For this aspect of the job I work closely with the OSM's director of programming, Marianne Perron," he explains.
The position is an exciting job that allows Kunz to keep up with organ trends and to network with organists across North America and in Europe. "I listen to an incredible amount of repertoire and I research past organ programming from elsewhere," he says. "It is important to establish links with other cities and countries, to exchange ideas and propose collaborations."
Some of his other tasks are to offer guided tours of the organ and to oversee the care and maintenance of the instrument: "If there is a problem with the organ I am the one who calls Casavant."
Bit by bit, Kunz is learning the ins and outs of the Maison symphonique's new organ.
"Really getting to know an organ takes a lifetime," he comments. "Every organist who comes to try the Grand Orgue reveals a new instrument to me. Each musician has a unique sound preference. Playing the same work, ten organists would use ten different registrations, depending on their background and taste. During the open house at the inauguration, seven concerts were performed; it was like hearing seven different instruments."
The Grand Orgue Pierre-Béique's ultra-sophisticated electronic system has been an indispensable tool for exploring the instrument. "I can record myself and, using the iPad, go to the back of the hall, press a button and hear and evaluate what I just did," he explains. "It is a very helpful system; organists must play for an audience that is seated behind them in the hall. Being able to hear yourself from their vantage point is just incredible."
Studio de Musique Ancienne and Caprice
For the first time, the Studio de Musique Ancienne (which just celebrated its 40th anniversary) has named a conductor in residence to support founder Christopher Jackson.
Kunz explains, "Christopher decided to take on a conductor in residence to ensure the continuity and future of the ensemble."
For Kunz, who took orchestral conducting courses at the Conservatoire de Montréal, this was an offer he could not refuse. "I've always loved choral music. To be trusted with a professional vocal ensemble of such high calibre and such a long history was a tempting opportunity that I wouldn't have thought possible for years to come. SMAM's reputation is without equal," he says.
In SMAM's upcoming season Kunz will conduct a number of pieces in addition to playing continuo. His debut takes place at the first concert of the season, on October 12, at Saint-Léon-de-Westmount Church.
Kunz will also conduct some of the ensemble's Conseil des arts de Montréal tour concerts, which are performed at the Maison de la culture across the city.
"My work with SMAM will evolve in the coming months and years. Christopher will entrust me with more conducting work over time as we establish mutual trust," he goes on. "We already share a common conception of music and have similar ideas. He is also an organist and we specialize in much of the same repertoire." The two musicians meet regularly to discuss upcoming repertoire: "Little by little my presence with the ensemble will increase."
Another collaboration that Kunz holds dear is with Ensemble Caprice: "I love working with them. We always present interesting programs, and I really enjoyed working on their Adagio recording last year. Caprice's membership changes according to the needs of each project—we may be three musicians or a large baroque orchestra, depending on the program."
Canadian International Organ Competition
The third edition of the Canadian International Organ Competition takes place this October. Kunz won third prize in the first edition, as well as the Richard-Bradshaw audience award. This year he will perform at the opening concert.
"I can't wait to hear the next wave of organists," he says excitedly. "Of the 16 candidates, most have already won international competitions. Competitions like the CIOC create a vital atmosphere; it will be amazing! Everyone in Montreal will be talking about the organ."
The gala concert for the CIOC winners takes place on October 19 at the Maison symphonique.
Biography: Jean-Willy Kunz
• 1980: birth in the Grenoble region of France
• At the age of 4, he begins piano studies.
• At the age of 8, he enters the Conservatoire de Grenoble in piano.
• At the age of 9, he tries the organ for the first time.
• At the age of 12, he enters the Conservatoire de Lyon in organ. He studies piano and organ simultaneously for a number of years at the two conservatories.
• At the age of 18 he is awarded his prix du Conservatoire de Lyon (Gold Medal) and decides to quit the organ. He registers for jazz at the same school and studies the genre for 5 years.
• From ages 17-19 he studies German at university. He founds a saxophone and organ duo with his friend Frédéric Lagoutte. He also teaches piano.
• At the age of 20, he participates in an international saxophone conference in Montreal with his duo.
• At the age of 23, he returns to Quebec for vacation and falls in love with "la Belle Province."
• At the age of 24, he moves to Montreal and begins organ and harpsichord studies with Mireille Lagacé at the Conservatoire de Montréal.
• At the age of 31, he completes his doctoral studies in organ performance at McGIll under John Grew.
Prizes
• 2008 – 2nd prize at the International Organ Competition in Chartres
• 2008 – 3rd prize and Richard Bradshaw audience prize at the Canadian International Organ Competition
Ten upcoming concerts in 2014
• September 13, 3 pm: Bach Cantatas with the OSM, salle Bourgie
• September 14, 2 pm: Bach Cantatas with the OSM, salle Bourgie
• October 7, 8 pm: CIOC Opening Concert, St. James United Church
• October 12, 3 pm: Ibérie mystique with SMAM (conductor in residence debut), Saint-Léon de Westmount Church
• November 9, 2:30 pm: Concerto pour orgue by Jacques Hétu with the OSM, Maison symphonique
• November 12, 8 pm: Symphonie No. 3 by Saint-Saëns with the OSQ, Palais Montcalm
• November 16, 7:30 pm: Concert with Ensemble Caprice, Saint-Pierre-Apôtre Church
• November 26, 7:30 pm: Organ recital for the Bach Festival, l'Immaculée-Conception Church
• December 3, 4 and 7: Bach and Mendelssohn concert with the OSM and Masaaki Suzuki, Maison symphonique
• December 10, 8 pm: Handel's Messiah with the OSM, Maison symphonique
www.jwkunz.com; www.smam-montreal.com; www.ciocm.org; www.osm.com; www.fondationartemusica.ca
Translation: Dayna Lamothe
---
Version française...