Songs by the Mighty Handful

Sergei Larin, tenor. Eleonora Bekova, pianoforte

CHAN 9547 (Chandos / SRI)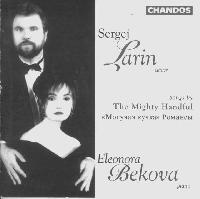 This is tenor Sergei Larin's second Chandos recording. His first was a recital of Tchaikovsky songs with The Bekova Sisters, a chamber ensemble whose pianist Eleonora Bekova accompanies him on this disc. Larin is a world-class singer whose international opera career began in the early 1990's. He possesses a ringing tenor voice, somewhat baritonal in timbre, even throughout its range. He is able to employ much dynamic shading and never shies from doing so even in the upper register.
This dynamic control is marvellously displayed in songs like César Cui's "The burnt letter" and Rimsky-Korsakov's "The scurrying bank of clouds disperses", where a shimmering mezza voce is gradually transformed into more urgent and ringing tones as each song climaxes, then is gently scaled down to the quietest of pianissimos on the last notes. Borodin's "For the shores of the distant homeland", a song written after Mussorgsky's death, finds Larin successfully navigating the low tessitura, eloquently conveying the elegiac nature of the piece.
Russian critic Vladimir Stasov, who invented the title "The Mighty Handful" and influenced them, once declared "dramatic music should always possess an intrinsic value, like absolute music, derived from its text". Among the songs on this disc - by Rimsky-Korsakov, Cui, Borodin, Balakirev, and Mussorgsky - only Mussorgsky's are valuable in Stasov's terms. As likeable as the other songs are (especially for those who, like myself, have a weakness for the melancholic tendencies of Russian music), they seem like trifles next to Mussorgsky's "Songs and Dances of Death". In these four songs Larin's talent rises to artistry. He skillfully handles shifts of mood and character, easily alternating between the lyricism and declamation required by these songs. Bekova's otherwise restrained accompaniment rises to inspired heights for Mussorgsky's music alone. - Aki Sarantinos
Paganini 24 Caprices opus 1

James Ehnes, violin

Telarc CD 80398 (Telarc/ Polygram)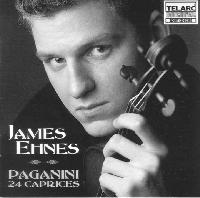 Several years ago I was pulled out of a music faculty hallway in Winnipeg to turn pages for an auditioning young violinist. It was my first time hearing Manitoban James Ehnes play and though the performance was short there was no doubt in my mind that the 'Boy from Brandon' was destined to go beyond the Prairies in making a name for himself. Ehnes recently signed a long-term exclusive contract with Telarc and his first recording - of Paganini's 24 Caprices op.1 - was released in 1996. Ehnes's gritty rendition of Paganini's virtuoso show-stoppers introduces us to a performer both musically sensitive and artistically mature. He demonstrates a strong sense of line and delivers some exquisitely inspiring moments, notably in the middle opuses 13-15, and in the familiar theme and variations of the sparkling finale. There are several other excellent recordings of Paganini's Caprices among the 19 versions listed in the Schwann/Opus guide. Shlomo Mintz offers a solid 1982 recording on DG (415 043-2). More affordable but less consistent in tone and technical finesse is Ilya Kayler's 1992 effort for Naxos (8.550717). Itzhak Perlman's digitally remastered 1972 recording on EMI (CDC 7471712) is unsurpassed for effortless technique and fullness of sound. Still, Ehnes's disc is a worthy addition to any collection both for its musical value and as the debut recording of a rising Canadian star. - Valorie Dick.
Chopin 21 Nocturnes

Maria João Pires, piano

DG 447-096-2 (Deutsche Grammophon/ Polygram)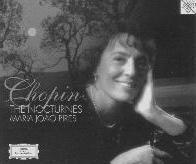 Known for her incomparable Mozart recordings, Maria João Pires here reveals herself as a formidable Chopinist. Although her Nocturnes are not as uniform in quality as her superb Valses issued in cassette two years ago (nla), this set is worth acquiring - if only for her interpretations of the two Nocturnes: E flat major, opus 55 no. 2, and the B Major, opus 62 no. 1.
These two infrequently heard late-Chopin works have never, in my experience, been treated as euphorically and elegantly as does Maria João Pires. It seems incredible that two human hands, especially hands as small as Miss Pires's, can produce the impassioned counterpoint dialogue required by Chopin's opus 55 no. 2. The result is miraculous.
In opus 62 no. 1, Pires's playing of the eight-bar chain of trills is guaranteed to give the listener goose pimples. The coda is a shimmer of moonlit kingfisher-blue hovering above the syncopated heaving of a support bass. The pianist's scale passage work in these two Nocturnes would surely have satisfied the composer himself, who insisted that a scale must be like "a string of pearls."
Memorable too, is Pires' original treatment of the rarely opus 62 no. 2. She makes the hackneyed opus 32 pair seem as fresh as the day Chopin composed them. Miss Pires' rubato is tastefully controlled, save when marred by the occasional accordion-type seizure which spoiled the G major of opus 37 for me.
Incomprehensibly, Pires makes the F minor, opus 55 no.1, limp along on the crutches of a curiously-pedalled 'oom-pah-oom-pah' bass. But this is compensated for by a coda that is pure poetry. Though the Nocturne in C minor, opus 48 no.1, is Miss Peres' avowed favourite, her treatment of it and of the D flat major of opus 27 lacks the grande ligne and cathedral-organ sonority that I found so impressive in young English pianist Katryn Stott's 1994 interpretation on Unicorn-Kanchana (DKP 9147/8).
Deutsche Grammophon should have provided Pires with an instrument more balanced between its treble and bass registers and with more limpid warmth of tone, especially in the treble.
My personal conviction is that the most remarkable features of Chopin's Nocturnes are to be found in their codas, especially those of Nocturnes opus 9 nos. 1-3; opus 27 no.2; opus 32 no. 1,and opus 55 no. 2. These attachments - like kite tails - seem suddenly to take off at a tangent with breathtaking unexpectedness and originality. Once the surprise passes, it seems no other ending could be more appropriate. Hopefully artists planning future recordings of the Nocturnes will do justice to these magical, magnolia- perfumed creations by unfurling their peacock colours in full glory.
Taken as a whole, Pires' Nocturnes enrich our discography and given us new insight into the music of Frédéric Chopin. - Stephen Chin.
Arias by Bellini, Donizetti, Puccini, Rossini, Verdi

Ying Huang, soprano

London Symphony Orchestra / James Conlon (SONY 62687)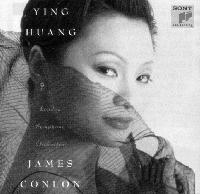 Chinese soprano Ying Huang burst onto the scene last year with an exquisite portrayal of the title role in Frédéric Mitterand's film version of Madama Butterfly. Trained in the Shanghai Conservatory and with little prior stage experience, Huang was chosen out of a field of several hundred Asian sopranos by conductor James Conlon, who saw in her a rare combination of talent, looks, and charisma that was perfect for the fifteen-year old geisha. He coached her intensively for six months, and the result was a movie universally praised for the singing and acting of its heroine.
Their collaboration continues with the recently released album of arias by Bellini, Donizetti, Puccini, Rossini and Verdi, in which Huang tackles a varied and demanding repertoire, from the soubrette roles of Oscar and Norina to the more lyric coloratura roles of Lucia, Rosina, and Semiramide. Her singing amply demonstrates that she is indeed an exceptional talent. The voice is at once fresh, clear, lovely, agile and without edge, even at the highest notes, while the middle register is unusually warm and full for a lyric voice. Her diction is exemplary, her Italian entirely idiomatic, and her grasp of the style is astonishing given her background. She credits James Conlon, and particularly Renata Scotto, her coach for this recording. James Conlon conducts the London Symphony with a deft hand and the recorded sound is full and vibrant.
Like so many young singers at the very beginning of their career, Huang's brilliant vocal achievement is tempered by a certain interpretive sameness that intrudes, after one gets accustomed to the beauty of her voice. There is little variety in her singing. For example, one hears little projection of character in Musetta's Waltz, and her "Ah! non credea mirarti" from La Sonnambula is rather faceless and bland. With further study and stage experience (she is scheduled to sing Nanetta with Maestro Conlon at Cologne Opera), one can expect a deepening of interpretation and a more vivid projection of personality. Hers is definitely a career to follow. - Joseph So.