Béatrice et Bénédict: Bis!

by Philip Anson / July 1, 1997

---
In New York....

T he Opéra Français de New York (L'OFNY)'s second and final production this year was Hector Berlioz's Shakespearean comedy of reluctant lovers Béatrice et Bénédict (1862). As with all L'OFNY productions, it was semi-staged in Lincoln Center's Alice Tully Hall for one night only (May 7, 1997), and attracted an enthusiastic audience of New York musicians, francophiles, and opera lovers. I was eager to compare the L'OFNY Béatrice et Bénédict to the Canadian Opera Company (COC) production I saw in Toronto January 24, 1997.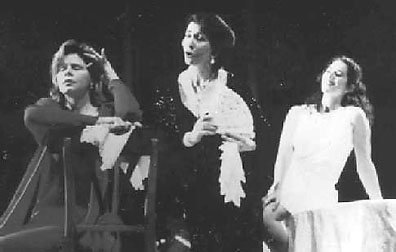 Berlioz's two-act opéra-comique Béatrice et Bénédict is based on a subplot from Shakespeare's Much Ado About Nothing. The premise is simple: Béatrice and Bénédict are young Sicilians who pretend they don't love each other. Family and friends combine to trick them into declaring their love for each other.
The vocal star of the evening was certainly American mezzo Susan Graham as Béatrice. Graham was recently signed as a Sony Classical artist and her debut recording - including Berlioz's Nuits d'été - is scheduled for release this summer. Fresh from singing Mozart's Cherubino and Dorabella at the Metropolitan Opera, Graham's lovely voice was both accurate and pleasantly modulated through a palette of colors and emotional effects. She had the power to rage when rage was necessary, but she easily scaled down the Met-sized voice for delicate vocal effects more easily appreciated in Alice Tully Hall. Graham's natural "girl next door" acting matched her healthy blond good looks. Initially Graham played Béatrice as a mannish suffragette dressed in pants and vest with no interest in the opposite sex, but as Béatrice's true feelings toward Bénédict emerge, she donned a stunning red gown and radiated feminine charm, making an unforgettable impression.
Lyric soprano Elizabeth Futral's Héro was highly anticipated by a loyal following who predict great things for this young effervescent beauty. Though a superb singer when "on" there were signs that Futral was nervous or that the role didn't lie right for her. It took her a few moments to warm up. Her Act 1 duet "Nuit paisible et sereine" with her lady in waiting Ursule (Janis Taylor) revealed two perfectly matched instruments that provided one of the evening's sublimest moments. Futral's voice blossomed in the second act and one only regretted one didn't hear more of it afterwards. Canadian Janis Taylor deployed a marvellously rich and obedient mezzo-soprano voice totally in character as Ursule. Tenor Gordon Gietz was in good voice as a spunky, boyish Bénédict. Canadian baritone Brett Polegato's few lines in what he jokingly called the "mute" role of Claudio, were fine. He made a handsome escort for Héro, but one longs to hear more of the voice that was so impressive in Opera in Concert's recent L'Italiana in Algeri.
Though L'OFNY's mission statement specifies their dedication to French language opera they, like the COC, translated Berlioz's quasi Shakespearean French recitative into English to help the audience follow the plot. Since L'OFNY doesn't use Surtitles or sell librettos, spoken translation was helpful to those who don't speak French. (At the COC's home in Toronto's Hummingbird Centre, surtitles were welcome for both the French and the often incomprehesible "olde English."). Though all the L'OFNY singers spoke their Shakespearean lines well (especially Broadway veteran Nicholas Kepros), I found the constant switching between idioms unnatural and distracting. It would have been easier to listen to the whole opera in French.
Designer Robert Pyzocha's tasteful production was anchored by vases of white lilies and framed by an overhead projection of a Delacroix battle scene and a Proustian photo of lovers embracing. Direction by David Alden was masterful without a single superfluous gesture. Conductor Yves Abel, orchestra and chorus were up to their usual high standards. The whole L'OFNY team entered into the spirit of Berlioz's challenging little scherzo and delivered a tasteful, smart, amusing evening's entertainment.
In Toronto...
The Canadian Opera Company's Béatrice et Bénédict had the advantage of full sets, elaborate costumes, English Surtitles, and Robin Phillips's directing. Though this was a grand, polished production and a laudable excursion into commercially risky repertoire, I must take exception to Phillip's direction. He decided to stage the overture at a World War I cenotaph and to introduce two actors (Fiona Reid and Barrie Ingham) as Béatrice and Bénédict in old age. This intrusive On Golden Pond-ish pair querulously commented on the main stage action throughout the opera. While some may have been charmed by senior citizens chatting on stage, I regretted the addition of distracting voices to an already complex bilingual opera. Furthermore, the presence of the old couple on stage certainly ruins the surprise of the young couple's final union. Given that Béatrice et Bénédict is not yet an old chestnut that needs spicing up, we would be happier if it was staged in accordance with Berlioz's intentions.
That said, the costumes and sets were attractive and logical. Soprano Jane Gilbert (Béatrice) is a good actress and her lovely Mozartian voice was especially memorable in duets, though her Act 2 love song wasn't as steady as it should have been. Gordon Gietz acted the role of Bénédict with panache. His fans will be interested to know that at one point he mooned the soldiers. Gietz protected his voice better than his bum, shying from high notes and making the usual compromises of a singer suffering temporary vocal inhibition. The Act 1 duet between Anita Krause (Ursule) and Nancy Allen Lundy (Héro) was delicious. Elsewhere Lundy was a bit underpowered and insecure. Orchestra and chorus under Richard Bradshaw were perfectly respectable, though never quite achieving the Berlioz sound we get here in Montreal from the Montreal Symphony Orchestra. Despite my interpretive qubbles with the direction, I certainly enjoyed this meritorious COC production.
---
Version française...