Jean-Philippe Tremblay: The Steward of Knowledge

by Caroline Rodgers / June 1, 2014

---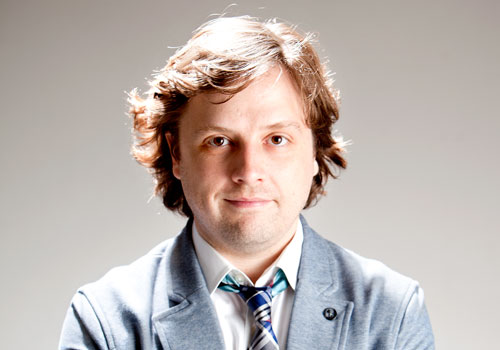 He may still be young, but 35-year-old Jean-Philippe Tremblay has an impressive curriculum vitae. He has conducted orchestras on three continents and has been at the helm of the Orchestre de la Francophonie (OF) since 2001—an ensemble he co-founded. This is a portrait of a conductor who increasingly finds his calling in projects of an educational nature.
According to Tremblay, the ideal musician's life has three main elements: instrumental practicing in chamber music (he still plays viola), a career as guest conductor, and the transfer of knowledge and musical passion thanks to educational projects such as the OF. In all three endeavours, Tremblay seeks balance. "I spend fifteen weeks a year conducting major orchestras. It's good for me and the OF. I give the OF experience, knowledge and a new repertoire. This makes me a better conductor," he says.
During his career, Tremblay has met several top musicians who taught and have passed their real passion for teaching down to him. "Pinchas Zukerman, with whom I've often worked, is a great example," he says. "Although he has a great international career, he wouldn't be happy not teaching, which takes up two thirds of his time. When he's with young people, he's another person."
Having grown as a conductor with the OF, Tremblay notes how much he too likes working with young musicians. "In the OF, the musicians are, on average, 22 years old. They are technically excellent and extremely motivated. This is the ideal moment to guide them on the best possible path," he explains.
Changing the World with Music
"I love to conduct large orchestras. It's imperative for my career," says Tremblay. "But the more time passes, the more I realize that I'm truly interested in projects that make a difference in society."
The most telling example that comes to mind is the El Sistema project, Venezuela's national music education system. "Gustavo Dudamel's and founder José Antonio Abreu's invited me to conducted El Sistema's Simón Bolívar Symphony Orchestra a few times," Tremblay mentions. "I'm sure I'll go back again."
His penchant for imparting knowledge sometimes even influences Tremblay in deciding whether to accept or refuse an engagement as guest conductor.
"As much as possible, I prioritize orchestras with youth programs, programs that include contemporary music and invest in education," he says. "This is essential if we want to develop an audience and inspire youth to listen to music."
If introductory concerts like "symphonic matinees" are a good thing, Tremblay thinks they are still not enough to develop tomorrow's audiences. "We present great concerts for young audiences; however, we need to address the heart of the problem. To save our craft, the wisest thing to do is put more music in schools. Music education is no longer mandatory in the public system, so music institutions must now pick up the slack. This is exactly what British Columbia's Vancouver Symphony Orchestra School of Music did by giving free classes. It was a great success," he points out.
There's no longer any doubt: Learning music develops cognitive skills. "There are countless scientific articles on the subject," Tremblay adds.
Music has the power to change not only individual lives but also society. Following this conviction, three years ago the OF added a community component to its program, in collaboration with Garage à Musique (The Music Garage). Located in Montreal's blue-collar Hochelaga-Maisonneuve borough, the Fondation du Dr. Julien project gives youth a chance to grow personally through the collective practise of music.
"Because of Garage à musique, youth in underprivileged communities can have excellent training, whether or not they become musicians later in life," says Tremblay. "Discipline, work ethic, and the ability to work in a group during music rehearsals are building blocks that will help youth for the rest of their lives."
Each summer, OF members pair up with Garage à musique's young musicians during their two-week music camp. This is a real mentorship experience that culminates in a concert presented by OF and Garage à musique musicians at Montreal's Maison Symphonique.
"When we present a concert, children sit next to their mentor and play with us," Tremblay explains. "It's important that they be on stage with us during the actual concert. For youth, performing to a full house at Maison Symphonique in front of their parents is an incredibly valuable experience. This partnership is not only good for children; working with kids also transforms our musicians. I am convinced that this project makes our members better musicians and human beings."
A word of caution, though: a music program or an educational activity can't be launched haphazardly. "Programs must above all be organized to meet youth needs, not the organization's needs," Tremblay warns. "Unfortunately, some activities seem to be focussed on the prestige and ambitions of the institutions that run them. We should keep our focus on the people we want to target and help them learn how to truly appreciate music."
A Biography
1978: Born in Chicoutimi
At age six, he started to play the violin
At age eleven, he went from violin to viola
Studies: Conservatoire de musique de Saguenay, Royal Academy of Music (London), and Masters in Conducting (Université de Montréal)
2000: nominated among 400 candidates to participate in Tanglewood's conducting summer camp
2001: co-founded the Orchestre de la Francophonie
2003: won Greece's Dimitris Mitropoulos International Competition
2004: early stages as guest conductor of MSO's Matinées Symphoniques
2004–2005: participation in Allianz International Conductor's Academy's program with Gustavo Dudamel
2008: orchestral debut with Champs-Élysées' Orchestre National de France
2012: orchestral debut with the Dutch Radio Philharmonic Orchestra
Other Orchestras Conducted: National Arts Centre Orchestra (Ottawa); symphony orchestras in Quebec City, Edmonton, and Winnipeg; the Orchestre Métropolitain; and Youth Orchestra of the Americas.
Learning with the Greats
When we look at the list of experienced maestros and great conductors that crossed paths with Jean-Philippe Tremblay, it is clear why education is close to his heart. Here are some musician-educators who have worked with Tremblay and influenced him throughout the years.
Orchestra members: "Musicians are my best teachers. Be they students or professionals, they're my best coaches. I learn with them, even if it's not necessarily in a verbal way. Just seeing how musicians react to my conducting is a learning experience. Every time I meet a new orchestra, I feel like it's a new professor."
Robert Spano: Tremblay's greatest influence. "He supervised Tanglewood's conducting program. He made me get out of my comfort zone and helped me see conducting as something more organic—putting myself in the musicians' shoes. He is a thorough conductor in his approach, and does not tolerate anyone who does not have a clear passion for music. Those were two demanding months of learning."
Yuko Inoue and Nobuko Imai: His professors of viola and orchestral conducting at London's Royal Academy
Paolo Bellomia: The advisor for his master's degree in conducting at Université de Montréal's Faculty of Music.
Jutta Puchhammer Sédillot: His viola professor at Université de Montréal
Seiji Ozawa, Daniel Barenboim, and André Prévin: All gave masterclasses at Tanglewood.
Kurt Masur and Christoph von Dohnányi: Tremblay worked by their sides in London as a participant in the Allianz Conductor Academy mentorship program.
Michael Tilson Thomas: In 2001, Tremblay spent two months with Thomas's New World Symphony in Miami. "This symphony was my OF model. This is the most beautiful music academy in the world. I was able to see what they did on an educational and organizational level."
Orchestre de la Francophonie by the numbers
The OF was founded in 2001 during Ottawa-Gatineau's fourth annual Jeux de la Francophonie [Francophone Games]. Since the OF's foundation, it has:
premiered 40 new works by young Canadian composers
performed over 300 concerts
had 1127 participating musicians
invited 68 soloists to play with musicians
recorded five albums
75% of the group's members have since joined national and international orchestras
Summer with the Orchestre de la Francophonie:
OTTAWA
• July 29: Free concert at the NAC's Southam Hall, 7 pm, with Pascale Beaudin (soprano) and Aaron Hodgson (trumpet)
MONTREAL
• July 24: Free concert at Pollack Hall, 7:30 pm with Douglas Pace Sturdevant (guest conductor) and Aaron Hodgson (trumpet)
• August 3: Dunham et ses Divas!, benefit concert for the MIMC, 9 pm, with Marie-Josée Lord, Natalie Choquette, Marie-Êve Munger, and Chantal Dionne, sopranos; Marie-Nicole Lemieux, contralto; and Philippe Addis and Patrick Malette, baritones
• August 7: Carte blanche à Jean-Phi Goncalves at the Société des arts technologiques, 9 pm, with Jean-Philippe Goncalves and surprise guests
• August 9: Les chambristes de l'OF à la SAT at the Société des arts technologiques, free concert, 6 pm
• August 12: Soirée UV Mutuelle at Salle Pierre-Mercure, 7:30 pm, with Pascale Beaudin (soprano), Elissa Cassini (violin), and Jean Desmarais (piano)
• August 13: Soirée Canimex, at Salle Pierre-Mercure, 7:30 pm, with Sheila Jaffé (violin), Thomas Chartré (cello), and Philippe Prudhomme (piano)
• August 14: Soirée Garage à Musique at Salle Pierre-Mercure, 7:30 pm, with Serhiy Salov (piano) and the Garage à musique orchestra
ELSEWHERE
• July 27: Concert as part of the Festival classique des Hautes-Laurentides, at the Cathédrale de Mont-Laurier, 7 pm with Pascale Beaudin (soprano) and Alexandre Da Costa (violin)
• August 16: at the Festival International du Domaine Forget, Salle Françoys-Bernier in Saint-Irénée, 8 pm, with Andréa Tyniec (violin) and Pascale Beaudin (soprano) www.orchestrefranco.com
Translation: Dwain Richardson
---
Version française...