Oliver And His Men

by Marc Chénard / June 1, 2014

---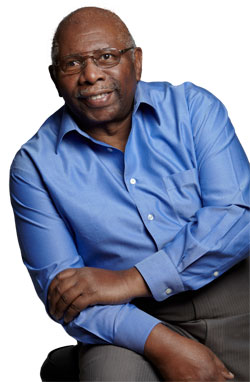 This September, Oliver Jones will be turning 80 on that otherwise fateful day known to all as 9-11. At an age when most performers have taken their last bow, our stalwart Montreal piano craftsman is still at it. In 2003, he was coaxed out of a four-year retirement, and now gives an average of 50 concerts a year. Having found a second wind, he maintains the same enthusiasm that carried him through two decades of constant playing on the local and international scenes. Though he now keeps close to home, he also makes occasional outings elsewhere in the country and even beyond. Playing music keeps him young at heart, and nothing pleases him more, or his coterie of admirers for that matter, than drawing on a vast repertoire of well-worn standards.
By now, the Jones story has been retold so many times, most notably his late arrival in the jazz world in 1980 after a 17-year stint paying his dues in the Caribbean. In fact, this former neighbour of Oscar Peterson is also the subject of a biography, Oliver Jones, l'homme et sa musique, penned by a loyal fan of his, Marthe Sansregret. Finding a new angle may well be difficult by now, but there are still some overlooked, including the perspective of his current sidemen, bassist Éric Lagacé and drummer Jim Doxas. What follows then are their impressions of their employer, both on and off stage.
Éric Lagacé
"When I did my first gigs with him, I had to get use to his way of doing things, which was to have no set lists and just dive in. After a while, you get a handle on it: you listen closely, like for a passing reference to the tune in his introduction. Even before the current trio, which started in 2005, I had already played with him before, in the 90s as a sub for Michel Donato, even for Charlie Biddles in the early days. I was only 20 years old when we first played together, and I was recommended by two veterans, Richard Parris and Roland Lavallée. Musically, we're very compatible; I'm old school like him, you know, standards and blues. He has charisma on stage and there's that velvet piano touch of his, two assets that really enable him to connect with his audience. He can't be any happier than when he has a good instrument at his disposal. If he doesn't, he won't say too much (I do it for him), but he won't play longer than he has to."
Jim Doxas
"Working with Oliver is like playing without a safety net. Once on stage, he plays an intro and we're off as soon as you figure out the tune he's teasing. In all of our years together, we've rarely had a rehearsal. I've known him for a long time, and it was my father who introduced him to me when I was eight years old. I was dabbling with other instruments in my youth, but got serious with the drums by the time I was 16. He first heard me playing with a big band lead by Danny Christianson back in the 90s. Not long after his coming out of retirement, he called me one day and said he wanted to play with me. I was honoured to say the least. I was excepting to do a session with him, a try out if you wish, but a couple of weeks later he rang me up and said he had some 70 shows and wondered if I was available to go out on tour with him. I had the jitters at first, but you learn to relax very quickly with him and just let yourself go with the music. He has no pretence whatsoever and makes it a point to go and meet his audience, either during intermission or after the show. He and I are good buddies now, regardless of the fact of the forty some years age difference between us."
Oliver in his Own Words: Turning Points and Career Highlights
"My meeting with Jim West and his offer to record me for his newly created label, Justin Time Records. My success in the business is in no small part due to him."
"Taking up the invitation of the Montreal Jazz Festival to perform with my idol, Oscar Peterson in 2003. That was a dream come true."
"My first concert abroad, in Auckland, New Zealand, in 1984. I arrived there as a total unknown and met my two accompanists just before the show, in a well-filled 700-seat hall."
Oliver Jones Summer Concert Schedule
(All performances in Quebec, unless otherwise indicated.)
June
Mon 2: Montreal International Piano Competition (+ guest Daniel Clarke Bouchard, piano)
Sun 22: Saint-Armand
Fri 27 & Sat 28: Jazz Bistro (Toronto)
July
Sat 5: Trio + guests Josée Aidans (violin), Ranee Lee (voice) & Daniel Clarke Bouchard, Montreal Jazz Festival, Montreal (FIJM)
Sat 12: Domaine Forget (Saint-Irénée) – Tribute evening with special guests including a premiere performance with Joe Lovano. www.domaineforget.com
Tue 15: Music & Beyond (Ottawa,ON)
Sat 19: Church Restaurant (Stratford, ON)
Fri 25: Orford Arts Festival
August
Sat 2: Westben Arts Festival (Campbellford, ON)
Sun 3: Performance and master class with Éric Lagacé (CAMMAC)
---
Version française...