Soul Sisters: Ingrid + Christine Jensen

by Marc Chénard / June 1, 2014

---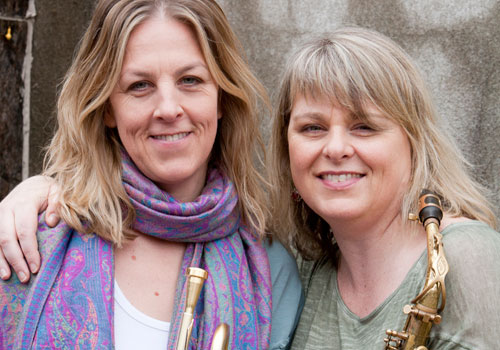 Jazz may be a music of individualists, but it is nevertheless one of collaborative effort. At its best, it exceeds the sum of its parts when players share the same values and intuitively grasp each other's thoughts. In such situations, it is not uncommon to hear musicians regard their peers as family, or kinsmen if you will. But such a rapport is also possible when people are actually related to one another. Case in point: the Jensen sisters, Ingrid on trumpet, and Christine on saxophones (alto and soprano).
Historically speaking, jazz has had its fair share of musical siblings, but these two sisters are exceptional in that all other examples (from the Teagardens to the Marsalises) have been brothers. In fact this writer is at a loss to name another pair of female jazz instrumentalists – and if you can, please drop me a line at jazz@scena.org.
Be it on stage or in conversation, such as the one that took place on May first, when Ingrid breezed through town as guest of the Orchestre national de jazz – Montréal, the two speak a common musical language. Schooled in the tradition, they are more than just "bebop heads". One learns that their interests span a wide range of styles found within the contemporary jazz idiom.
Separate paths
The pursuit of music has been a life-long affair for both of them, nurtured from the cradle, so to speak. Born and raised in Nanaimo, BC, Christine and Ingrid (and an older sister, Janet, who forsook a career as a trombonist) were exposed to music early through their mother, a piano teacher with a keen interest in jazz. Yet as Christine points out, the sisters did not play that much together: "We weren't the musical kids who were jamming all the time," to which Ingrid adds: "I was four years older, and by the time she really got into it, I had left home to study at Berklee."
In their formative years, they followed separate paths. Ingrid, for her part, was encouraged to head east after Phil Woods and his pianist Hal Galper spotted her at the Port Townsend jazz camp in Washington State. Not long after graduation, she embarked on a European sojourn, landing a teaching job at the Vienna conservatory in the early 1990s. It was there that she befriended the late Art Farmer, whose hybrid instrument, the flumpet (combination of flugelhorn and trumpet), she played since his passing in 1999. Not long after her return to the States, she entered the prestigious Carmine Caruso trumpet competition at the behest of her teacher, the late Laurie Frink (the trumpet guru to many a big name in the business). Pocketing the first prize and a handsome seven thousand dollar check ("That was almost like a million bucks back then," she quips), allowed her to get a foothold in the New York scene. Internationally, a three-record deal with the Enja label in Germany raised her profile, and not long after she began a decade-long tenure in Maria Schneider's orchestra. Nowadays, she's devoting most of her time and energy to small group efforts, save for occasional gigs with composer Darcy James Argue's large ensemble, the Secret Society, appearing this month at the Toronto, Ottawa and Vancouver festivals.
While Ingrid's currency in the jazz market is well established, Christine's is now rising. Encouraged by the release of her initial big band album in 2010 (Treelines on Justin Records), she launched her sophomore outing last October (Habitat), the album garnering a five-star review in the American jazz bible DownBeat. In late March, the album received the Juno award for best jazz album (her second award). Three weeks later, she and her charges took center stage in Bremen, Germany, performing at Jazzahead, the prestigious annual international showcase and trade fair. Last but not least, she will close the Montreal jazz festival's late night series with her band and sister making a special guest appearance.
Unlike her sister, Christine did not go south, electing instead to study at McGill University.
"At the time, the jazz program was really starting to take off. I had heard the big band and some combos, and was really amazed by the strength of the players. There was a nice balance then between a well-defined curriculum of classical music for jazz majors, but it also afforded us a little more freedom in our program." Like Ingrid, who arrived in the States without a clear commitment to stay, Christine didn't think she would make Montreal her home, but in the end she did. Eventually she found her life partner, saxophonist Joel Miller (a fellow alumnae), and realized that Montreal was a better jump off point to Europe than elsewhere in Canada, and closer to the Big Apple, where he sister was.
In spite of the distance that separates them, the sisters are closer than ever. In the last decade or so, they have put together several projects, most notably their transatlantic quintet Nordic Connect, its line-up comprising two Swedes, pianist Maggi Olin and her husband, bassist Torben Waldorff, the drum chair, held by Ingrid's partner, John Wikan. With a record to its credit and a couple of tours on both sides of the Big Pond, the band, as Christine laments, is currently in "disconnect mode" due to the vagaries of the world economy, logistical and bureaucratic headaches notwithstanding.
But both are very excited about their latest brainchild, a new quintet with guitarist Ben Monder. Christine enthuses: "We did a small tour last February and played a show here in Montreal and one in Vermont, and now I've just applied for a recording grant. We may do shows this fall, but are looking more towards early next year to head into the studio. We've both written for it, and Ben might, too."
Setting the record straight
When considering their respective careers, they have developed their own individual strengths, to the point of being pigeonholed. Ingrid, for one, has been lauded for her instrumental prowess, whereas Christine is primarily perceived as a crafty composer. Ingrid takes issue with that. "I think that's an unfortunate statement from the press. She's not the only composer; I also compose, and I write good tunes, too. You see, I don't have the piano skills she grew up with, and it gives you a small advantage if you have them. When it comes to Christine's playing, it's been a longer curve for her to get to where she is now, which is the case for my composing. So there's no way to label us by saying, she's a good writer and a pretty good saxophone player, and I play the sh*t out of the trumpet but should write more. People don't really know what we do."
Beyond the family bond, a musical one really cements their relationship, and the notoriety of one has been beneficial to the other. Christine acknowledges this fact. "Ingrid has given my music exposure, and it has contributed considerably to my own development. I consider her a translator of my music, but I really had to follow up on that by bringing something of my own to the table."
With the support of her record label, an agent, a publicist in the States and some assistance in Germany, Christine Jensen is upbeat about her prospects. Her showcase at Jazzahead enabled her to contact programmers, specifically those with an interest in big band music. As she reports, there are radio jazz orchestras, fully funded by state broadcasters, like those of the NDR in Hamburg and WDR in Cologne, and another one in Denmark. These institutions do invite guest composers, and playing one of these would be a dream come true. Closer to home, her music is now being performed in the States by collegiate and conservatory jazz ensembles, but still not in Canada. In fact, she shakes her head when looking at the state of affairs at home. "I want to collaborate and communicate some of our ideas on an international level, but that is really a rare thing coming from our country. I don't think people here have a lot of vision to just go out and do this, and we are not promoted that much either. What also gets me is the ghettoization of Canadian musicians as locals, especially among our festivals. When I go over to Europe, I feel none of that because I'm not from New York. There is that star system here in Quebec that backs only those who are established, and the dreaded two solitudes that keeps you from being known elsewhere in the country. Mind you, I don't think about this too much; I prefer to focus on working on concepts and getting the music out there, and then follow through on the whole process. That's my goal."
• Christine Jensen Jazz Orchestra (with Ingrid Jensen as guest), Montréal, 6-7
• Ingrid Jensen in concert with Darcy James Argue's Secret Society
• Vancouver: 6-20; Toronto: 6-22; Ottawa: 6-23.
On the web: ingridjensen.com, christinejensenmusic.com
---
Version française...