New Orford String Quartet: Playing Well Together

by L. H. Tiffany Hsieh / June 1, 2014

---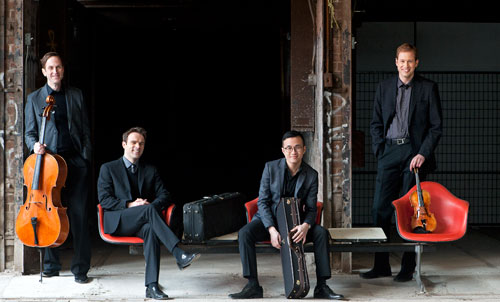 A few years back, when violinist Jonathan Crow worked with the Mahler Chamber Orchestra in Europe as a guest concertmaster, he was struck by the excitement each player brought to a concert. The project-based touring ensemble, known for its non-traditional organizational structure and system, comes together for single projects without a fixed home base and with residencies in various cities around the world.
"There was something about working together with a group of like-minded musicians who had their own careers at home and chose to spend their free time playing in this orchestra," Crow recalls. "That gave our concerts an unusual spontaneity and commitment."
And so, when Crow was asked by Davis Joachim five years ago to assemble a chamber group at the Orford Arts Centre, about 100 km from Montreal, one that would represent the centre throughout the year with concerts both in and outside of Quebec, he didn't hesitate. As a result, 45 years after the birth of the illustrious Orford String Quartet, which gave its last concert in 1991, the New Orford String Quartet was formed.
"The Orford quartet was a huge inspiration to all of us young musicians," Crow says. "When we started this group, we were sure to check with the original Orfords to get their thoughts on the name. They loved the idea. Terry Helmer and Andrew Dawes have both come to our concerts this year. We are proud to have their blessing, as well as that of Marcel Saint-Cyr and the family of Ken Perkins, to continue the great work they started."
Since arising from the fame and tradition of their predecessor in 2009, the New Orfords have played to sold-out halls and received critical acclaim, including two Opus Awards for Concert of the Year and a Juno nomination. Not unlike members of the Mahler Chamber Orchestra, they each have their own careers as principal players in symphony orchestras: Crow and violist Eric Nowlin are with the Toronto Symphony Orchestra; violinist Andrew Wan and cellist Brian Manker are with the Montreal Symphony Orchestra. The group has a limited touring schedule —about 25 to 30 concerts a year, a quarter of what a full-time string quartet normally plays —and plans two seasons ahead at a time.
"We are lucky to have active musical lives outside of the quartet. It's much easier to maintain sanity after working closely together as a group when we can have a little time off from each other," Crow says. "This is also an advantage musically. We will often come to musical decisions that we believe in strongly, but when we revisit the same repertoire a few weeks later, we all have different ideas. Bringing everything we do outside the quartet to our rehearsals helps to give a wide view on what we do and prevent a certain musical tunnel vision, which can happen when you play only chamber music."
While members of the New Orford quartet share similar interests, such as eating out, having a drink after a performance, a love for hockey, off-colour humour during tours and visiting wineries in the Okanagan between concerts, the foursome —inspired by the Mahler Chamber Orchestra model—came together with a plan to "revolutionize" the concept of string quartet playing in Canada.
"I wouldn't describe our relationship as friendship, but we do get along well enough," Manker says. "It's important to remember that this is primarily a musical relationship first, a business relationship second and a friendship last."
When Manker, Crow, Nowlin and Wan are together for a touring period, the devotion from each is intensified in a way would be impossible if they were together 365 days a year. Apart from perfecting works by the likes of Ludwig van Beethoven, Joseph Haydn and Maurice Ravel, they are committed to presenting and promoting Canadian works at every concert. The quartet's very first concert was an ambitious program of Haydn's String Quartet in C Major, Op. 20, No. 2, Ernest MacMillan's String Quartet in C Minor and Beethoven's String Quartet in A Minor, Op. 132. From there, the group has expanded its Canadian music repertoire to include works by Jacques Hétu, Claude Vivier, R. Murray Schafer, Ana Sokolovic, Airat Ichmouratov and others. This year, for example, the quartet has performed a number of programs that include Beethoven's String Quartet in B-Flat Major, Op. 18, No. 6, Ravel's String Quartet in F Major and Schafer's String Quartet No. 1.
"Seeing the transition of both tonality and sound in these composers is a wonderful way to look at the history of music, and specifically the string quartet literature: from early Beethoven through the forward-looking harmonies in the Malinconia section of the fourth movement of Op. 18, No. 6, onwards through the impressionist ideas of Ravel and finishing with the atonal stacked semitone clusters of Schafer," Crow says. "I personally find the connections between Beethoven and Schafer fascinating and hope to bring to our audiences new works they can discover and learn to love as we do. Our goal is to bring excitement to each of our concerts and make sure each concert is a self-contained event."
The New Orfords' shared commitment with the Orfords to Canadian composers makes for a continuity of artistic purpose between the two quartets, Nowlin points out. "We decided early on to identify ourselves as a Canadian ensemble that plays Canadian music, and we are fortunate to have a lot of that repertoire in our fingers," he adds. "If we are lucky enough to work with a composer, we can ask about the ideas behind the notes. I love this process. It is creatively satisfying."
When the composer is dead or unavailable, Nowlin says they have to decide what a composer may have wanted and what the ideas might have been behind the notes.
"We start with the idea of introducing five points of view: the composer and the four quartet members. Obviously, the composer's viewpoint is the most important and ours simply an interpretation of the composer's. We combine the ideas, try them out, keep them, toss them out and vote on them if necessary," he says. "This involves a lot more discussion —sometimes argument—as there are no definitive answers. However, our interpretation takes form through this process and it can ultimately continue to evolve for as long as we play together."
Nowlin describes the quartet dynamic as a "musical marriage with three other people that you have to find a way to get along and move forward with the tasks at hand, or else nothing will work." The critical factors, he says, are mutual respect, trust and compromise.
"Especially compromise," Nowlin adds. "Oftentimes we have to shape a phrase or play a certain way that we may not personally feel completely connected to, but if everyone else decides that is what they want, then that is the way it is going to be. We certainly do not agree on everything, but we make an effort not to make it personal.
"My sense is that when a quartet gets together, it is bound together initially by common musical beliefs and a mutual love of chamber music," Nowlin continues. "The group sound is something that tends to evolve organically and is not 'decided' in advance. Everyone finds their voice in the ensemble, and by playing together, they tend to pick up certain traits from each other that help the whole become more blended."
While the sound of any quartet is a combination of each member's individual sound as well as their sensitivity to sound, intonation and proper balance play a big part in that equation, Manker says.
"A chord that is in tune, with pure intervals and well balanced, can sound resonant and huge," he explains. "We have a big sound, almost symphonic at times, but we also know how to whisper. In certain situations, vibrato can affect the blend in a negative way; sometimes less is better as the sounds of individual instruments can gel together instead of becoming separated by the competing oscillation of vibrato. Conversely, sometimes vibrato is the magic ingredient that can lend colour, breath, urgency or inner emotion to the sound."
So far, with the quartet alternating two violinists during each concert—like the Emerson String Quartet—the New Orfords have a similar playing style to that of the Guarneri Quartet, in which four personalities are combined into one, "as opposed to having a totally seamless integration of the individual voices," Nowlin says. "I think the most important distinction between us and the Orford Quartet has less to do with group sound and more to do with individual playing styles and musical ideas."
After making three recordings and several videos for the CBC, Wan believes he and his colleagues have developed a sound that is more specific and defined. As one reviewer noted, the New Orfords have already achieved "a level of technique, sound quality, blend and an expressive richness that required a quarter of a century of the former group.
"Obviously, playing many concerts helps, but analyzing our recording takes with a fine-toothed comb expedites the process of making the necessary adjustments to become more unanimous in our approach," Wan says. "Playing this incredible repertoire can be humbling as quartet parts are often technically challenging and sometimes very exposed. We all have strong opinions in most matters, so finding a balance of respecting the validity of others' arguments, but also standing your ground, is vital to the longevity of any venture. Our rapport with each other has evolved, for better or worse, over the last five years. Our level of comfort with one another has developed, because we share similar outlooks on music and collaboration."
So whether it's for the love of chamber music or for other career-related reasons, the New Orfords are banded together to play as much as their schedules allow and to work with young string quartets, just as the Orfords did in their time.
"We love to teach and look forward every year to the string quartet seminar at Orford in the summer," Nowlin says. "It's a great environment to be in. It allows us to bring our ideas to the next generation of quartet players."
Recordings:
In 2011, the New Orford String Quartet released its debut album of the final quartets of Schubert and Beethoven on Bridge Records.
The group's next recording, to be released on Naxos Canada in the fall, will showcase the complete string chamber works of Jacques Hétu, featuring cellist Colin Carr and violist and Steve Dann.
A third recording of Brahms's Op. 51 quartets is scheduled for release on Bridge Records in 2015.
Upcoming concerts:
July 6: Music & Beyond, Ottawa, ON;
July 10: Musique de Chambre à Sainte-Pétronille, QC;
July 12-18: Orford Festival, Orford, QC;
July 20: Morningside Music Bridge, Calgary, AB
---
Version française...