Miklós Takács: A Longstanding Relationship with Choral Singing

by Marc-Olivier Laramée / April 1, 2014

---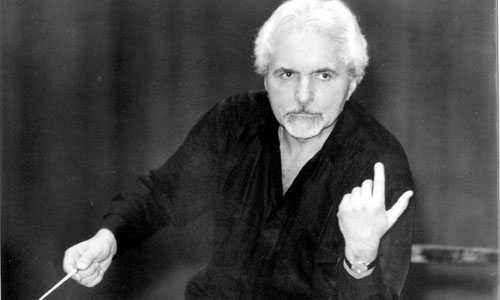 There is an abundance of professional and amateur choirs in the city of Montreal. However, few of them have had a strong and long-standing reputation, especially choirs that have been led by the same person for over 35 years. They can be counted on one hand. The UQŔM choir, under the direction of Miklós Takács, is one of these exceptions.
Takács is recognized as a choral and orchestral Master. His passion for music began long before he was born: " My mother and father met in the Great Oratorio Choir in Budapest ... then again on a ship to the blue Danube between Budapest and Vienna," he said. His training as a musician quickly led him to pick up the baton and run with it: "I was in college when my professor, who led the college's choir, had a last-minute obligation at a party where the audience was waiting. He sent a message that I was to replace him. From then on, Takács directed choirs in churches—where he performed admirably. Even soloists from the Budapest Opera House came to sing under his direction.
His arrival in Montreal can be credited to the UQŔM choir and Sister Marcelle Corneille, the director of the music department at that time. Sister Corneille was at the Budapest Conservatory to take music courses to learn the Kodály method of which Takács was a strong supporter. This method stresses the importance of learning music, particularly singing, at a very young age; practicing this method develops a relative pitch. Learning to decipher notes, their ability remains the same regardless of the tone; they use the absolute pitch of the notes, the mobile "do". Incorporating more than music, the Kodály method is also an educational philosophy. Sister Marcelle offered Takács a temporary contract, which he accepted and has been at UQŔM ever since.
When he arrived Takács noticed a significant difference between the European choral singing culture and that of Quebec. The differences are much less pronounced today. "Here there is as much or more musical activity," he said. "Nowadays, there are more choirs, but mostly classical."
Takács knows how to handle awkward questions. "During my audition at the Budapest Conservatory, one of the jurors asked me who was my favorite composer. Thinking it was a trick question, I replied that I still could not decide between Bach, Palestrina, Schubert, Kodály and Stravinsky." We now know his preference is for the lyricism of Schubert and Kodály and his folklores. Bach is undoubtedly a good choice, not to mention Beethoven.
Though often dependent on tours, competitions and concerts, the choice of works performed is personal for Miklós Takács. The Hungarian-born leader wants to educate the public about the often less-known choral music. "We must offer it in such a way that they (the public) are passionate about it before even hearing it. We must dare to include in our programs rarely performed works as well as well-entrenched works," he said. This year, the traditional Good Friday concert (an institution since 1985) is dedicated to Verdi's Requiem, a work he led for the first time in Montreal with the UQŔM choir. "One of my soloists told me that all the record stores sold out of Requiem the day after the concert."
Classical choral music is often associated with sanctity. While being a believer himself, Takács presents the pieces in their context and invites the chorus to perform "as if they believe" as he puts it. His intention is in no way to impose his beliefs, but rather to come as close as possible to the meaning intended for the piece by the composer. "The human mind seeks a conviction somewhere, but the important thing is that there is a conviction behind your thinking" he said.
Takács' methods differ greatly from that of many other choirs – his choristers are placed almost randomly. That is why we might find a soprano, alto, tenor, and bass grouped together. This technique allows for choristers to listen to every voice. It is also necessary to know his or her own voice as well so as not to lose the thread. The choir is always accompanied by an orchestra or piano at concerts. From the beginning, Takács has set aside the interpretation of a cappella pieces. This choice allows him to work with the choir. This does not, however, stop him from enjoying parties with solo choruses performing great works. Learning music is essential for young people, says Takács. "Every school should have its own choir. Teachers do not want to undertake this hard work," he said. He adds, laughing and quoting Kodály: "Learning music should begin nine months before the birth of the child."
---
Miklňs Takács will lead the UQŔM choir, the Jean-François Perreault school and the orchestra of the Philharmonic Society—400 singers and musicians—on April 18 at 8:00 pm, at St. John the Baptist Church for the traditional Good Friday concert. On the program: Verdi's Requiem.
Translation: Gillian Corbin
---
Version française...