Gabriela Montero: Seizing the Moments that Count

by Lucie Renaud / April 1, 2014

---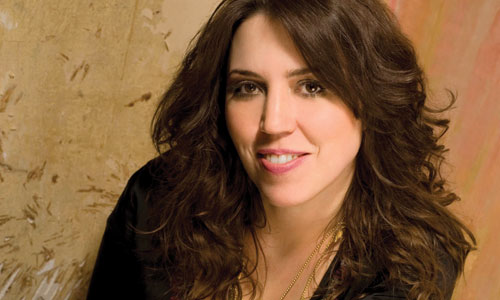 Gabriella Montero discovered the piano before she learned to walk or talk. A caring grandmother, like a storybook fairy godmother, left a toy instrument in Gabriela's bed when she was seven months old. Listening to her mother's voice, singing the Venezuelan national anthem or a tune from the radio, she quickly and successfully reproduced what she heard. At age four, she began formal studies with Lyl Tiempo, and performed in concert a year later. At eight, she performed with Venezuela's National Youth Orchestra in Haydn's Concerto in D Major under the direction of José Antonio Abreu, founder of the El Sistema movement. Soon after, she and her parents left Caracas for the United States, then England.
As a performer who improvises as well as works with the scores of great composers, Montero has struggled to find her niche. Concert pianist? Improviser? Jazz musician? By the time she reached adolescence, her professors lamented her propensity for improvisation. For this nomadic spirit, who has moved 34 times between eight countries, the revelation would come during three years spent in Montreal. This is where, at the age of 31, she met Martha Argerich, who took Montero under her wing, and most importantly, assured her that she could reject the labels people tried to pin on her; she could juggle two seemingly opposite careers.
After releasing a debut album of Rachmaninoff, Chopin, and Liszt, this encouragement motivated Montero to release Bach and Beyond, an album of improvisations on themes by Bach—which has remained at the top of the charts for several months and was named "Choc de la musique de l'année" by French magazine Monde de la musique in 2006—and Baroque, nominated in 2009 for a Grammy in two categories. She has since adopted a mixed approach for most of her recitals: the first part includes a "standard" repertoire, while the second part is entirely improvised. The artist draws on tunes sung by the evening's audience: from the theme of Beethoven's Fifth to that of Star Wars, to offer unique interpretations, never superficial, since Montero's gifts and musical culture are boundless. She can include passages from known works or transform the simplest popular melody into a rousing homage to Debussy or Rachmaninoff.
"Improvisation has been a part of my life since I was a little girl," Montero explains. "It was my way of telling stories as a child, and I do the same now. I think that in many ways, classical music has become more conservative than it used to be, a little bit generic." She harkens back to a golden age, "when there was more freedom and desire to really feel the artist as a human being."
As far as she's concerned, classically inspired improvisation, practised by the great masters but shunned for the last century (except perhaps by organists), can prove as free an idiom as jazz: "It's just a different language." She doesn't quite know how someone can study improvisation. "I never learned anything; it's a very alien concept to me. Improvisation should be nothing, but from nothing you create something and then it dies. It's more than an intellectual process; it's more like my body and my mind and my whole being take over and I just let it happen." In a profile produced for the American TV show 60 Minutes, she evokes a radio that is on 24 hours a day and is impossible to turn off. "Sometimes it can be disturbing and sometimes it wakes me up," she confesses. "Everything I see or experience is like watching a film, but with a soundtrack in the background."
Montero returns to Montreal on May 20 as a pianist, but also as a jury member for the first edition of the Richard Lupien Improvisation Prize, held as part of the Montreal International Musical Competition, the first competition in the World Federation of International Music Competitions to offer such an award. "I think it's a wonderful initiative," she says, stressing that there are no preconceived ideas as to the playing of the finalists. "The wonderful thing about improvisation is that you can't really expect anything; it's a mystery and should remain a mystery. I hope to hear inventiveness and risk-taking. Like any kind of art, if it is true and committed, it should be of high quality and tell stories. That is what I find most beautiful."
Finding a Balance
The apparent imbalance between religious respect of a text and total freedom, often within the space of a few minutes (the length of an intermission), may seem impossible to manage for many, but not for Gabriela Montero. "For me, the challenge is more about how to bring that freshness and that personal element that I have with improvisation into the written words of others. With some composers, it comes very naturally; with others, I have to find it." Though she feels equally at ease in both spheres, she admits that improvisation remains her own world. "There isn't any kind of switch or transition that I have to do; it's just that the improviser in me is so strong that it never goes away. Very often, when I play Mozart, for example, I want to go in different directions, and I think that next year or in two years' time, I will do that in concert. I will take some Mozart concerti and improvise sections throughout the movement—not just the cadenzas. It requires self-discipline to stop myself from improvising because for me there are endless possibilities that I could do in a written work, but of course I have to play what's written. My approach is more about the emotional content of a piece, the life behind each harmonic shift, each note." Not surprisingly, the composers who speak to her the most are the Romantics. "Brahms and Schuman are very dear to me. I am becoming more involved with Schubert and I love him. Of course I love Bach. I very often improvise in the baroque style; I don't know why."
Montero also remains aware of the difficulty of leading a demanding international career as a woman and a mother of two girls. "I tip my hat to any performing artist who is a mother because it's a constant struggle, especially when the children are younger. You always feel that you are sacrificing one for the other. What I have tried to learn as a mother is that children learn from you, not only with your presence but also with your actions and the kind of principles and ethics you teach them. I can only hope that my girls will follow the highest standards and moral grounds in life, and that I will have something to do with that."
Remaining Whole
Gabriela Montero freely admits refusing to compromise her beliefs in any way: "I think we should be honest about what we are; I don't think we should be one kind of person in everyday life and a different one in professional life." On February 13 2014, she wrote an open letter to José Antonio Abreu and Gustavo Dudamel in protest to a concert conducted by the latter the previous day to celebrate World Youth Day and the 39th anniversary of El Sistema, while armed militia, the National Guard, and police attacked innocent victims. "They played a CONCERT while their people were being massacred," says the letter. "I often use the analogy of the Titanic. The performing quartet sank with it while they continued to play their music. The music didn't help. The music didn't save them. Venezuela is sinking and El Sistema will sink with it. We have moved past the point of no return. Music, ambition, and fame are worthless next to human suffering. They mean nothing when you are abused, injured, and killed." Though Gustavo Dudamel sent a brief response to the newspaper El Universal the next day, arguing that music is a nonviolent protest of war, the pianist believes that it goes well beyond politics. "That letter was not a political decision, but a stand against brutality and oppression of a dictatorship. It is about human life and violation of human rights. It's about imprisonment of innocent people without trial. It's a humanitarian crisis, and I think that everyone has a responsibility. It doesn't matter if you are musician or a scientist, you have to speak out against injustice and brutality." Even though she hopes to one day see her friends and loved ones again, she hasn't set foot in Venezuela in four years, and refuses to do so as long as the current government is in power.
Over the course of the next year, the pianist will make numerous appearances again in Europe, make her debut with the Boston Symphony Orchestra in July, and continue to participate in forums on human rights. "The things that excite me, move me, and motivate me are not necessarily specific to the places where I play. It's more about what I can leave on the stage as an artist and what I can establish with the audience." During a sold-out concert in London in March, she recalls that after having finished playing Schumann, she let out a long, almost painful sigh. When she looked up at the cheering audience, she noticed some 20 Venezuelan flags fluttering. "These are people in pain, they want their country to heal. They were thanking me for bringing their message to the world. At that moment, I started to cry on stage and I couldn't hold back. These are the things that mean something to me, when music can do that to me, when I can do that to others, and when they can give me something in return that moves me like this. It's not about concert halls, or fame, or going up the ladder; it's about those moments that mean everything."
Translation: Rebecca Anne Clark
• The Richard-Lupien Improvisation Prize, Tuesday, May 20 from 1 p.m. to 4:30 p.m., Tanna Schulich Hall, Schulich School of Music, 555 Sherbrooke Street West, Montreal.
• Fall In Love with Gabriela Montero, Tuesday, May 20 at 8 p.m., Pollack Hall, 555 Sherbrooke Street West, Montreal
• MIMC: May 26 to June 6, Winners Gala concert June 6, 7:30 p.m. at the Maison Symphonique.
www.concoursmontreal.ca
---
Version française...