Wanda Kaluzny: A True Canadian Musical Pioneer

by Paul E. Robinson / April 1, 2014

---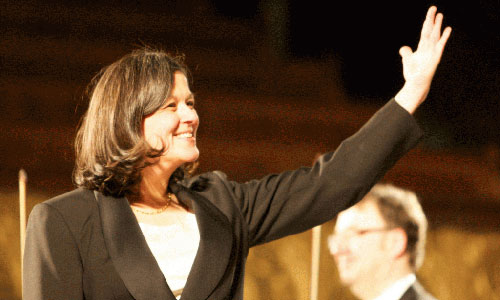 It was only last year that two prominent Russian conductors shot themselves in the foot with their comments about female conductors. Vasily Petrenko, music director of the Royal Liverpool Philharmonic, declared that "players react better when they have men in front of them." Yuri Temirkanov, conductor of the St. Petersburg Philharmonic, stated that "the essence of the conductor's profession is strength. The essence of women is weakness." These men must be completely out of touch. Today, women are leading major orchestras all over the world—and with great success. The most celebrated member of that group is undoubtedly Marin Alsop, who heads the Baltimore Symphony and the São Paolo Symphony (OSESP) in Brazil… and recently became the first woman to conduct the Last Night of the Proms.
And there are others. JoAnn Falletta leads the Buffalo Philharmonic, Susanna Mälkki regularly guest conducts orchestras such as the New York Philharmonic and the Chicago Symphony, and Jane Glover conducts at the Metropolitan Opera. The Dallas Symphony has a long tradition of hiring female staff conductors. Canadian Keri-Lynn Wilson was associate conductor (1994-98), Rei Hotada has been assistant conductor and Karina Canellakis was just appointed to the same position. Women also hold prominent positions in Canada. Tania Miller is music director of the Victoria Symphony and Anne Manson holds the same position with the Manitoba Chamber Orchestra. Susan Haig is a former music director of the Windsor Symphony, and Agnes Grossman did some fine work with the Chamber Players of Toronto and the Orchestre Métropolitain.
One of the first Canadian women to break into what had been virtually a men's club was Montreal's Wanda Kaluzny. She formed the Montreal Chamber Orchestra in 1974 and this year celebrates her 40th anniversary as its leader.
Imagine what the world of music must have seemed like to a young woman growing up in Quebec in the 1970s. At that time there were perhaps only two women who had made important careers as conductors: Sarah Caldwell and Antonia Brico. Nearly everyone invited to stand on the podium was a man. But Wanda Kaluzny didn't know that and what is more, she didn't care. She was only eleven years old when she became organist and choir director at Holy Cross Parish in Montreal. It was a "baptism by fire," as Kaluzny recalls. She obviously demonstrated talent and leadership well beyond her years, but her proactive personality occasionally got her into trouble. Some of the older choir members complained to her parents that "your daughter is very rude in rehearsal." But young Wanda got results and kept her job.
She received a scholarship to study conducting with Stefan Stuligrosz in Poland; she later worked with Charles Bruck at the Monteux Conducting School. She went on to be a guest conductor in Canada and Europe but found that the work she loved most was right at home—with her own orchestra.
Kaluzny has become a role model for young women considering a conducting career, and has been widely recognized for her pioneering work. In 1999, she received the Woman of Distinction award from the YWCA Foundation, and the Award of Excellence from the Career Women Interaction Network. In 2012, she received the Queen Elisabeth II Diamond Jubilee Medal for her "unwavering commitment to the musical development of young artists and her willingness to pioneer unique soloists, composers and repertoire."
In forming the Montreal Chamber Orchestra Kaluzny took advantage of the fact that in 1974, there were many fine young freelance musicians in Montreal looking for work. After the creation of the Orchestre Métropolitain there was plenty of work for them. Today, the two orchestras draw their talent from the same pool.
Right from the start the Montreal Chamber Orchestra was a professional ensemble. This meant that money was, and would continue to be, a major hurdle for both basic operations and growth. At the outset Kaluzny was heavily involved in all aspects of orchestra operations—from conducting to fundraising, promotion and logistics. Eventually board members and volunteers took over many of these responsibilities, though according to Kaluzny, it wasn't always smooth sailing. Like all orchestras, the Montreal Chamber Orchestra had both good and bad boards, and the organization's fortunes rose or fell accordingly. But today, she says, the orchestra has an excellent board, and in Kaluzny's words, "an amazing executive director, Mona Awad," and that has given her some peace of mind and a sense of satisfaction with what has been accomplished.
The Montreal Chamber Orchestra prides itself in being "an orchestra of discovery." With its limited budget it cannot afford to hire soloists like Yo-Yo Ma or Joshua Bell, but it makes a virtue out of necessity. Instead, it provides opportunities for newcomers to play with a professional orchestra and perhaps attract the attention of the major orchestras and concert presenters. Jens Lindemann, Sharon Kam, Ben Heppner and many others have appeared with the MCO in the early stages of their careers.
The same goes for young Canadian composers. Kaluzny has identified and nurtured talented composers such as Jim McGrath—perhaps best known for music he has written for the popular CBC television series Republic of Doyle—as well as John Plant and Louis Babin.
The MCO presents a subscription series of five concerts at Salle Bourgie and also gives a number of free concerts for children. Kaluzny has plans to present a new series of lunchtime concerts to draw on the business people and seniors who may be reluctant to go out at night.
The MCO celebrates its 40th anniversary with a Gala concert on Tuesday, June 3, 2014, in the Salle Bourgie. Several past "discoveries" will be featured including pianist Sara Davis Buechner, soprano Gianna Corbisiero and trumpeter Jens Lindemann. In addition, violinist Fumiaki Miura, winner of the First Prize at the 2009 Hannover Violin Competition, will make his North American debut playing Mendelssohn's Violin Concerto.           
---
Version française...