Industry News

by Shira Gilbert / April 1, 2014

---
Awards for Young Composers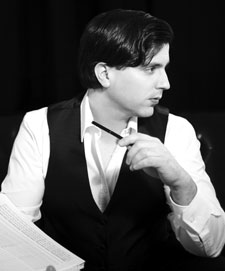 Andrew Staniland is the recipient of the $1,500 Harry Freedman award. Administered by the Canadian Music Centre, the annual prize is intended for composers to use towards the completion of a recording project. A recording of Staniland's "Talking Down the Tiger" for percussion and electronics, as well as several other solo works, will be released on NAXOS. A graduate of the University of Toronto Faculty of Music Doctoral Program, Staniland is currently part of the music faculty at Memorial University in St John's Newfoundland.
Spectrum, an organization of Canadian composers who create and present a contemporary hybrid of jazz and classical music, has announced that Nick Lavkulik has been selected as the inaugural Spectrum Music 2014 Composer in Residence. Developed in partnership with the Humber Community Music School and facilitated by Spectrum Artistic Advisor, Daniel Jamieson, the new residency offers a young composer the opportunity to present a new work at a Spectrum concert through a guided mentorship process. A 19-year-old guitarist, Lavkulik's work for piano quintet will premiere in Toronto on April 17, with the Ton Beau String Quartet and pianist Florian Hoefner.
Musicworks, a Canadian magazine about experimental music, has announced that San Diego interdisciplinary artist Margaret Noble's Safer Is Better is the winner of Musicworks' 2013 Electronic Music Composition contest, while Toronto composer and writer Caitlin Smith (now based in Vienna) takes first place in its 2013 "Sonic Geography" Writing contest for her essay "The Blessed Streetcar Riders of Vienna."
Quebec City's L'orchestre d'hommes-orchestres (LODHO) has been chosen by director Robert Lepage, laureate of the Tenth Glenn Gould Prize, as the recipient of The City of Toronto Glenn Gould Protégé Prize of $15,000. An artist-run collective led by Bruno Bouchard, Gabrielle Bouthillier, Jasmin Cloutier, Simon Drouin, Simon Elmaleh and Danya Ortmann, LODHO has performed at major festivals and venues across Europe, Central America and in Canada. LODHO's work is described as a unique combination of concert, carnival, cabaret, travelling medicine show and alternative reality.
News from Canadian Orchestras
Evan Mitchell is the new Music Director and Conductor of the Kingston Symphony Association.Mitchell, currentlyassistant conductor of the Kitchener-Waterloo Symphony Orchestra and a former Resident Conductor with the Vancouver Symphony, officially steps up to the podium in Kingston on September 1st, succeeding long-time Music Director Glen Fast who becomes the orchestra's Conductor Emeritus. Meanwhile in Kitchener-Waterloo, that city's Symphony has extended Music Director Edwin Outwater's contract to the end of the 2016/17 Season, bringing his planned tenure with the orchestra to a total of 10 years.
Orchestra London, currently searching for a successor to outgoing Music Director Alain Trudel, has welcomed back Uri Mayer as artistic advisor for its 2014-15 and 2015-16 seasons. Maestro Mayer served as Music Director of Orchestra London from 1988 to 1994.
Canadians Abroad
The historic St. Paul's Cathedral in London has announced that Rachel Mahon has become the first ever woman to hold an organist post. The 24-year old Canadian organist and University of Toronto Music graduate is currently organ scholar at Truro Cathedral and was formerly an organ scholar at St. James' Cathedral, and became principal organist at Timothy Eaton Memorial Church. Mahon will be playing an organ commissioned from Bernard Smith in 1694. The instrument is the third-largest in Great Britain with 7,266 pipes, 5 manuals, 189 ranks of pipes and 108 stops.
Canadian baritone Joshua Hopkins just finished up a run as Guglielmo in Mozarts' Cosi fan Tutte, his debut with the Frankfurt Opera. In May he will be heard as Papageno for Washington Opera before heading to Glyndebourne for Argante in Handel's Rinaldo this summer.
Countertenor Daniel Cabena, who earned a Doctorate of Music from the Université de Montréal, performs with the ensemble of Kantaten in der Predigerkirche in Basel, Switzerland, as well as Pergolesi's Stabat Mater at Schloss Werdenberg, a Swiss medieval castle. This summer, Cabena will be heard in concert with conductor Jean-Philippe Tremblay and l'Orchestre de la Francophonie.
Tafelmusik Baroque Orchestra, returning to Carnegie Hall in March, was praised by The New York Times for their "insight, assurance and visceral engagement," in a mixed Baroque program. This was the third Tafelmusik appearance at the revered hall since their debut in 2009. In May, the orchestra will be heard in Versailles alongside Opera Atelier for Lully's Persée before taking their place as Orchestra-in-Residence at Bachfest Leipzig, in Bach's historic hometown, in June.
New Appointments
Philippe Bourque is the new Artistic Director of Montreal's St. Lawrence Choir. Choral director at Vanier College, Bourque's conducting experience includes directing the Chœur du Musée d'art de Joliette and Des Petits Chanteurs de la Cathédrale, as well as previous collaborations with the St. Lawrence for the Orchestre symphonique de Montréal's 75th Anniversary concert and last summer's Verdi Gala at the Laundière Festival. Bourque is the choir's fourth director since it was founded in 1972 by Iwan Edwards.
Simon Blanchet succeeds Guy Soucie as Artistic Director of the Chapelle historique du Bon-Pasteur. Previously General Manager at the Studio de musique ancienne de Montreal, Blanchet, a pianist and musicologist, has also worked with the Montreal International Music Competition and the Montreal Baroque Festival. Soucie is retiring in this, the 25th anniversary season of the Montreal cultural landmark.
Annie Saumier recently took on the position of Managing Director of Concerts and Publicity at McGill University's Schulich School of Music, replacing Louise Ostiguy who retired last fall. Saumier comes to the organization, which presents some 700 concerts and events each year, from Montreal's International Laboratory for Brain, Music and Sound Research and has held previous positions with Société pour les arts en milieux de santé and Jeunesses Musicales.
Music Monday
May 5 marks the 10th anniversary of the Coalition for Music Education in Canada's Music Monday, a series of simultaneous events across the country with the purpose of promoting the lasting academic and social benefits of music education. Events are slated to take place in Whitehorse, Vancouver, Ottawa, Halifax, Montreal, and Edmonton, among other cities. A live webcast will conclude with synchronized nationwide performances of "Is Somebody Singing" with former Canadian Space Agency Astronaut Chris Hadfield, led by Maestro Bramwell Tovey of the Vancouver Symphony Orchestra.
More Opera Woes
With the opera world still reeling from the recent shuttering of New York City Opera, another important American company has fallen victim to a diminishing patron and donor base. After almost 50 years in business, San Diego Opera will cease operations at the conclusion of its run of Massenet's Don Quixote on April 13 in order to avoid bankruptcy. San Diego Opera, which been ranked among the top 10 opera companies in the United States by Opera America, now joins the list of companies that have gone out of business in recent years, including New York City Opera, Opera Boston, Opera Cleveland, Baltimore Opera, San Antonio Opera and, here in Canada, Opera Hamilton.
---
Version française...