Choosing the Road Less Travelled: Marc David of the OSDL

by Hassan Laghcha / April 1, 2014

---
Marc David, who celebrates his 20th anniversary with the Orchestre symphonique de Longueuil (OSDL) this year, discusses how the orchestra conductor's profession is changing, the future of classical music, and responsibilities toward the upcoming generation of musicians and his hopes for the future.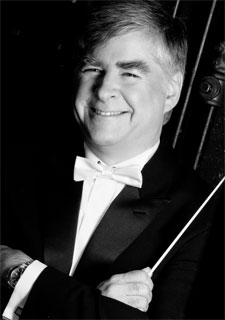 More and more orchestra conductors are becoming public figures. Maestros work all over the globe, bringing a considerable change to our already internationalizing profession. Just take a look at the diversified nationalities of orchestra conductors in Canada, like everywhere else," says Marc David, who has 500 concerts to his credit and is often sought out as a guest conductor by orchestras across Canada and internationally. The maestro, who also conducts the Newfoundland Symphony Orchestra, recalls how conductors once upon a time used to stay with the same orchestra for decades. "Now, maestros can't help but aspire to conducting great American or European orchestras," David says, although he prefers to focus on the long-term development of his orchestra.
No worries
"I'm not worried about the future," David says. "People seem to think that the future of classical and orchestral music is in danger, but not here in Longueuil." Proof: "The OSDL is almost always sold out," he points out. "And 80% of our members renew their membership each year."
But the OSDL needs a new concert hall. It currently performs in a CEGEP theatre hall, hardly ideal acoustics. Marc David rejoices over the financial engagement confirmed by public officials at the provincial and municipal levels to provide Longueuil with a new hall. He also wishes for a core of full-time musicians. "Currently, the orchestra's musicians also work for other orchestras or teach at universities or the Conservatoire," he adds.
He dreams of having at least a core resident quatuor to establish permanent work schedules, and especially to reduce problems caused by schedule conflicts, given the musicians' many commitments.
Hearing the next generation
"It is our duty to play current composers. Otherwise, we run the risk of missing out on masterpieces," predicts the disciple of Charles Bruck of the École Pierre Monteux, renowned for transmitting French repertoire. David believes that we have to travel unbeaten paths to establish a musical program that leaves room for the next generation and gives the public an appetite for new music. "Over the years, we have worked to get the OSDL's audience used to new musical creations," David points out. "New discoveries are equally interesting for the musicians." He also points out that in choosing his soloists, he makes sure to leave room for younger performers alongside the more experienced musicians, giving the next generation the chance to perform with an orchestra.
Marc David further enthuses about the Portée pédagogique series targeted toward students; it was created in collaboration with the Commission scolaire Marie-Victorin and offered on request to other school boards. The series allows students to participate in the production of a large-scale music concert and perform on stage with a symphony orchestra.
Signed: proximity
"Be as close as possible to the audience. Interact with the audience, but defy it at the same time, bring it to understand our artistic process." Marc David thus describes the OSDL's signature. He underlines the importance of staying with the same orchestra for a long time. "It means a program can be established over many years with, of course, at centre stage the basic repertoire that must be played—as much for the audience as for the musicians—to uphold the quality and acuity of musical play and to keep the audience interested" He cites Beethoven's nine symphonies, Brahms' four symphonies, Schumann's four symphonies, Tchaikovsky's and Mozart's final symphonies; the great piano, violin and cello concertos, and the great overtures.
It is imperative that interpretation be "a constant effort to find the composer's inspiration. Conducting a reproduction of notes frozen onto a sheet of paper doesn't interest me," says the multi-instrumentalist turned composer as a result of his passion for ensemble music. A profession that, according to him, requires leadership and communication skills and an ability to bring people together. One that allows interaction with other musicians, and to continually further his understanding and analysis of musical works, and especially to transmit his joy of discovering the secrets of high-caliber composition.
Translation: Catherine Hine
---
Version française...