The Life of Alice Herz Sommer

by Dwain Richardson / April 1, 2014

---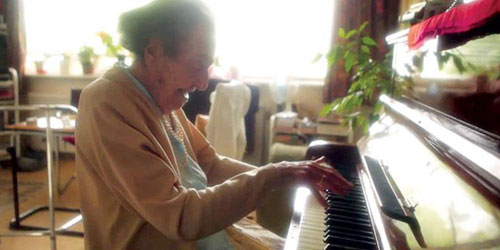 The Lady in Number 6: Music Saved My Life is a documentary about hope, happiness, and music. Although music was probably not at the on top of everyoneís list during an austere time in our history, it didnít stop one person from making music; in fact, it† drew many enthusiasts to her piano playing even though her grand piano was confiscated during the Second World War.
This is the story of 109-year-old Alice Herz Sommerís life as a pianist and a prisoner in a Czech concentration camp. Born in Prague in 1903, Alice started going to concerts at age 10 and got to know composer Gustav Mahler and writer Franz Kafka (both friends of her mother). Because of the Sommerís family connection, she heard Mahlerís Second Symphony during a visit in Vienna, Austria.† In 1931, Alice married Leopold Sommer, a businessman and violinist. Their son Raphael was born in 1937 (he died in 2001).
Alice performed over 100 concerts across Europe. On March 15, 1939, however, her professional career abruptly ground to a halt when the Nazis invaded the Czech Republic. Jewish residents could no longer perform publicly, participate in competitions, or teach non-Jewish students. It was also at this time that Alice and her family were moved to the concentration camp in Theresienstadt, 60 kilometres northwest of Prague. Despite the beyond horrible camp conditions, prisoners composed music, and Alice continued to perform concerts for inmates. Even the camp guards enjoyed Aliceís playing! Watching the film, it becomes clear that Sommerís stay at the camp changed her life for the better, since music symbolized hope, richness, and beauty.
Despite the filmís brevity (39 minutes!), Sommer draws us into her life with simple narration and a smile. She found happiness through playing Bach, Beethoven, Brahms, Chopin, Schubert, and Schumann. Though her story was punctuated with dark moments, she always portrayed them in a positive light. Canadian director Malcolm Clarkeís simple and sincere approach of The Lady in Number 6: Music Saved My Life won the 2014 Oscar for Documentary Short.
Sadly, this remarkable Holocaust survivor died on February 23, 2014, in London, England.
---
Version française...