I Medici: An Orchestra of Science

by Charles-David Tremblay / April 1, 2014

---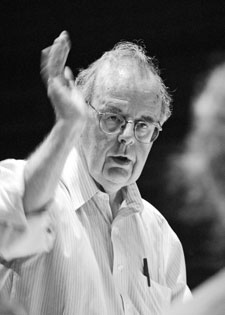 Celebrating its 25th anniversary, the I Medici di McGill Orchestra is composed mostly of amateur musicians from McGill University's and the Université de Montréal's medical faculties' staff and students. On February 28th, more than 55 musicians under the baton of Iwan Edwards performed Antonín Dvořák's Concerto No. 2 for Cello and Symphony No. 9 during a benefit concert organized by the Quebec Music Educators' Association and Viva!Sistema, an organization dedicated to children's music education.
The concert was based on interdisciplinary approaches and had several remarkable moments. One of these was strong interaction between the orchestra and Stéphane Tétreault in Dvořák's concerto—a convincing success with the help of precise conducting and contrasting dynamics. The orchestra's warm sound and dialogues among various sections allowed us to fully appreciate the ensemble's musical qualities. Health specialists and other university fields determined that science and music can go together with the help of great and rich textures.
Ante Padjen, founder, director, and I Medici di McGill Orchestra's principal violist since 1989, is Associate Professor of McGill University's Faculty of Pharmacy. Trained in music and physics in Zagreb, Edinburgh and Washington, Padjen defines music and science as "a way to be a complete human being. Without music and science, it would not be possible to bring these two areas of interest together." When asked about the importance of music education to open potentially new scientific horizons for children, Dr. Padjen stated that "children may find an expression through music, and all children can express themselves with music." With regard to possible effects of music on cognitive development, he puts forward a clue. "Music has the opportunity to play with materials and develop skills that only instrumental experience can give." It seems that science and music are mutually nourishing.
Commenting on the work as a conductor and pedagogue, Iwan Edwards highlights the importance of science and music with children. As a teacher of Viva!Sistema's program, he makes sure to impart to the children of St. Gabriel School a passion for music that not only allows them to be musicians but also makes them more open-minded to the world, but also bridges the gap in different areas of their life. "A conductor is always a pedagogue," Edwards said. Because music education is dear to Edwards's heart, he continues to praise children's work. "They work hard and are models for both musicians and their peers."
The gap between music and science is more present for many musicians interviewed during the evening. Jenny Zhu, the orchestra's second violinist, began her studies in classical performance when she was nine. She said the orchestra "gathers people of all ages and backgrounds; all musicians are united by a passion for music." As far as connections among orchestra members, this McGill University economics student told us that "everyone gets along and finds meaningful additions to their working life." She also highlighted Iwan Edwards's excellent work—conductor for the past 14 years. "He gathers people and has them work toward a common goal." Although economics seem far-removed from music, the connection between these two fields was obvious enough for this young woman that she decided to bring them together.
Isadore D.-Friedman, violinist since the age of seven and currently a violist, stressed that "being a member of such an orchestra allows you to be part of something larger than one's self." Now a masters' student, Isadore's passion for music naturally complements his interest in science and technology. He pointed out that members' passion for music is just as lively as their passion for their profession and field of study. Still, science and music are areas that need to be combined in many facets of daily life when students pursue a university career.
It seems that music and science are the firmest of foundations. Whether they are health professionals who have had a passion for music since childhood and find a balance with their working life, students who care about rewarding relationships with music and their area of study, or just amateur musicians who would like to enjoy a new life experience, the I Medici di McGill Orchestra goes beyond art and science borders. It's a bridge between science and music—and a meeting place for enthusiasts of both fields.
Translation: Dwain Richardson
Iwan Edwards leads I Medici in the final event of the ensemble's 25th Season: Concert – Lecture, featuring Martin Karlíček in Dvořak's Piano Concerto op. 33 and a speaker in the 26th Lecture on the Biology of Music. April 26 at 4:00 p.m. at Pollack Hall. www.imedici.mcgill.ca
---
Version française...