Spotlight on Porgy & Bess

by Joseph So / December 1, 2013

---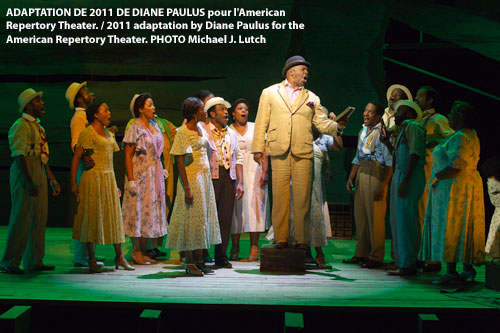 George Gershwin's Porgy and Bess is widely accepted today as the quintessential American folk opera. According to the statistics of the last five seasons (2008/9 to 2012/13), the Gershwin masterpiece ranks 117th in popularity out of a total of 2,415 works based on the number of performances. Though it's considered part of the standard repertoire today, its genesis as an opera has had a rather difficult journey.
It all started with a 1924 novel, Porgy, by writer DuBose Heyward, a resident of South Carolina. He based the character of Porgy on a local handicapped black man who was indicted for a crime of passion. The novel in turn inspired a play, and eventually Gershwin's opera. Despite his success as a songwriter on Broadway, the classically trained Gershwin had always wanted to be considered a "serious composer." His classical works, the Concerto in F (1925) and the symphonic tone poem An American in Paris (1928), were well received by the public, but the critics of the day didn't quite know what to make of the elements of jazz and blues in a classical work. Undaunted, Gershwin spent two years composing and orchestrating P&B, finishing it in 1934. The production of this three-act grand opera with 19 principal characters and a large orchestra constituted a major undertaking. Getting investors proved difficult, and substantial cuts were made. A tryout in Boston received good audience response even if the critics were less enthusiastic. For the same reason, its New York opening closed after only 124 performances.
For the next few years, P&B gathered dust on the shelf. A 1942 revival took the form of a much shorter Broadway musical, two acts with spoken dialogue. An attempt to restore P&B to its original operatic structure took place in 1952, starring the young Leontyne Price as Bess and her then-husband William Warfield as Porgy. Ironically, this operatic version was better received in Europe than America, with a successful London premiere and performances at La Scala and Moscow. Jazz versions of P&B became standard throughout the 1950's starring the likes of Louis Armstrong and Ella Fitzgerald, and a movie was released in 1959 with Sidney Poitier and Dorothy Dandridge. It's been suggested that the racial unrest and the rise of the civil rights movement in the United States in the 50's and 60's contributed to its neglect – the public was uncomfortable with the way African Americans are portrayed. Indeed, some African-American artists turned down offers to appear, as they felt the story perpetuated racial stereotypes.
It wasn't until the 1970's that P&B as an opera underwent a renaissance. A groundbreaking studio recording based on Gershwin's original full score on the Decca label conducted by Lorin Maazel appeared in 1976 to critical acclaim, as did a Houston Grand Opera production the same year. The HGO production subsequently had a successful run on Broadway. It became clear that the restored P&B is indeed an opera and belongs in the opera house. It finally reached the Met in 1985 starring Simon Estes and Grace Bumbry. Subsequent productions took place in Glyndebourne (1986), New York City Opera (2000), Los Angles Opera (2007), Edinburgh (2010) and elsewhere. In recent years, both Trevor Nunn (2006) and Diane Paulus (2011) came up with special adaptations that resulted in successful (if controversial) runs in London and New York. 
The enduring attractions of P&B are of course the glorious and melodically inspired score, the vividly drawn characters, the powerful sense of drama, and overall emotional depth of the work. The central love story between the crippled beggar Porgy and the weak and victimized Bess was one of the most touching in all of opera. The seemingly endless flow of melodies makes it vocally rewarding for the principals  – "It Aint Necessarily So," "I Got Plenty of Nuttin," "I Loves You, Porgy," "My Man's Gone Now," and of course "Summertime." Despite the politics of representation of race through the lens of a white composer, there is no denying that many careers of African American singers have been launched and solidified as a result of P&B. The Gershwin Estate stipulates that the work should be performed by a black cast if at all possible, and with a few exceptions, this has been the case.
Discography of Porgy and Bess     
Focusing only on the operatic P&B, the 37-year-old Decca release from 1976 with Maazel conducting the Cleveland Orchestra and starring White and Mitchell remains definitive, followed by Houston Grand Opera's RCA recording from around the same time, with Donnie Ray Albert and Clamma Dale, conducted by John DeMain. There's also the Glyndebourne recording on EMI (1989) with White as Porgy again, conducted by Sir Simon Rattle. For historical interest, a 1952 live performance from Berlin starring Price and Warfield has been made available. The 2012 recording of Diane Paulus's adaptation for Broadway proved controversial: Stephen Sondheim gave a scathing commentary on Paulus's attempt to "improve" on Gershwin, while others were more sympathetic.
Opéra de Montréal presents Porgy and Bess January  25, 28, 30 and February 1, 2014. www.operademontreal.com
---
Version française...