Suzie LeBlanc: A Musical Journey with Elizabeth Bishop

by Emilie White / November 1, 2013

---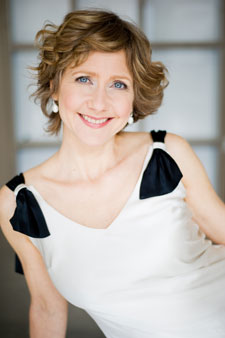 Elizabeth Bishop, one of America's great 20th century poets, had a special place in her heart for Nova Scotia. It was where she lived with her maternal grandparents as a child, a place she called home, and the inspiration and setting for many of her poems.
In 1978, one year before her death, Bishop told the Christian Science Monitor, "You know about the Bay of Fundy and its tides, I imagine, that go out for a hundred miles or so and then come in with a rise of 80 feet. The soil is all dark terracotta color, and the bay, when it's in, on a bright day, is a real pink; then the fields are very pale lime greens and yellows and in back of them the fir trees start, dark blue-green. It is the richest, saddest, simplest landscape in the world."
This sense of place, of setting, is what attracted Suzie LeBlanc to Bishop's poetry, which she discovered serendipitously in a Nova Scotia church basement in 2007. The soprano was moved, and decided to journey with Bishop, a journey that lasted seven years, the longest and deepest project that Leblanc has ever undertaken.
"There was something about places, people and nature, the way that she talks about it: in a way that I feel connected to the Maritimes," said LeBlanc. "She lived there only as a child and went back to visit as an adult. Her mother was from there, and it was obviously a motherland to her."
Bishop's inherent attachment to Nova Scotia is at the heart of the project: a personal journey that connects LeBlanc to Bishop, culminating in a CD of musical settings of Bishop's poems, titled I am in Need of Music, together with a film that chronicles Leblanc's journey. LeBlanc made sure the recording of the CD was produced in the province with Nova Scotian musicians. "We wanted to bring her soul back to Canada. She used to say about herself that she was three quarters Canadian and one-quarter New Englander, even though she was born in the States."
LeBlanc left much of the creativity to the project's four composers. "Alasdair MacLean and John Plant were also big fans of Elizabeth Bishop," said LeBlanc. "Christos Hatzis and Emily Doolittle selected their own favourite poems and completely understood them in a fantastic way and a deep way. I didn't want to get in their way. I wanted them to deliver what Elizabeth Bishop would inspire in them."
Several well-known American composers had already set some of Bishop's poetry to music, such as Elliott Carter's renditions of "Sandpiper," "Anaphora" and "Insomnia." Luciana Souza, a Brazilian jazz singer and composer, also set some poems to music, including "Insomnia". Brazil was Bishop's home for 18 years, and it was there that she wrote most of her poetry on Nova Scotia.
The latest version of "Insomnia" by Hatzis is inspired by 1960s pop music, particularly the Beatles, and is a completely different take from the dreamy settings of Carter and Souza. In the CD booklet, he writes, "Bishop's extravagant wit in this poem, particularly the closing and surprising 'and you love me,' is driven home musically." The last words of the poem are repeated, a creative liberty on the part of Hatzis, in an overall catchy framework.
LeBlanc says that she herself experienced some insomnia after the project was completed, but that it was a useful experience for her forthcoming concert tour. The full series of pieces written for the project will be performed with the Manitoba Chamber Orchestra in February, and other Canadian orchestras have expressed interest. LeBlanc also hopes to tour with the Blue Engine String Quartet, featured on the recording.
The title piece of the project, "I am in need of music", was set to music by Hatzis who composed "Unbeliever" to form a mini song-cycle. He felt the cycle was incomplete and got permission to add one more song, a setting of Anaphora, which closes the CD.
Together, MacLean and LeBlanc chose four more poems for the project, and those became a triptych. "Dear, my compass," previously set to music by American composer John Harbison, is included. MacLean wanted his triptych to create "a narrative of family and community, long-lasting love, and, finally, the approaching separation brought about by life's end."
Composer John Plant contributed two longer pieces, while Emily Doolittle also offered a longer setting for "A Short, Slow Life."
LeBlanc was greatly transformed by the experience captured on the bonus DVD. Bishop's love for the Maritimes centres on Nova Scotia, but in 1932 the intrepid poet also ventured across the Avalon Peninsula in Newfoundland. "Going on the walk for three weeks in Newfoundland, following steps of the same walk described in Elizabeth Bishop's journal, to really get to know the poetry and to take time off from my busy life in order to step into wilderness and silence, made me decide to do this project."  
I am in need of music, Centredisques (CMCCD 19413). 10 poems by Elizabeth Bishop, music by Emily Doolittle, Alasdair MacLean, John Plant and Christos Hatzis, Suzie LeBlanc, soprano, The Elizabeth Bishop Players, Dinuk Wijeratne, conductor, Blue Engine String Quartet. Bonus DVD: Walking with Elizabeth Bishop.
www.suzieleblanc.com, www.centrediscs.ca, www.themco.ca
---
Version française...