Fabien Gabel: A Vision for Quebec City

by Caroline Rodgers / November 1, 2013

---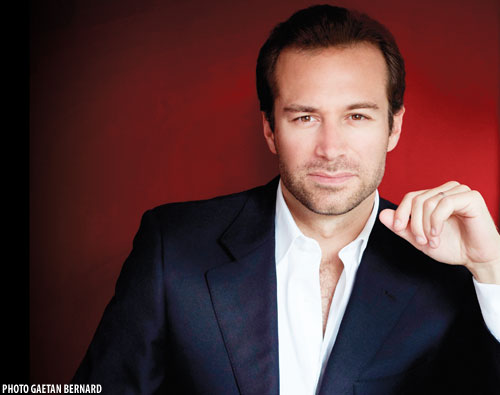 According to Fabien Gabel, the new artistic director of the Orchestre symphonique de Québec, the city's audiences are certainly ready to accept change.
"They are a faithful and attentive audience, but they are interested in anything new," he says. "Recently, we had a program that combined Debussy's Prelude to the Afternoon of a Faun and his first two Nocturns, Berg's Seven Early Songs, Ravel's Scheherazade and Stravinsky's The Firebird. It was a very flashy program but not necessarily one that Quebec City residents are used to seeing on paper. I was pleasantly surprised by their level of attention. The Berg was extremely well received."
That same positive reception was also witnessed last year, when the OSQ performed, for the first time, Webern's Symphony, opus 21.
"Before the concert, I took the time to explain the piece, warning the listeners that they might like it or they might not, but as it would happen, it was much appreciated," Gabel explains. "It's a short work, as I would not choose to start with a 45-minute atonal piece. The audience isn't necessarily used to it. I'm going one step at a time."
Even though, on this occasion, he felt the need to present Webern's work before having it performed, Gabel is not crazy about having short pedagogical speeches introduce each piece.
He adds, "I know that it's really in at the moment for conductors to speak to the audience all the time. That's good, but in my opinion, it should not be done systematically. I can't imagine myself explaining a symphony by Beethoven or Mozart. People are used to hearing that repertoire, and I don't know what I can tell them that they don't already know. Traditional repertoire pieces don't need any explanations. However, if a work has not been played for many years or is completely new, then I'll talk about it. Shortly, we will perform music by Quebec composer Yannick Plamondon, so I asked him if he would come on stage to explain his work."
Flowing from this vision – to attract new audiences and expand the horizons of the orchestra – is a commitment to inviting even more great international soloists and renowned conductors to the OSQ.
"I think it's normal that Quebec City should become an essential stop in Canada and in North America; it's the provincial capital. We have already begun this year with Emmanuel Ax, Jennifer Larmore and Alina Pogostkina, and I am already working on other guests for the future," he says.
This vision to expand the horizons also extends to more openness in repertoire.
"We cannot always limit ourselves to symphonies by Beethoven or Brahms," explains Gabel. "They are pillars of the repertoire and we will obviously continue to play them, but there will now be, along with them, new or unusual works. We must expand the musical spectrum. I like to have highly varied programs that combine different esthetics."
The 38-year-old conductor's first season last year with the OSQ lasted only seven weeks because, when he was hired in December 2011, his agenda for the 2012-2013 season was already pretty full. Even so, he has a positive view of his first year. Already, he has begun to leave his mark.
"It went wonderfully," he says. "I had already established a good connection with the musicians as an invited conductor. Since I arrived, we have added a lot of new repertoire. We have performed Webern, a first for the OSQ. And for the upcoming season, there is again a lot of new repertoire."
For the young conductor, the expansion of the OSQ's repertoire is essential.
For example, the "Master of the Harp" concert in May 2014, at the Palais Montcalm, combines Beethoven's First Symphony, Poulenc's Sinfonietta – never before performed by the OSQ – and a harp version of Rodrigo's Concerto de Aranjuez, performed with French harpist Xavier de Maistre.
In a similar concern for diversity, the "Tradition and Modernity" program will link Mozart and Beethoven to a work by Matthias Pintscher, who will serve as guest conductor.
Audience Expectations
Today, audiences expect a conductor to communicate more and to have a public presence in the community.
"That does not necessarily mean picking up the mike and saying hello before the concert. We also need to communicate outside the concert halls by getting closer to the people. I am constantly asked to meet with the public, I welcome students and the OSQ organises many educational and social activities. We go perform in cities and towns that don't have an orchestra, in schools," he adds.
Last September, he was invited to the Colisée Pepsi to drop the puck before a Quebec Remparts game.
He explains, "Hockey fans are not necessarily the same people who go to concerts. By participating in these kinds of activities, we let people know about the orchestra. Let's be honest, I am convinced that among the people who attended the game that night, there were some who didn't know the OSQ existed. Now, they at least know that we do. By getting closer to people, I hope to attract new people to the concerts."
Like most orchestras, the OSQ is doubling efforts to attract new audiences, including youth. For example, it offers a discount membership, the Youth Passport TD, which allows them to attend five concerts for 60 dollars, which comes to 12 dollars each. That's the price of a movie! Also, the Jeunes Mécènes de l'OSQ, a club of young business people and entrepreneurs promotes the orchestra to businesses and helps in fundraising.
 "We do a bunch of small gestures to get closer to the public, but it's also important that people invest themselves in the orchestra. And we can't go perform in people's living rooms. At some point, they must be the ones who make the decision to get up and hear us play. Unfortunately, many people have a false idea of classical musical; they believe it to be very elitist. We must break the ice, but it's also a question of education," he says.
Fabien Gabel: A Biography
• Born to a musical family in Paris in 1975. His father is a trumpeter and his mother a harpist.
• He started to play the trumpet when he was about six.
• 1996: First Prize at the Conservatoire national supérieur de Paris.
• At 20, he had already played with conductors Seiji Ozawa, Pierre Boulez, Bernard Haitink, and Sir Collin Davis, among others.
• He played with Parisian orchestras for 13 years, including the Paris Opera.
• At 27, he decided to become a conductor. He learned his craft from, among others, American David Zinman, in Aspen, Colorado.
• From 2002 to 2005, he served as assistant conductor at the Orchestre national de France, under Kurt Masur.
• In 2004, he won the Donatella Flick contest, which allowed him to be assistant for two years at the London Symphony Orchestra where he worked in constant contact with great conductors.
• His mentors and influences: Bernard Haitink, Kurt Masur, Sir Collin Davis, David Zinman, Thomas Hengelbrock.
• In the past, as guest conductor: London Symphony Orchestra, London Philharmonic Orchestra, BBC Symphonic Orchestra, Oslo Philharmonic Orchestra, the Dresden Staatskapelle Orchestra, Rotterdam Philharmonic Orchestra, Royal Scottish National Orchestra, Orchestre de Paris, Orchestre philharmonique de Radio France, Orchestre National de France, Orchestre national de Lyon, Orchestre national de Bordeaux-Aquitaine, Brussels Philharmonic, Taiwan's National Symphonic Orchestra.
• Coming up in 2013-2014: Toronto Symphony Orchestra, Royal Flemish Philharmonic of Antwerp, Orchestra of the Oslo Opera, Bremen Philharmonic Orchestra, Württemberg Philharmonic Orchestra, Real Filharmonia de Galicia, National Arts Centre Orchestra in Ottawa, Rochester Philharmonic Orchestra.
A few quotations from Fabien Gabel
About his influences:
"I now have an almost father-son relationship with German conductor Thomas Hengelbrock. I share a lot with him and he guides me when making certain decisions, and on the way I should approach certain repertoires. When I need advice, I contact him; he's someone I can't go without at the moment, who influences me greatly."
About conducting:
"A conductor learns during his entire life. Even when you conduct works you have already conducted fifty times, you'll do it differently. You evolve. We learn from the orchestras and the musicians we work with. The work of a conductor is one of exchanges. The musicians make suggestions and propose ideas, we learn from them."
About his approach as a conductor:
"Generally, they say that as a conductor, I'm very precise in my work and in my conducting. I like it when they tell me that because having been a musician in an orchestra myself, I try to conduct in the same way I would like to be conducted. The passion and inspiration don't mean a thing if we can't correctly make music together."
About his musical dreams:
"My dream would be to conduct Richard Strauss's Elektra. It's the first Opera I heard when I was still in short pants. My father played at the Paris Opera and he brought me in the pit with him. I was nine and it was a total shock. It was the first I played as a musician, at 16. I have always loved it. I'd also like to do Schoenberg's Gurre-Lieder."
About his son, Maxence, nine months:
"For me, to have a child is a miracle. We have a completely different approach to life. It brings balance when you work in the public sphere, where the attention is often on you. It's good to divert that attention on a little being."
---
Maestro Gabel will conduct the OSQ as it accompanies popular singer Catherine Major at the Grand Théâtre de Québec, December 19 and 20, 2013, as part of the Coups de Foudre Hydro-Québec series.
• For the Soirées Classiques series, he conducts the OSQ and pianist Marc-André Hamelin on February 5, 2014. Brahms's Concerto No. 1 and a symphony by Friedrich Gernsheim are on the program. An hour before the concert, Fabien Gabel will lead a conversation with Radio-Canada journalist Valérie Cloutier. www.osq.org
Translation: David-Marc Newman
---
Version française...