Jazz: Rimouski lands in Montréal

by Marc Chénard / November 1, 2013

---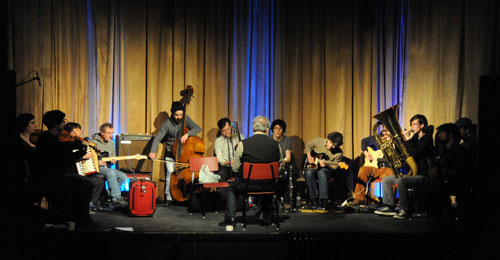 Historically, jazz has been an urban music. From its birthplace in New Orleans, it took the world by storm over the past century, first in Chicago and New York, then invading the great European capitals, from London to Paris, and soon conquering the rest of the world. But a new type of music followed in its footsteps, an outgrowth of the 1960s free jazz movement, all of which would soon be labelled as "improvised music", for want of a better term. Open to all possibilities, it is more of a musical practice than a defined genre. It enables to bring together musicians from all stylistic stripes and instrumental abilities, amateurs and professionals alike, sharing in a common creative effort. Often described as "experimental" or "creative", this music has a life of its own, with a somewhat fuzzier historic timeline than jazz. At home, in Quebec, we can find one example of this in Rimouski, a mid-size city some five hundred kilometres northeast of Montreal. This cultural hub of the Bas-Saint-Laurent region has been the host of a jazz festival for over 25 years, held annually on Labour Day Weekend. The city is also the stomping ground of Tour de Bras, an organization dedicated to improvised music, which also staged a recent vintage fall event: the Rencontres de Musiques Spontanées. Ever since its modest beginnings back in 2002, 35-year-old electric bassist Éric Normand, the artistic director of this adventure, has carefully nurtured his enterprise. In 2007, a collective of varied musical interests was formed out of a gathering of independently minded musicians in the region, a.k.a. the Grand groupe régional d'improvisation libérée (GGRIL). Endowed with an administrative structure and incorporated into a cooperative movement (the Coop Paradis), the ensemble performs regularly in an old theatre.
In a telephone interview, Normand filled us in on the current configuration of the group: "As for the instrumentation, we have lots of strings, myself on electric bass and no less than three guitarists, all self-taught and with very different approaches. One of them has a definite jazz bent, another with a noise approach that's completely off the wall, whereas I come from a more rock and punk background, types of music that I all discovered when I was very young, free jazz included."
For some, it might be difficult to imagine that the establishment of such an endeavour could succeed outside of the major cities (itself a tough task), but Normand sees things differently. "Right now, improvised music is a hot item in the region," he explained. "There's actually a strange aspect of presenting culture throughout the province, which is to give a springboard to Montreal artists to step on our turf and test their material. We need to break free from this habit, and to make it clear that we too can create in our part of the province. In my view, improvisation is the best way to assert ourselves."
From stage to CD
Since its inception, Tour de Bras (like the GGRIL) has steadily gained confidence and ambition, and is now inviting improvisers from Montreal and around the globe to join forces with it, the most well-known to date being British saxophonist Evan Parker. A member of a national network of 10 improvised music presenters stretching from Vancouver to Halifax (the "Canadian Circuit for Improvisers"), Tour de Bras benefits from public funds attributed to the promotion of music, thereby globalizing its own "village".
Added to this concert series is the collective's record label (tourdebras.com). The catalogue lists more than twenty titles, most of which are live recordings, rounded out with some studio productions. Accordingly, these can be listened to online, bought and downloaded, or purchased as CDs in most cases. What's more, thanks to his connection, Normand has been able to travel abroad, and has been invited to perform at a similar festival in Australia, which proves the saying that music makes you travel.
In the footsteps of its most recent event, which welcomed two international guests, French organist Jean-Luc Guionnet and Austrian saxophonist John Fischer, Tour de Bras will visit Montreal on November 13 (see info at the end of the article) to launch GGRIL's new recording, available—surprise, surprise—on vinyl. When asked about this, Normand answered: "We wanted to produce a nice object and vinyl seemed more interesting than CD. But there was also the listening aspect, limited to 40 minutes. A CD would have been longer, but that's not necessarily a good thing. I like the idea of a vinyl having two sides, which splits the recording into two small 20-minute doses. As for the music, one side has two versions of the same scheme, based on a traditional card game in which each musician draws a card at random, giving him specific instructions. The other side offers two collective improvisations conducted by two different conductors who can both complement and contradict each other in their directives, the result being quite a fun approach."
Far as it may be from Montreal, Tour de Bras is gaining greater recognition in the city, the home base of the Ambiance magnétiques label. Normand doesn't deny a link to it, nor does he see any ideological difference with the label, other than the fact that both groups are from different generations and their aesthetic choices are dedicated to free improvisation rather than for their Montreal counterparts. For Normand, improvisation remains above all else a privileged space for both humanistic and musical exchange. And to give him the last word: "This whole approach of getting together and improvising collectively is good for the music's health."
---
The GGRIL – concert + album launch: Wednesday, November 13, Patro Vys, 356, avenue du Mont-Royal Est, 8 p.m. Information: brasderic[at]gmail.com
Translation: Catherine Hine
---
Version française...