Queen Elisabeth Competition: Boris Giltburg

by Emilie White / October 1, 2013

---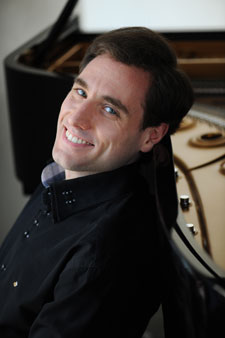 2.5 seconds. "It felt like an eternity," says Boris Giltburg, winner of the 2013 Queen Elisabeth competition.
It's the semi-finals of the competition. The 28-year-old Isreali-Russian pianist is having a blackout during the first movement of his Mozart concerto. He wants to crawl out of the stage, but he has to keep going. "You must be a fighter and just not give up. Even when you think that there is little or no chance, you need to go on."
In those 2.5 seconds, despair settles in. "This feeling of hopelessness is quite terrible," he says.  "Those moments are not easy…. You really need to not let that get to you, you really need to go on in spite of all of this, and give your 110%. And that's it. There is nothing else you can do."
The blackout was largely internal because Giltburg continues playing, and is selected for the finals.
For Giltburg, winning the competition is an affirmation of his authenticity. The winner now has a full schedule of over 80 concerts for the coming year, but more than that, he has the satisfaction of fulfilling his own mission. 
At his previous competition, the 2011 International Arthur Rubinstein Piano Master Competition, he came second, and he took to heart the critique: "[T]here was not enough personal freedom, personal expression, and in the two years after the Rubinstein I was consciously trying to work very hard [on] that."
Giltburg connected with the audience during the competition. "[It] was like a validation of the task I have chosen in the last two years. I got both the audience prize and the jury prize; that was a double validation."
His Facebook page and his blog, 'Music for all', are an extension of that desire to connect with his audience. His blog proposes a musical guide for his fans and historical investigations adding layers to Giltburg's artistic intelligence. 
An intense dedication, a fighting attitude and a touch of serendipity were the winning combination for Giltburg. He also thinks his repertoire selection and the right jury were key. "[Y]ou need to do your absolute best, and to play even better than your best. And also, quite a bit of luck. And, then it happens."
Giltburg was initially taught piano by his mother, who insited he play it rather than violin. He then began lessons with Arie Vardi at the age of 11. He continued on under Vardi's supervision, completing his Masters of Music in 2007 at the Buchmann-Mehta School of Music, part of Tel Aviv University.
For Giltburg, the heart of his triumph is authenticity. "If I have one advice to give to winning a competition is to just to be true to yourself." The conscious intent to be authentic produced a palpable intensity in his performances: an approach validated by both public and jury.
---
Version française...