Rediscovering Quebec Musician Auguste Descarries (1896-1958)

by Hélène Panneton / October 1, 2013

---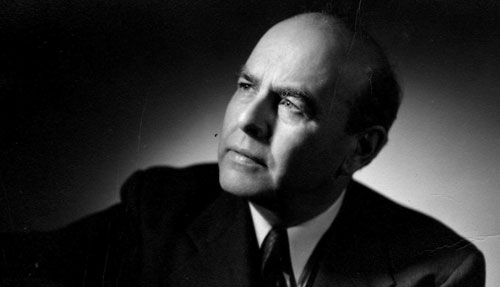 Auguste Descarries's name is beginning to resonate in the minds of Quebec's musicians and music lovers, and rightfully so.
In December 1929, Descarries came back to Montreal, following an eight-year stint in Paris, where the 1921 Prix d'Europe had brought him. Over the course of his career he would become a composer, teacher, concert pianist, lecturer, choirmaster, and organist. Yet, upon his return to Quebec, he found it difficult to find his place in a musical scene dominated by people who swore only by French music. While in France, Descarries had socialized mostly with neoromantic Russian musicians. Musicologist Marie-Thérèse Lefebvre summarises his influences:
"As a pianist, he is part of the German School, represented by the two great educators of the 19th century, Franz Liszt and Theodor Leschetizky. As a composer, he follows the Beethovenian tradition defended by the many Russian composers who came out of the imperial conservatories of Moscow and St. Petersburg, such as Leon and Jules Conus, George Catoire, Alexander Glazunov, and Nicolas Medtner."
Those influences shine through in Descarries's sacred works written for the Saint-Viateur d'Outremont Church, where he served as choirmaster from 1938 until his death in 1958. He composed major works closely tied to liturgical action, at a time when priests, their backs towards the congregation, still celebrated mass in Latin. This was before Vatican II. This corpus of religious music, which features on a recorded album for the first time, includes five motets for solo voice and organ as well as six choral works, including two masses for choirs of equal voices.

We know the high demands imposed on singers unsupported by instrumental accompaniment. Yet, the effect achieved is breathtaking. In an a cappella interpretation of the Messe brève, the spiritual character of the music is expressed ideally, enhanced by the vocal techniques inherited from the Russian choral tradition. The organ brings a high level of vitality to the Messe des Morts, which is greatly inspired by the Gregorian themes of the Liturgie des défunts, and is punctuated with dramatic passages of Last Judgement angst. As for the motets for solo voice and organ, they are imbued with lyricism: the voice soars through a very large register; its character is expressive, often with great rhythmic freedom - a real challenge for even the most experienced performers! A perfect example is the admirable Pie Jesu, composed in 1942 for the funeral of Senator Raoul Dandurand.
We must keep in mind that these sacred works, the only ones currently accessible to the public, represent only an eighth of his compositions. Descarries also wrote mélodies and several chamber pieces. Yet, it is without a doubt in his piano pieces that he found the ideal mode of expression, as he – according to his students and those close to him – was a prodigious improviser at the keyboards (organ or piano). We know that he met Nicolas Medtner while they were both in France, that he asked him for advice, particularly on notions of rhythm, and that they spoke about music, sitting around a table, accompanied by their wives. The influence of this renowned composer and pianist, born in Moscow in 1879, is particularly felt in Descarries's Sonate pour piano (1953).
It is, however, due to this Rhapsodie canadienne (1928) that Descarries is known at home. Based on two folk themes – Marianne s'en va-t-au Moulin and Isabeau s'y promène – the piece is a concerto for piano and orchestra, which was performed in 1936 by American pianist Helmut Baerwald and conducted by Wilfrid Pelletier, head of the Société des concerts symphoniques de Montréal. When will we hear a new performance of this great Rhapsodie? The sheet music is but a manuscript… and it would require a conductor capable of raising the enthusiasm of musicians and financiers alike to make this project a reality. Surely one of Quebec's first concertos for piano could be picked up by a conductor and a piano virtuoso who, together, could bring it out of the shadows.
In any event, 2013 was an important milestone on the road to the rediscovery of a great musician. Auguste Descarries resurfaced like a missing puzzle piece in the musical landscape of the Quebec of the 1930s to 1960s, a time in which he made significant contributions.
TIMELINE OF A REDISCOVERY
April 23, 2012: Founding of the Association pour la diffusion de la musique d'Auguste Descarries
November 2012: Recording, at the Saint-Viateur Church, of a first album dedicated to his sacred pieces for the Espace 21 label
October 11, 2013, Saint-Viateur d'Outremont Church, for the centennial anniversary of the church and its Casavant Opus 520 organ:
7 pm – Conference presented by the Société québécoise de recherche en musique: "Auguste Descarries, the Most Russian of Quebecois Musicians"; Marie-Thérèse Lefebvre, musicologist; Gabrielle Beaudry, pianist
8 pm – Launch of an album featuring his sacred works (Espace 21), with a large concert for 2 choirs, 5 soloists and organ. Launch of the sheet music for the Messe des Morts, publishedby the Nouveau Théâtre Musical
December, 2013: 40-page musicology article to be published in Les Cahiers des Dix
January 26, 2014: Concert featuring his sacred works for "Les Saints-Anges en musique" series in Lachine
Organist Hélène Panneton is the founding President of the Association pour la diffusion de la musique d'Auguste Descarries (ADMAD). www.associationaugustedescarries.com
Translation: David-Marc Newman
---
Version française...