Montreal International Music Competition: Marc Bouchkov

by Christine Man Ling Lee / October 1, 2013

---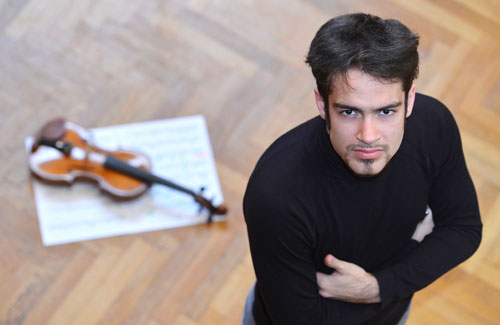 Twenty-two-year-old Belgian violinist Marc Bouchkov was surprised by the judges' unanimous decision to crown him the $30,000 grand-prize winner of the Montreal International Music Competition 2013, along with a Sartory model bow valued at $3,700, and various engagements in Canada and elsewhere in the world. Bouchkov explained his initial shock by praising the talent and strength of the other candidates and humbly saying that he "never classified [him]self as a competition violinist."
Even so, the violin was very much a part of Bouchkov's heritage: his father was a violinist, as well as his paternal grandmother and his grandfather. Bouchkov grew up surrounded by music, especially by the sound of the violin. When he reached the age of 5, his grandfather began teaching him the violin.
From that point, he pursued his music with great enthusiasm, from the Conservatory of Lyon to the Conservatoire National Supérieur de Musique in Paris, then in Hamburg.
Since his first encounter with the violin, Bouchkov has been slowly making his way to the top. In 2009, he took home the first prize in the Henri Koch Competition. The following year, in 2010, he won first place at the Young Concert Artists Leipzig, and, in 2012, he placed as an unranked laureate in the prestigious Queen Elisabeth Competition.
Bouchkov's strength lies in his ability to communicate, through his music, with the other musicians who perform with him. During the concerto stage at the MIMC 2013, he showcased a performance that brimmed with unity, maturity, and personality. His sound is special, unique and has a very particular presence. His entire body melts into the music, moving and swaying to deliver the musical message he wishes to convey. The air vibrates as if unable to contain the passion he projects into the pieces.
Throughout the three stages of the competition, Bouchkov stepped onto the stage and delivered his performance with impact. From the very first note to the last, he captivates the audience with his devotion to his music and his desire to communicate everything through it.
Bouchkov's work ethic, to always strive for the best, to always learn, to be self-critical and to analyse his own playing as well as others' has helped him create a sound that has musicality and maturity.
This is a musician to watch out for.
---
Version française...