Van Cliburn Piano Competition: Vadym Kholodenko

by Marc-Olivier Laramée / October 1, 2013

---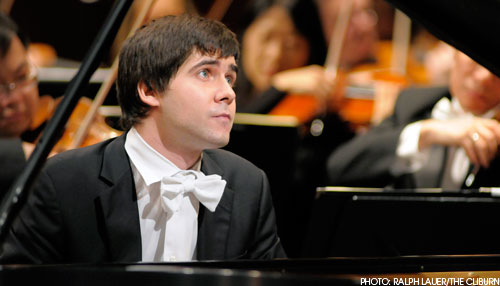 Fifty years of history have forged the solid reputation of the Van Cliburn Piano Competition. This year's winner is Vadym Kholodenko, a 27-year-old of Ukrainian origin. He took first prize, including $50,000 and three years of career planning from the agency IMG Artists, multiple concerts and world tours as well as two recordings with Harmonia Mundi.
This young pianist began studying piano at the age of six and he began participating in competitions in China and the U.S. at the age of 13. Next, he studied at the Moscow Conservatory. While the Van Cliburn was his first important international-level concert, he had already taken first prize at the Maria Callas Grand Prix – piano (2004), the Sendai International Music Competition (2010) and the International Schubert Competition (Dortmund, 2011).
We asked him why he decided to enter the competition this year. "I participated in this concert because of the prizes offered, naturally," he said. "I also participated because of the freedom of choice allowed for the repertoire, except for one required piece. It's very rare to have so much freedom." Kholodenko likes this style of competition, which gives him the opportunity to present a more unconventional repertoire to the jury and the audience. Moreover, the chamber music in the semi-final was another way for him to showcase his talent as a pianist.
For the finale, Kholodenko presented two concertos: Mozart's Piano Concerto no. 21 (for which he composed his own cadence) and Concerto no. 3 by Prokofiev, a composer he enjoys playing regularly. He is pleased to be the only pianist to have played Prokofiev in the finale.
Kholodenko admires two pianists in particular: Emil Gilels, for the sonority of the piano he can create, and Glenn Gould for the musicality of his phrases.
He is currently on an American tour. However, he continues to appear in Europe, such as at the Chopin Festival in Poland.
imgartists.com/artist/vadym_kholodenko; www.cliburn.org
Translation: Rebecca Anne Clark
---
Version française...