Banff International String Quartet Competition: Dover Quartet

by Marc-Olivier Laramée / October 1, 2013

---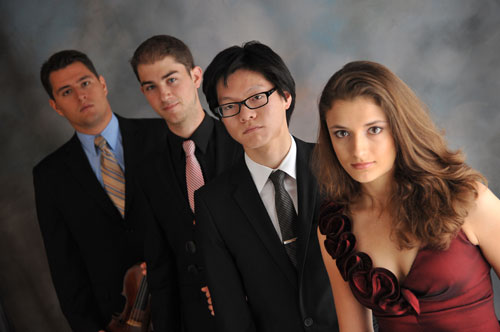 In September, the eleventh edition of the Banff International String Quartet Competition awarded first prize to the Dover Quartet from the United States. The laureates were awarded prizes totaling $150,000.
Previous editions of the competition have seen such famous ensembles as the Mirò Quartet in 1998, or more recently the Cecilia String Quartet in 2010. Like these ensembles, the Dover Quartet underwent a rigorous selection process. All participants must be less than 35 years old and screening tapes are reviewed by the jury on an anonymous basis. Finally, ten ensembles are selected and perform before another jury during the official competition at the Banff Centre.
Let us return to this year's winners, the Dover Quartet, formed five years ago at the Curtis Institute in Philadelphia, when its members were only nineteen years old. The group went on to complete masters degrees at the Shepherd School of Music at Rice University in Houston, Texas. The ensemble draws on the influence of the Vermeer, Guarneri and Cleveland quartets. They aim to bring an air of enthusiasm and freshness to their performances, while maintaining a deep desire to master the leading string quartet repertoire. They particularly love to play the works of Beethoven.
"We decided to participate in the Banff competition this year because we thought the group was ready," said cellist Camden Shaw about their motivations for taking part in the competition. "For years we've heard a lot about these prestigious competitions.  We were lucky and we won."
Winning the first prize, worth up to $150,000, gives the laureates three years of professional development, such as planning concerts, tours and recordings. This award includes $25,000 in cash, four bows custom-made by Canadian artisan François Malo, a tour of Europe and North America organized by the Banff Centre, a two-week residency at the Centre itself to record a CD, and finally, an all-expenses paid concert at the Haydn Hall in the Esterházy Palace in Vienna. This year, the Dover ensemble also won the Canadian Commission Prize for the best interpretation of a Canadian work commissioned for the competition, as well as the Székely Prize for the best performance of a Schubert quartet, and, finally, the R.S. Williams & Sons Haydn Prize for the best performance of a quartet by Haydn. In short, the winners left with more than $150,000 in prizes and awards.
Over the coming months, the Dover Quartet will tour the United States as well as Germany and Austria. They will also be planning the recording of their next CD at the Banff Centre.
www.banffcentre.ca/bisqc; www.doverquartet.com
Translation: Rona Nadler
---
Version française...