Industry News

by Shira Gilbert / September 1, 2013

---
Awards & Prizes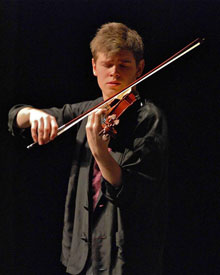 Violinist Blake Pouliot has been awarded The Canada Council Michael Measures Prize. The $15,000 annual prize is awarded to a gifted musician between the ages of 16-22, who has successfully completed the National Youth Orchestra of Canada's annual summer training program. The 19-year-old from Toronto — who has also played in a pop group and has worked as a film and television actor — has studied with musicians including Pinchas Zukerman, Yo Yo Ma and James Ehnes. Pouliot currently attends the Colburn School in Los Angeles.
The Spiritus Chamber Choir of Calgary is the winner of the Canada Council's 2013 Healey Willan Prize, a $5000 prize awarded to Amateur Choirs every second year. The thirty-nine-member ensemble is led by Artistic Director Timothy Shantz.
Nominations from the general public for The Governor General's Performing Arts Award for Lifetime Artistic Achievement and for The Ramon John Hnatyshyn Award for Voluntarism in the Performing Arts are being accepted until September 20. Nominees are drawn from six categories including broadcasting, classical music, dance, film, popular music and theatre, with each recipient receiving a cash award of $25,000 from the Canada Council. The 2013 recipients, including violinist Andrew Dawes, were honoured at a ceremony at the National Arts Centre in May. Full nomination details at: http://ggpaa.ca/nominate.aspx
Hydro-Québec, has been awarded the Prix Arts-Affaires 2012 in the Large Enterprise category. Awarded by the Conseil des arts de Montréal and the Board of Trade of Metropolitan Montreal, the Prix Arts-Affaires acknowledges the contribution of companies or individuals who support Montreal-based arts and cultural organizations.
Nominations
The McGill Chamber Orchestra begins the season with a new Executive Director, Taras Kulish, and a new concertmaster, Jean-Sébastien Roy. Kulish, a native Montrealer, co-founded the Green Mountain Opera Festival in Vermont and has led an active career internationally as a bass-baritone. Roy is a winner of the MSO Competition and of the 2006 "Prix d'Europe". He has performed as a soloist with the National Arts Centre Orchestra, the Edmonton Symphony and Orchestre Métropolitain.
Marie-Pierre Rolland is the new General Director of the Laval Symphony Orchestra. Rolland previously worked for Orchestre Métropolitain.
Ensemble contemporain de Montréal (ECM+) has selected the winners of its 8th Generation biennial composition contest for Canadian composers under 35. The four Generation2014 winners, Marie-Pierre Brasset (Québec), Alec Hall (Ontario/New-York), Evelin Ramon (Québec/Havana) and Anthony Tan (Alberta/Berlin), will present a new piece to be workshopped by ECM+ in March, then have their completed work presented next November as part of an eight-city concert tour across Canada.
September marks the beginning of Dina Gilbert's new contract as Assistant Conductor of the Orchestre symphonique de Montréal. Gilbert was selected for the position from among 36 candidates across Canada. Founder and Artistic Director of Ensemble Arkea, a Montreal-based chamber orchestra, Dina Gilbert holds a Bachelor's in Clarinet, a Master's in Conducting, and recently completed her doctorate studies under the supervision of Jean-François Rivest at the Université de Montréal.
Les Violons du Roy music director Bernard Labadie will change his title to founding conductor, starting in the 2014-15 season. Labadie is expected to remain very active in the orchestra's programming and to stay on as music director of La Chapelle de Québec, his professional chamber choir. The board of directors plans to start the process of reshaping the music direction of Les Violons du Roy. This is the orchestra's 30th season.
Canadian star tenor Ben Heppner is the new host of CBC's Saturday Afternoon at the Opera, the long-running weekly broadcast on Radio 2. Heppner's resonant tones, replacing long-time host Bill Richardson, will be heard across the airwaves beginning on September 7. Heppner's new role won't keep him off the opera stage, however: he stars in the Canadian Opera Company's Peter Grimes October 5 – 26.
Deaths
Mario Bernardi, founding conductor of the National Arts Centre Orchestra in Ottawa, in June at the age of 82. Born in Kirkland Lake, Ontario, Bernardi began his conducting career at the Royal Conservatory Opera School in Toronto and at the Canadian Opera Company. He moved to London to serve as musical director of the Sadler's Wells Opera Company (now the English National Opera) before returning to Canada and enlisting 45 young musicians to build the new NAC orchestra. Bernardi later led the Calgary Philharmonic Orchestra and the CBC Radio Orchestra.
Soprano and voice professor Lynn Blaser in August. Blaser appeared with the Canadian Opera Company and Toronto Symphony as well as in recital in Chicago, Berlin, Paris, London and Milan, among many other cities.  Blaser had been Adjunct Professor of Voice at the University of Toronto, her alma mater, since 1990.
Madeleine Little (née Bodier) passed away in Montreal on July 18, 2013, at the age of 97. Little and her late husband George founded CAMMAC in 1953, along with the late Carl and Frances Little. Margaret, one of her three daughters, takes over as Executive Director of CAMMAC in September.
Applause
Opera Atelier's production of Mozart's Lucio Silla was a huge hit at this summer's Salzburg Festival, resulting in tour invitations from around the world, notably La Scala in Milan. Conducted by Marc Minkowski and starring tenor Rollando Villazón, the opera was directed and choreographed by Opera Atelier co-artistic directors Marshall Pynkoski and Jeannette Zingg. This spring, the Toronto-based company returns to the Royal Opera House in the Palace of Versailles for Lully's Persée, following a run at the Elgin Theatre in Toronto.
A $1 million gift from The Hon. Henry N.R. Jackman will go towards Tafelmusik Baroque Orchestra and Chamber Choir's $3 million dollar Venue Revitalization Project at Trinity-St. Paul's Centre in Toronto.  The gift was given in honour of Jeanne Lamon, now in her final year as Tafelmusik's Music Director, a post she has held since 1981. The first public concerts in the renewed venue, now to be called Trinity-St. Paul's Centre, Jeanne Lamon Hall, will take place in October.
---
Version française...