Jazz: ONJ Montreal, Record Reviews

by Marc Chénard / September 1, 2013

---
Birth of a Band: ONJ Montréal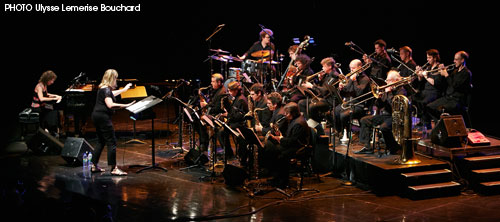 From the cornucopia of musical presentations staged during this year's Montreal jazz festival, one show stood out for the fact that it was a premiere performance. On July 6, at Le Gesù, the Orchestre national de Jazz Montréal (ONJ-M) made its auspicious debut. With a top-notch cast of elite jazzers (both rising talents and more seasoned ones), this 16-piece outfit performed an eclectic program of music that combined both originals from its members and covers ranging from Joni Mitchell songs to re-orchestrated charts drawn from John Coltrane's "Africa Brass" recording. When the band finally called it a night, two sets and some 90 minutes later, it even dropped a few numbers along the way so as not to overstretch themselves (or the audience for that matter).
More than just a one-night stand, this performance served as a launching pad for this ensemble's very first season of concerts, the first of which will take place on September 19 at l'Astral, the performance space of the Maison Rio Tinto Alcan.
Collaring so many musicians for shows on an almost monthly basis is no mean feat in itself. Kudos to Jacques Laurin, the chief architect of this enterprise, for his yeoman's work in this regard. A bass player by training and a recording engineer by trade, Laurin provided some historical background on this initiative in recent conversations with this writer. More important though is his commitment to put this orchestra on the map and turn it into a viable institution in the months to come, and beyond. Laurin is no newcomer to the scene, and his dedication to promoting the cause goes back a long way: In the 1980's he edited a fakebook of tunes penned by our musicians ("Les cahiers du jazz"), the first of a series that did not materialize. In the previous decade, he valiantly tried to enhance the visibility of our musical community by creating a non-profit musicians' organization, but the troops did not respond to the call as expected. Never one to let go, Laurin is now more poised than ever to get this most ambitious undertaking off the ground.
Turning an Idea into Reality
"It all started for me back in 2005," states Laurin, "when I looked around and noticed the following: In other arts, like dance and theatre, even what we call 'concert music', you have established organizations with long histories, both subsidized from public funds and sponsored by the private sector. So I asked myself, couldn't the same be done for jazz?"
For some jazz fans, the acronym ONJ may bring to mind a similar outfit in France, spawned over a quarter of a century ago under the socialist government of that era. (Since then, others have sprouted, like a fairly recent one in Scotland.) With these precedents in mind, Laurin decided to put one together here and to have it play year round (save for a two-month summer break). More than a year ago, he approached André Ménard of the jazz festival to get things started. Discussions eventually lead the inaugural festival concert, as prelude to its first full season. All told, there will be seven shows spread over the next nine months, with upcoming dates on November 1 and December 13, its activities resuming in February of next year.
As important as the container (the band) is, it needs content to make it fly (or swing in this case). Registered as a cooperative, the orchestra is managed on a collective basis, but four of its members are its artistic lynchpins: saxophonists Samuel Blais and Christine Jensen, the latter director in chief for this season, pianist Marianne Trudel, and trombonist Jean-Nicolas Trottier. The September concert, it is worth noting, will be under the trombonist's direction and this gifted composer will present his own pieces and a selection of charts penned by the late Thad Jones (of Vanguard Orchestra fame). On that topic, Laurin points out that the presentation of both original and repertory music are part of the ONJ's musical vocation, so there will be room for both at each of their concerts. In practical terms, rehearsals involving so many people are always a challenge, but the managing director assures us there will be at least three of them before each show.
With the season opener now in the offing, Laurin is on the case, too. During the summer, he worked diligently at finalizing a business plan that has since been submitted to a number of potential backers, both public and private. On the artistic side, there is no shortage of ideas or ambition; for example, it is definitely in the cards to invite guest composers for special projects, or to fetch a star soloist on occasion. Further down to line, it aspires to tour some day, definitely in the province and perhaps further afield. While that may be a Challenge (capital C), it is not an insurmountable one. Given the fact that jazz is a music of individualists who basically rely on small group projects, this mindset has plagued jazz for a long time in Laurin's view, and that in turn has prevented it from gaining better recognition from the general audience and institutions dedicated to supporting the arts. With the wheels now in motion, things bode well for the ONJ. With all of that in mind, any jazz fan in town now has a reason to celebrate. And if you have a yen for orchestral music, don't miss its season opener this month!
Orchestre national de Jazz – Montréal
Thursday, Sept. 19, l'Astral, 8 PM. (Lead by Jean-Nicolas Trottier)
Works by Trottier and Thad Jones
» Upcoming shows:
Nov. 1st Salle du Gesù (Lead by Christine Jensen)
Dec. 13, l'Astral
» Online: www.onjm.org
» Watch: an excerpt from the ONJ's July 6 performance at the FIJM
REVIEWS: Swiss Treats
While jazz is an American music at heart, it has reared its head elsewhere with far better success. For close to a century the so-called Old World has given so much exposure to the music, both on stage and on recordings, while most American jazz musicians need day jobs to support themselves in their own country. Festivals abound over there, not to mention record labels. One of these is Intakt Records, based in Zurich. Its catalogue is now available in our local record stores thanks to Naxos, its North-American distributor. Here are four of its latest titles, all deserving four stars.
Aki Takase – My Ellington Intakt CD213
What better introduction for the neophyte than a solo piano tribute to the music of Duke Ellington. Hailing from Japan but a long time resident of Berlin, Aki Takase tackles 17 numbers in just a little over an hour, one which is hers the rest by the Maestro. The program is balanced between old chestnuts like "Caravan" and "In a Mellow Tone" and lesser-known items. Her firm grip of standard jazz piano techniques and more oblique ones are constantly stimulating. Rarely has a tribute album sounded so enticing and fresh as this one.
Mark Feldman Sylvie Courvoisier Duo – Live at Théâtre Vidy Intakt CD206
With far less blue notes than the previous offering, the piano and violin duet of Sylvie Courvoisier and Mark Feldman is much more reminiscent of a certain strand of classical or contemporary music. There are seven tracks in total, the last four being succinct free improvisations, the first three built around compositions, two by Feldman, the other by his musical and life partner. This is virtuosic music of the first order, both in conception and execution, once more showcasing their exemplary musical rapport.
Christoph Irngier Trio – Gowanus Canal (CD 223)
For any sax player, the trio with bass and drums is an ideal setting to cut loose and wail, making it one of the preferred combos for all free jazz fans. Spearheaded by tenorman Christophe Irngier (who modestly doubles on bass clarinet), this trio is far less rambunctious than the norm, their album comprised of nine originals played in less than 45 minutes. By the sound of it, these are fairly young musicians finding their way, and seemingly choosing their notes very carefully in the process.
Trio 3 + Jason Moran – Refraction Breakin' Glass (CD 217)
With three wily veterans like Oliver Lake, Reggie Workman and Andrew Cyrille (aka "Trio 3"), the listener can expect some heavy duty playing here. For this label, they have recorded three albums previously, bringing pianists Irene Schweizer and Gerri Allen into their fold. For their latest one, the highly touted keyboard upstart Matt Moran joins the fray and acquits himself very well. Actually one could call this a well-rounded quartet rather than a 3+1. Lake is at his searing best here with his alto slashing shards of sounds, but some might have trouble with his excessively sharp tuning.
---
Version française...