Julie Boulianne, New Dreams

by Wah Keung Chan / June 1, 2013

---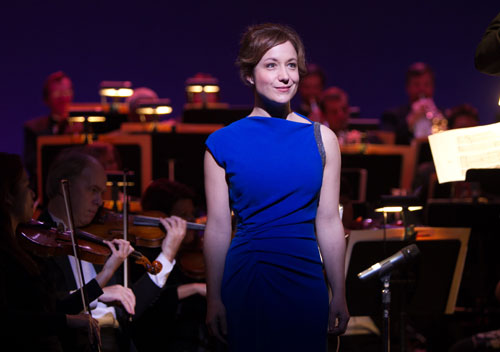 It's been a whirlwind for Canadian mezzo Julie Boulianne. Since passing a 2009 audition at the Metropolitan Opera, Boulianne has lived out of her suitcase going from contract to contract, racking up frequent flyer points. At the Met alone, Boulianne has appeared five times in the last two years, singing Stephano in Gounod's Romeo and Juliet, Diane in Gluck's Iphigénie en Tauride with Placido Domingo and Susan Graham, and Sebel in Gounod's Faust, while covering Rossini's Comte Ory.
Boulianne was just finishing her studies at Juilliard when IMG, her New York agent, got her the Met audition. "I never imagined I could audition on that stage, where all the great singers have performed," explained Boulianne. Usually she dreads auditions, but she felt lucky as she sang arias from Meyerbeer's Les Huguenots and Rossini's La Cenerentola. "I didn't put pressure on myself. It was already a big thing to sing on that stage once in my life," she said. Having James Levine in the jury didn't seem to bother her either, and months later, she found out she got the part of Stephano. Wasn't she intimidated by the size of the hall? "The Met is just shaped for singing, with the perfect theatre shape for opera. It's extremely big, but so is Wilfrid-Pelletier," laughing, Boulianne answered, referring to the Montreal Opera's home, where she cut her teeth.
The Met success opened doors for Boulianne, including her scheduled debut at Covent Garden in 2014, so now she doesn't have to audition much any more. Since last September, the mezzo had only been back to her Montreal home for two weeks, before returning in May for an extended series of concerts, recordings and the role of Marguerite in Berlioz's La Damnation de Faust at the Quebec Opera Festival in July. Her 2012-13 schedule included Ravel's L'Enfant et les sortilèges with the Boston Symphony and Dutoit, Beethoven's Ninth in Ottawa, the Met and the lead role of Romeo in Bellini's I Capuleti ed i Montecchi with the Reims Opera.
It's all the more reason for her decision to take her first and well-deserved real vacation this August; it shows that she's arrived and can say "No." "I need to do this to continue loving my job as much as I do right now," said Boulianne, admitting she'll just stay home and play the role of godmother to her sister's new-born son, and not think too much about music.
Boulianne is part of a new generation of Quebec singers who have made it big. "In my class at McGill, Etienne Dupuis, Michele Losier and Joshua Hopkins are also having great international careers," said Boulianne. [Ed Note: Dupuis and Losier have already been featured on the cover of LSM]. "You need only one singer in Quebec to do well to make other singers interested in doing the same thing. Before me, there were Lyne Fortin, Karina Gauvin and Marie-Nicole Lemieux (her cousin)."
How did a humble, down-to-earth girl from Lac St-Jean become one of Canada's leading mezzo sopranos, joining the ranks of fellow Quebecers Marie-Nicole Lemieux and Michele Losier?
When I first heard her in 2002, she had natural talent and seemed destined for great things. Going from advanced student to professional can be difficult, and for Boulianne, it was really psychological. "Sometimes, there is little difference between the voice of a professional and an advanced student. It's just how you think about yourself," she said.
One of her turning points was enrollment at the Canadian Vocal Arts Institute (in 2007) and its parent, the International Vocal Arts Institute in Israel (in 2005 and 2007). "It was there I made the switch to professional artist," said Boulianne. "You hear everything from everywhere. You hear everybody's strengths and weaknesses and you become a better judge of where you are in comparison to what's done everywhere. People such as Joan Dornemann have heard everything and they know what's what. I learned that I had talent after all, and it's not something you have easily in Quebec because we francophones were the proletariat. When I was born, there was a philosophy that we were not born to be great, although I was always encouraged. When I was here, I used to work to fix the problems, rather than thinking of working on my strengths, and taking what works and putting it everywhere. It's a much more positive way of working," she explained.
Boulianne then spent two years at Juilliard studying with Edith Bers. "My teacher had a good therapy: I had to give her a dollar every time I said something negative. I worked on singing naturally with the voice," she said. "My problem was that when you're too conscious of what you do, you're no longer natural. My process is to return to an even sound."
New York was very good to Boulianne. "Americans believe in making it and being the best they can," said Boulianne, who cautions that one should not confuse that with ambition, admitting, "I'm not ambitious, and I'm not very competitive; I'm the first to give up in a competition. But I want to be the best I can." That approach has allowed Boulianne to be a complete artist. "I am lucky as I have a diverse career, singing baroque, bel canto, romantic and contemporary," she said.
Already a Grammy nominated recording artist with her L'Enfant et les sortilèges on Naxos (from 2009), and a finalist for a Felix for a solo Mahler disc on ATMA, in June, Boulianne will be recording the eight Poulenc Polish Songs to complete a future ATMA 3-CD release songs by that composer. More recordings are in the works.
She will then head to Quebec City for Robert Lepage's staging of Berlioz's La Damnation de Faust, which debuted at the Met in 2008. Third time's a charm for Boulianne as she will finally sing this opera. Last season, a production was cancelled due to financial reasons, and she was flown to Europe to replace an ailing singer who ended up not cancelling. After working with Lepage on Thomas Adès's The Tempest last summer, she is looking forward to the new experience. "With Lepage," she explained, "you get the impression that you are part of something bigger. We are proud of the results, and it motivates you to give more."
Boulianne finds the role is perfect for her high mezzo. "Berlioz has no core to the voice; there are big sections that are really high and big sections that are really low. Thomas Adès also likes the extremes of the voice; maybe he likes to make singers miserable. Berlioz is interesting as his music always goes to a place you don't expect. There are awkward turns that are not really natural," she said.
Her favourite part is the trio: "It is quite awesome, the coolest. It's a nightmare for everyone, three minutes of 'everybody is going to die, are we going to make it?' for the orchestra and the voices. It's a masterpiece."
For someone who seems to have been through it all, Boulianne advises young singers to be patient and disciplined, and to be aware of solitude. "I've done all my dream roles, such as Romeo and Elisa in Handel's Tolomeo. I've exceeded all my dreams thus far and I have to set new goals," she exclaimed.
---
•Marguerite, Berlioz: La Damnation de Faust, Festival d'opéra de Québec, Quebec City, July 25, 27, 29, 31. festivaloperaquebec.com
•Recital, Société d'art vocal, Montreal, Sept. 22, artvocal.ca
•Vivaldi: Gloria, I Musici, Montreal, Sept. 27, imusici.com
•Haydn: Theresienmesse, Les Violons du Roy, Quebec City & Montreal, Nov. 14, 15, 16, violonsduroy.com
•Dvořák Rusalka, Metropolitan Opera, New York, Jan.-Feb. 2014, metopera.org
•Bach: St. Matthew Passion, Orchestre Métropolitain, Montreal, April 19, orchestremetropolitain.com
•The Canadian Vocal Arts Institute runs this year from July 30 to August 17. icav-cvai.ca
---
Version française...