Bozzini Quartet: Research & Development

by Réjean Beaucage / April 1, 2013

---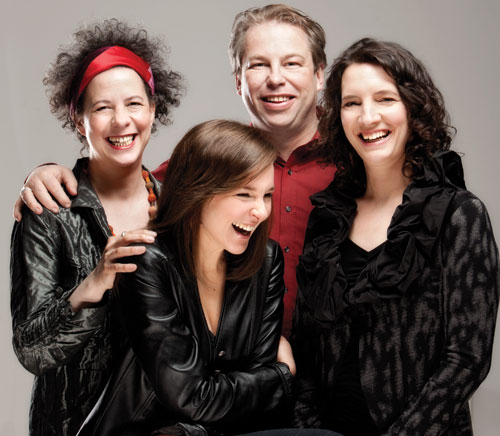 Since 1999, the Bozzini Quartet has been delving into the diverse repertoire of contemporary music. The ensemble has over 130 commissions with more than 200 premieres to its credit. In 2001, it was named "Discovery of the Year" at the Conseil québécois de la musique's Opus Awards, and in 2007 its efforts were recognized with another Opus prize for "International Outreach." Not content to sit on its laurels, the Bozzini Quartet is more than ever committed to outreach. This year, from April to June, international partners from Norway, England and Germany will be coming here to spend some time with the Quartet.
From the Salon...
In April the Bozzini Quartet invites us into two centres of the home: the "salon", the ideal atmosphere for lively discussion, and the kitchen, where ideas come together! When we sat down at the quartet's headquarters for this interview, Isabelle Bozzini explained the concept: "The salon is a meeting place for composers, performers and observers. It is an opportunity for us to collaborate with other chamber musicians (in this case, a pianist) and work outside of our usual repertoire. When exploring the music of a particular composer, restricting yourself to string quartets can become a bit limiting." This year's Salon features more than one composer; in fact, the number of works on the program is astonishing. "We don't typically give a series of three or four concerts in Montreal, but it is common practice when on tour," says Isabelle. "We usually bring enough repertoire for three or more programs, so it's not unheard of for us to perform three concerts with three different programs. And when you think about it, it's often easier to garner attention for an event that unfolds over several days than for an isolated concert."
Five young Norwegian composers are coming to Montreal for the Salon; Rebecka Sofia Ahvenniemi, Martin Rane Bauck, Kristin Bolstad, Tyler Futrell, Hugo Harmens, Sigurd Fischer Olsen and Stine Sørlie. Their collaboration with the Bozzini Quartet began last autumn at the Ultima Oslo Contemporary Music Festival, where the quartet performed its works (commissioned by the Ny Musikks Komponistgruppe, NMK.), most of which were premieres. In fact, violonist Mira Benjamin (the quartet's newest member, who replaced Nadia Francavilla in May 2011) was instrumental in founding the Norwegian-Canadian New Music Conference in 2011, where she is artist in residence. The Salon will also feature compositions by Canadians Cassandra Miller, Maxime McKinley and Michael Oesterle, a work by English composer Howard Skempton (commissioned by the BBC and the Huddersfield Contemporary Music Festival, where the quartet performs regularly), and works by London composer Laurence Crane, including a quintet for which pianist Philip Thomas will join the quartet. Thomas will give a talk on the poetic links he sees between British and Canadian musicians. The day after the Salon, Thomas has been invited to perform a solo concert at the Chapelle historique by Innovations en concert.
There will also be a round-table discussion during the Salon, featuring Philip Thomas, Clemens Merkel (the quartet's violinist), Cassandra Miller (Director of Innovations en concert) and Michael Oesterle, moderated by Maxime McKinley (Composer in residence at the Chapelle historique). The discussion will center on international presence and the particularities of contemporary Canadian music.
... to the Kitchen!
The Bozzini Quartet frequently participates in residencies, master classes and workshops (they are currently ensemble-in-residence at Matralab at Concordia University). As of 2005, it has also been running the "Composer's Kitchen", its very own musical research laboratory. This "kitchen" has a number of burners on the go; the ensemble describes it as a combination workshop, laboratory, playground and classroom. Under the guidance of mentors Laurence Crane and Michael Oesterle, four young composers get to work on their music side by side with members of the quartet. This year's roster of composers includes Marielle Groven (Nova Scotia), Simon Martin (Quebec), Sean Clancy, and Amber Priestley (both from England.)
"Composers get full workshop days dedicated to their compositions," explains Isabelle Bozzini, "where we discuss and try out different ideas and sketches. The young composers benefit from our experience with writing for strings, they learn to gauge what is possible … and what isn't!" It is important to realize that the quartet's expertise extends beyond contemporary music, reaching from baroque composition to the virtuosity of the romantics. The Bozzini Quartet represents the very best of this classical form, so whether these young composers are looking to avoid falling into repetition or to compose a piece with staying power, they would do well to take advice from the masters of the art form, those who are on the front line: the performers themselves! Of course, it is to a composer's advantage to write for this particular formation, as the work can be performed again by a number of ensembles. A composition that manages to stand out among the vast repertoire for string quartet becomes an important calling card. This fall, from November 15-24, the four composers and the Bozzini Quartet will reunite for a series of master classes and a concert at the Huddersfield Contemporary Music Festival.
Here, there and everywhere
In May, following the packed schedule in April, Isabelle and Stéphanie Bozzini (viola), Mira Benjamin and Clemens Merkel will head back to their rehearsal room to prepare for a busy month of June. On the schedule: a premiere by Quebec composer Petar-Kresimir Klanac for the Société d'art vocal (June 2, 2:00 pm at the Conservatoire de musique de Montréal,) and a trip to British Columbia to work with members of the German composer collective Wandelweiser, 10 years after their first meeting on Canadian soil at Théâtre La Chapelle in Montreal. Bozzini's ties with Wandelweiser (with which Clemens Merkel was very involved during the 1990s) were one of their first with the international community. "They are the ones who helped open doors for us in Europe," says Isabelle Bozzini.
This latest "kitchen party" takes place at Open Space in Victoria. The collective's second Canadian event takes place at Galérie Oboro in Montréal, where they will give a series of three concerts on June 14 and 15 (série Immerson 5). A final concert takes place on June 16 at Sala Rossa, as part of the Festival Suoni per il popolo. American composer Christian Wolff will be in attendance.
The Bozzini Quartet's excellence on stage is not surprising – all it takes is a look at its schedule to confirm that it is constantly pushing the limits of its craft through ever-increasing collaborations with young composers representing the full range of aesthetic views. So before it takes off once more for Norway, England, Germany and beyond, be sure to take advantage of its time here with us!  
The Bozzini Quartet's discography is nothing short of eclectic; among recordings of more familiar names (Steve Reich, James Tenney or, closer to home, Claude Vivier, Michel Gonneville, Tim Brady) there are also a few relatively unknowns to the average listener (Jürg Frey, Jo Kondo or Ernstalbrecht Stiebler). Isabelle Bozzini explains, "It is this very diversity that has given us international cachet, and of course our discography also reflects our aesthetic voice. We ran into an Australian composer at Banff; he told us about a "magnificent" recording that he had heard and, while discussing with him, we realized that he was talking about our Jürg Frey recording. So now we have plans for a small tour in Australia!"
The Quartet's most recent recording, Still Image (its only album in 2012, compared to four self-released albums in 2011!) was released by Centredisques and presents works by Vancouver composer Owen Underhill (who is also co-artistic director of the Turning Point ensemble.) In addition to string Quartets No 3 (1998) and No 4 (2011), the quartet augmented by trombonist Jeremy Berkman for Underhill's astonishing Trombone Quintet (1999) and by clarinettist François Houle for Still Image (2007-2011). We should thank the Quartet for playing Underhill's music with their usual panache. His considerable catalogue, including a number of works for orchestra and even an opera, is worthy of our attention.
---
• Salon QB  April 17, 18 and 19, 8:00 pm, Chapelle historique du Bon-Pasteur
• Composer's Kitchen  April 27, 5:00 pm, Chapelle historique du Bon-Pasteur
For further information: www.quatuorbozzini.ca
WIN the Complete Discography of Quatuor Bozzini -  13 CDs signed by the musicians! Contest open to LSM Subscribers as of June 1, 2013. subscriptions@scena.org
---
Version française...