Le chant des ondes: Keeping the Martenot's Song Alive

by Catherine Hine / February 1, 2013

---
Flash version here.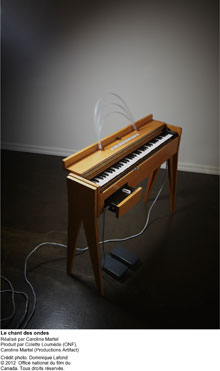 Produced by Caroline Martel, the film Le chant des ondes – Sur la piste de Maurice Martenot takes a look at the history of the ondes Martenot (also referred to as the Martenot or ondes). It examines their current place in the music scene and where they have to go from here.
Working as a telegrapher during World War I, Maurice Martenot transformed the sound waves emitted by the triodes in use at the time into music. The instrument he created premiered in 1928 at the Opéra de Paris. The Martenot, a monophonic instrument with expressive possibilities very similar to those of the cello, is made up of several components: a keyboard, covering seven octaves; a ring, slid back and forth on a string for glissando between notes; a drawer to the left of the player, featuring a key used to control the dynamic of the sound, and an arrangement of flip-switches to control the instrument's timbre. All of the electronics are found inside the keyboard, which opens up to reveal intricate wiring.
Except for a somewhat drawn out middle section, the documentary is riveting from end to end. The vast selection of music included is commendable. The audience will recognize such composers as Bach, Messaien and Bloch, but will also be interested in discovering the music of more contemporary, not to mention local, artists like Marie Bernard and Christine Ott. Interspersed with scenes from a live Radiohead concert and black and white films, the featured excerpts convey the versatility of the Martenot especially well.
The various interviews are also worthy of praise. Maurice Martenot's son, Jean-Louis Martenot, and Jean-Loup Dierstein are irreplaceable in their uncanny kowledge and understanding of the most intricate inner workings of the instrument, while Suzanne Binet-Audet, Jean Laurendeau and Michel Risse demonstrate such a complete and intense appreciation of the instrument that it almost becomes inaccessible, yet incredibly admirable, to the audience. Jonny Greenwood completes the set, delivering a somewhat naive enchantment before the instrument.
One particular scene at the end of the documentary epitomizes its message. As Suzanne Binet-Audet explains, with tears in her eyes, the Martenot's sound is so pure and naive that it does not fill but rather "empties" the listener. And as most music lovers will argue, words are simply not enough to convey its magic.
With contemporary music such a niche, it is unlikely that the instrument will ever regain the popularity it achieved in the mid-20th century. However, like most forgotten instruments, languages and cultures, it is almost certain that someone, somewhere, will be around to keep its legacy strong. If the film wishes to generate a renewed interest in this fascinating yet little-known instrument, it will likely go above and beyond expectations.
---
Catch Le chant des ondes – Sur la piste de Maurice Martenot in theatres as of March 15, 2013.
artifactproductions.ca / lechantdesondes; www.onf.ca/film/chant_des_ondes
---
Version française...