Jonas Kaufmann: On Wings of Song

by Joseph So / December 1, 2012

---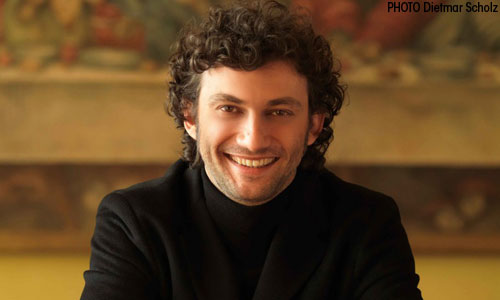 In opera, arguably the most prized male voice is the dramatic tenor or its German equivalent, the heldentenor. A rare breed, the dramatic tenor, with its darkly burnished timbre is the ideal Otello, Calaf, Enée, Don Jose, Florestan, Bacchus, Kaiser and the many great Wagnerian heroes of Lohengrin, Tannhauser, Tristan, Walther von Stolzing, Parsifal, Siegmund and Siegfried. A heroic tenor capable of singing both the German and Italian repertoires is worth his weight in gold. The German tenor Jonas Kaufmann has just such a voice. At 43 and in his prime, Kaufmann is blessed with a virile tenor of beauty and youthful lyricism, backed by a solid technique, exemplary musicality and communicative power. Few singers can match his variety of tonal colours, from sweet mezza voce to ringing fortissimos. Combining vocal prowess with matinee idol looks and the strapping physique of an athlete, it's little wonder that Kaufmann is considered the spinto-dramatic tenor of our time.
Born to a music-loving middle class family in Munich, Kaufmann took piano lessons as a boy and sang in the school choir. In 1989, at the age of 20, he entered Munich's Hochschule für Musik to study voice, graduating in 1994. He began his career as a light lyric tenor, and after reworking his technique with the help of voice teacher American baritone Michael Rhodes, Kaufmann's voice took on a darker, heavier quality, one that was naturally suited to him. In a few short years, he became one of the most sought-after tenors in the world. His artistic re-birth was discussed in various interviews he has given, and in Meinen die wirklich mich?, a German biography on the singer by Thomas Voigt. One can also read about it on Kaufmann's official website. www.jonaskaufmann.com/en
Given that he's in such demand, it's surprising that Kaufmann has yet to sing in Canada. But that will soon be remedied thanks Club musical de Québec's Louise Forand-Samson, as the tenor is giving a recital in Montreal on January 20 and a second one in Quebec City on February 3. In anticipation of his Canadian debut, I traveled to Munich to interview him and to hear his Winterreise on July 17, which marked his return to the stage after several months of hiatus. Securing an interview with the hottest tenor in the world was no easy task, requiring persistence and in my case, the help of the Munich Opera Press Office. Eventually, I was able to sit down with the peripatetic Kaufmann at the Rheingold Bar in the National Theater for a chat. Utterly charming and articulate, he answered my many questions with well-considered answers. Two days later, I attended the long sold-out performance of Winterreise. The atmosphere was electric – there was great anticipation in the audience for the return of Munich's native son, and certainly the most beloved German tenor today. It turned out to be a remarkable triumph. From the first note, Kaufmann's concentration was total. His voice sounded fresh and ringing, used with discerning taste and exemplary attention to textual nuance. The audience rewarded his stupendous performance with warm, sustained applause.
First of all, your many fans in Canada are looking forward to your appearance in Montreal and Quebec City. Is this going to be your Canadian debut?
JK: Absolutely. It was about time I came to Canada and I hope it won't be the last. I've met many Canadians interested in opera, who have turned out to be sponsors and donors to many events. I am sure I'll come back to do more concerts, in either Lied or opera in the next couple of years. There's also Kent Nagano – I've got invitations from him as well, which I haven't been able to follow up.
Have you ever been to Canada?
Yes. My wife has friends there and she told me I had to come with her to Slave Lake for fishing and all that. We've also gone several times to Niagara Falls.
Since you're coming to sing Die schöne Müllerin, a Liederabend, I would like to ask you for your thoughts on singing the song repertoire. When you sing recitals of German, French and Italian songs, do you adjust your technique when you change from one to the other?
I wouldn't want to say technique – it's more the style that you have to change, some slight differences like using more (or less) portamento, or covering the sound, making it softer, rounder, that sort of thing. Winterreise is 70 minutes of continuous singing, and you need to have trust in your instrument. If you were to use a different technique, it might disturb the natural flow and the production of the notes. You obviously don't sing with the same style in the Wagnerian as in the Mozart repertoire…
You are singing Winterreise in two days, and in Montreal you'll be doing Die schöne Müllerin. Do you lighten your sound in Müllerin and darken it in Winterreise?
Winterreise is much lower, so it automatically sounds darker. In Winterreise there is no positive song – it's darkness and misery, ending with death. Who is Der Leiermann? Is he death? He's talking about this path with no return he has to take, so it's rather obvious he's talking about death from starvation, cold, or suicide. It's definitely the end of a long journey. The songs in the beginning may seem fresh, but it's through tears, never really positive. With Müllerin, he's happy in the beginning. The change comes later, when he wonders – who's this guy? It makes (this cycle) easier, more logical. The first half seems bright and light; it's written to be flexible and fast. Of course you have to keep the voice flexible in Müllerin. In Winterreise it's not absolutely necessary. I think the Winterreise man is young, too. In one song, he says his hair has turned white overnight from the shock and he is disappointed that it's only frost, which melts away.
Are you going to sing it from memory, without an intermission?
Oh, yes, of course, both cycles.
There's a lot of text to memorize, isn't there?
Yes… Die schöne Müllerin is terribly difficult because there are so many verses, the same music but with different text, which makes it that much harder to memorize than if each line had its own text. That's not the case with Müllerin. If (during the performance) you start thinking about what comes next, it's too late!
What do you think of staged performances of Lieder, like Winterreise?
Hmmm, I'm not sure if it adds to it. I know Ian Bostridge did it, and Dietrich Haensel also.
Would it help with the memory?
Oh yes. It's another reference point – in this part I kneel down, in the second verse I am near the piano, etc. This is how it works in opera – it's easier to memorize everything because you have the visual image to help you, to separate certain parts of an aria. But in Lied the music is so strong that an overloaded staging can be more disturbing than helpful. Sometimes you hear a concert performance of an opera and you understand the music better than when you see it staged.
You think sometimes the staging can be distracting?
Exactly. I believe these cycles are so intense, with such deep psychological development; you really need to follow every tiny musical detail. I think Schubert wrote many unsuccessful operas, why wouldn't he have come up with the ideas (of staging the song cycles) himself?
Will you be recording these two cycles?
I recorded Die schöne Müllerin a couple of years ago with Decca. Obviously Winterreise will come. For Müllerin you need not only a fresher and younger sounding voice, but also innocence. The trap the character falls into is so obvious for someone with experience that you have to communicate, with your voice, a young man's naïveté to understand why he believes in this love. I am not sure if they even ever held hands. It is in his fantasy, in his mind. If you have a voice that sounds too mature, maybe it's not the right tone. The Winterreise (character) could be young too, but not necessarily. That's why I chose Müllerin first, with Winterreise to follow.
Whom do you admire among Lieder singers?
If I think about Müllerin, I like the very early Fischer-Dieskau recordings of the 50's very much. I don't want to say the others are not good, but they contain too much thought. The recording by the Dane Aksel Schiotz is fantastic, so modern. Obviously, the recording by one of my absolutely favorite singers, Fritz Wunderlich, is not perfect but it's very fresh. He had just done a couple of recitals of this and then he died, but you can see how much youth and naïveté he brings to it.
Would you say then that Fritz Wunderlich is your idol?
Well, I always admire people who have not only beautiful voices but also fill the singing with real emotion. Others seem to be too perfect but rather cold. People like Plácido always have this heart inside. Wunderlich is an extreme example: he is so intense, he squeezes out every emotion he has into it; that's why it's so touching and emotional. For Lied singing, I have to mention Hermann Prey because I like him so much.
Some people think of Hermann Prey as the opposite of Fischer-Dieskau….
Well, he never looked for perfection. He only did it from the heart. For Winterreise, I heard a lot of old recordings…Lotte Lehmann – interesting – and the very famous Hans Hotter recording. When you compare it to our time, it sounds old-fashioned, because it's very broad, slow tempi, super-duper legato.
Other than these cycles, what plans do you have for Lieder?
I will do a combination of Mahler, Liszt, and Duparc. Also Strauss, but different songs. I am particularly interested in the songs of Rachmaninoff… beautiful! But the Russian is a bit difficult.
Have you ever sung Lensky?
No – this is something I need to do now! I tell people I'd like to perform Lensky – it's not a long part but so beautiful.
What about opera roles? What are you thinking of doing?
A lot is coming up. I will do Trovatore, Forza, Manon Lescaut, Chenier, Fanciulla del West, many new parts that are beautiful and demanding.
You do a lot of Italian stuff, to keep the voice flexible?
To keep the voice flexible, the French repertoire is the best I would say – Faust, Werther. The last time I did Des Grieux was in Vienna two years ago, I think. I'll do it again. Other than that, in the German rep there is not much else coming up besides Meistersinger and Lohengrin, and Parsifal at the Met.
One last question – what's your philosophy about singing? What guides you in your career?
I think what is most important for a singer – besides obvious things such as not do too much because a singer, unlike a violinist, can't find another (instrument) for all the money in the world – is to keep the joy in his job. The minute you treat it only as work and not as fun anymore, you lose quality. Quality because it's more difficult to engage all these energies you need for the performance, but also the positive spirit and joy that carry over easily to the audience. If you lose the ease – ease is very important – as soon as singing looks and sounds like work, it's no longer good. The solution for that is to do different things, not stick with just one repertoire or repeat the same parts too often.
Can you imagine doing anything other than singing, at this point in your life?
No, not now. However, if for some reason I had to stop singing, it would be very difficult but not life threatening, because I have many other interests.
For example…
Well, I love tools, to work with my hands; it's relaxing. I love to cook and people have told me I should do it professionally. I'm sure I could find something I like and maybe make some money out of it if necessary. And if not, I'll probably find some distraction once I am retired. I've always thought it's sad to think you can't stop working, as if life were empty. It should never come to that point.
Some singers love the applause…
Well, then buy a CD with applause. It's always nice to have applause after you've worked hard but if I'm at home, I don't need applause.
You mean you don't need your family to applaud you (laugh)?
No, no, no! On the contrary! (more laughs)
---
• Jonas Kaufmann sings Schubert's Die schöne Müllerin, January 20 (Montreal: OSM/Pro Musica).
www.osm.ca ; www.promusica.qc.ca

• He sings Schumann's Dictheliebe and other lieder as well as a selection of Italian opera arias, February 3 (Quebec City: Club musical de Québec).
www.clubmusicaldequebec.com
• As the lead in Wagner's Parsifal, Metropolitan Opera, New York, new production by François Girard, beginning Feb. 15. Live in HD: March 2. www.metopera.org ; www.jonaskaufmann.com
---
Version française...