Naxos: From budget label to global powerhouse

by Catherine Hine / November 1, 2012

---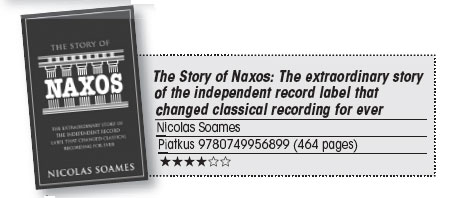 Written by Nicolas Soames, founder of Naxos Audiobooks, for the label's 25th anniversary, The Story of Naxos is the first written account of Naxos's transformation from a budget label into a major player in classical recording and a leading collector's label.
Naxos was born in Hong Kong in 1987, a revolutionary time in the recording industry. The LP surrendered to the CD and the digital era; the self-proclaimed "majors" (DG, Philips, Decca, EMI, RCA, CBS), as well as their star conductors and soloists, were forced to retreat as independent labels gained ground with their budget CDs, making classical music available to a broader public and offering an inexpensive way of replacing old LPs. Enter Klaus Heymann and Naxos.
A German businessman and music enthusiast, Heymann settled in Hong Kong and began distributing in the hi-fi and music industry in the 1970s. He recognized the potential for a budget label and, after founding Budget Classics, HK and Marco Polo, created Naxos almost accidentally. Always a step ahead of other labels when it came to predicting the future of the music industry, he fashioned a masterpiece, with the help of a few dedicated musicians, producers and engineers. Now in his eighties, he seldom lets anyone touch his chef d'œuvre and still oversees every business decision.
The book is written in a straightforwardly clear style. Soames provides exhaustive commentary from Heymann himself, interviews with artists, conductors and composers, and a dozen or so pages of pictures and excerpts from the Naxos catalogue. The book is informative from cover to cover, offering short biographies of the many artists, conductors and composers closely linked to Naxos. It stresses the importance of (and often, the difficulties involved in) being at the forefront of rapidly changing technology and distribution methods, citing examples from all over the world. The Story of Naxos concludes with Heymann's vision of the future of the recording industry. Surprisingly, he believes it will have changed little in ten years, although we can expect to see more online resources. A thorough appendix listing the label's awards and an extensive index fill the last few pages.
The book does have its flaws, however. In the section dedicated to artists' biographies, praise for the label is somewhat excessive, as if the author felt obliged to justify the label's astonishing success. Figures speak for themselves and so does Heymann's incredible journey. Acclaim from some artists would have added colour; acclaim from each artist, conductor and composer is just messy. Moreover, the book seems to fade out at the end: Heymann's commentary disappears, and the reader is bombarded with titles and names that are very difficult to absorb in large sittings.
Nonetheless, it is the only book of its kind: The Story of Naxos is a comprehensive and detailed narrative of the label's history – to the point of being most useful as a reference book. A relevant read for both the veteran and newcomer, it is still short and concise enough to be well worth spending time on.
www.naxos.com/feature/The_Story_of_Naxos.asp
A Brief History of Naxos

1987

Naxos was born, completely by accident. Klaus Heymann had procured 30 masters for a business deal that fell through, so he chose to sell them cheap and never looked back.

1990

After a series of both smaller and larger works, Heymann recorded Naxos's first opera, Così fan tutte. Budget operas didn't exist at the time, so the recording gave way to a series that sold like hotcakes.

1990

Edward Greenfield, a leading English critic, published a major article in the Guardian, acknowledging Naxos' achievements, which led to a stream of good reviews.

1991-1992

As Naxos was struggling to find distributors, the Naxos White Wall appeared. Since retailers didn't want to mix Naxos with the "good" recordings, they ended up grouping them in the back, where they became very noticeable.

1994

Beginning of Naxos AudioBooks, which immediately went on to win awards, gain a top-class reputation and provide valuable experience for future educational projects.

1995

Start of K&A in-house recording, editing and mastering facilities, as opposed to constantly relying on freelancers.

1995

Naxos's first website was created, offering low-fi previews of tracks.

1997

Naxos began licensing its music, which allowed it to expand as a record label and create revenue for bigger projects.

2000

Naxos began distributing DVDs: it is now the leading classical DVD distributor in the world.

2002

Heymann launched Naxos Music Library (NML) a subscription-based service that allows its members to access the Naxos repertoire online.

2007

Launching of ClassicsOnline, which sells mp3 tracks for download, as opposed to streaming on NML.

2012

Beginning of an online music encyclopedia.
---
Version française...
---